Featured on the LifeStyle Channel's Grand Designs Australia. This tri-level contemporary terrace showcases the exceptional quality of living that can be accomplished on a small footprint when creative and intelligent use of space is combined with considered material selection and craftsmanship.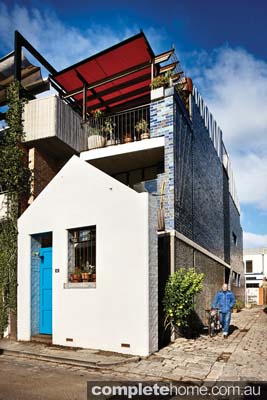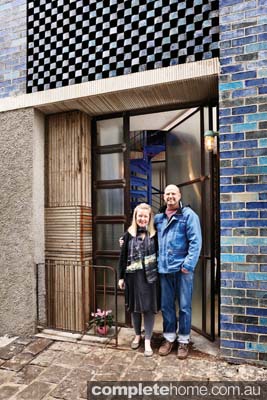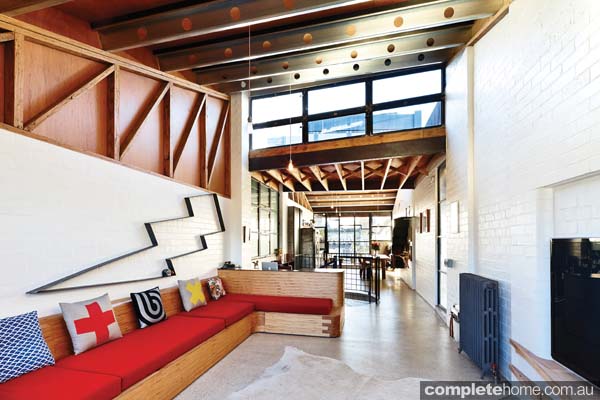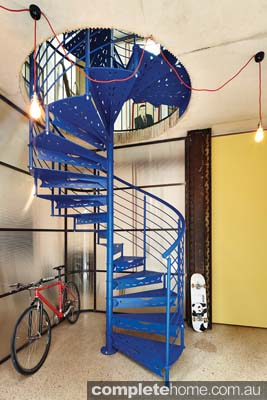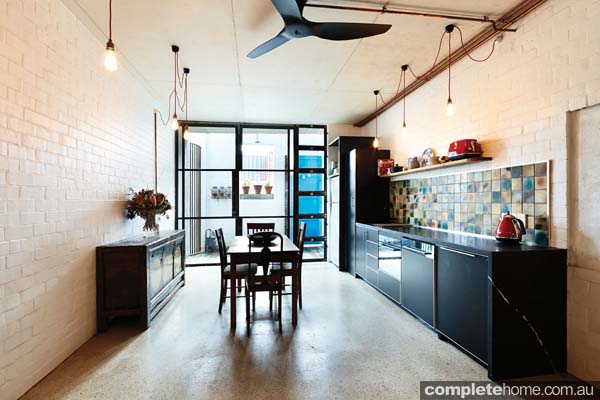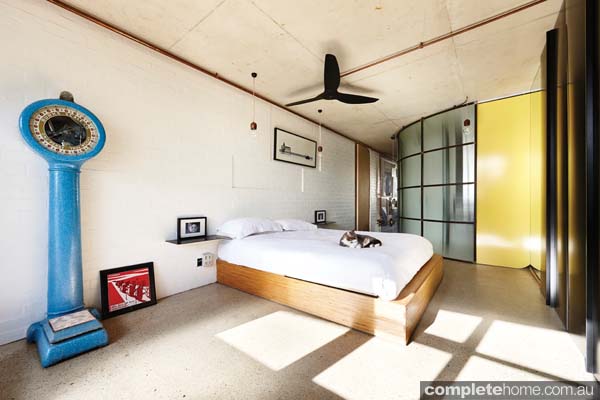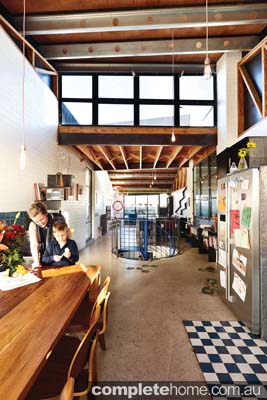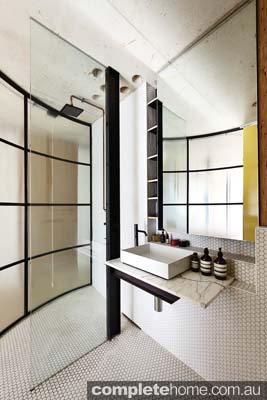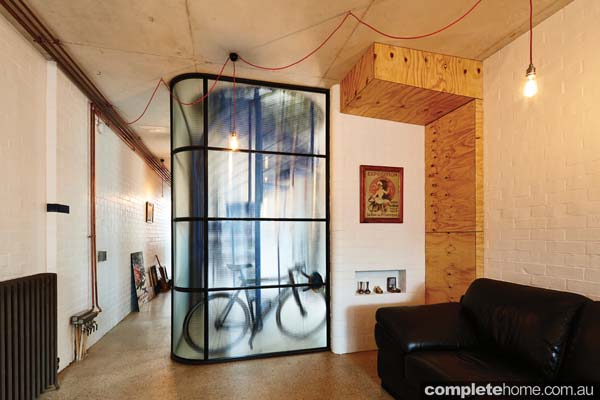 HOUSE South Melbourne Brick House
LOCATION South Melbourne, Vic
COST $620,000
DATE COMPLETED mid-2013
EPISODE 2 SERIES 4
The extraordinary space efficiency of this inner-city abode masterfully provides separate quarters for two families, complete with seven stunning outdoor spaces. The immediate street-facing facade of the building, however, affords few clues as to the surprising and delightful spaces within. For passers-by, the facade serves as cause for a double take and a pondering as to how long the building has actually occupied the site. Although it wasn't a council requirement, care was taken by the owner-builder, Greg Saunders, to rebuild the Victorian frontage of the former single-fronted house "as a nod to the old". Once past this, the onlooker's gaze starts to absorb the intriguing layers beyond the front and down the side laneway. A rich tapestry of striking blue brickwork signals a new residence that pays homage to the authenticity of a history-steeped suburb.
The home's main entrance takes advantage of the cobbled bluestone laneway that it borders to one side — and is sited just over halfway along its length. This is one of many devices that collectively embellish the home with a spacious feel despite the relatively compact block.
Its "simple" but thoroughly considered floorplan was developed by McAllister Alcock Architects (MAA) in collaboration with Greg and his wife, Emma Calverley. Comprising three levels, the ground floor is a self-contained private residence for Emma's parents where design for accessible living overrode the couple's initial thoughts about having two abutting dwellings.
Greg and Emma were committed to the idea of creating a home that has a warehouse feel and respects the past, but without being contrived. It's a mission that has been resoundingly accomplished. Wherever possible, Greg looked to source locally made products, old and new. The drive behind selection was quality design and manufacture, along with a contribution of integrity. In some instances, this meant tracking down fittings and fixtures from overseas, such as the sculptural Italian-crafted steel spiral staircase that greets in the entry portal and leads up to the first floor sleeping digs and bathrooms. On this same level, an office/workshop for Greg is also enjoyed by the couple's six-year-old son and makes smart use of space adjacent to the stairs.
On the second floor, an open-plan kitchen/dining and living space consumes the full length and width of the home and is bathed in natural light. Having grown up in the small country township of Yan Yean, 38km from Melbourne, Greg was keen to "borrow from the idea of being surrounded by open spaces" and being connected with the surrounds. This notion is accentuated by the private outdoor areas that flow on from each main living space or bedroom on all three levels. Those to the front, take in north-west orientation and those to the rear, have a south-east aspect. Robust custom-made steel doors and windows — reflective of those found in traditional warehouses — beautifully capture the South Melbourne urban vistas, while an additional roof garden has magical 360° views.
During the eight years that Greg and Emma lived in the original property prior to embarking on the build, they had given thought as to their exact requirements for their immediate and extended family and lifestyle. This is evidenced in the home's generously proportioned spaces that are highly functional and without wastage.
Greg was a bricklayer for 28 years before a career change to cafe ownership four years ago. He took 12 months leave to project manage construction along with the design and fit-out of the interior, while Emma, who works in the arts partnership industry, ran the cafe. Greg says having custom-made furniture to fit specific spaces (and much of that built-in) is a secret to achieving a "space that works". The metal bench seat that wraps around half of the dining table and which morphs into the stairs to the roof garden is a prime example. An integrated desk alongside the spiral stairs is another, which also cleverly doubles as a backdrop for the built-in L-shape banquette seat. A very sleek all-black kitchen, with minimal and select quality appliances, unobtrusively sits against one wall and was custom made in this way too.
Unsurprisingly, this house is of brick construction and features many masonry surfaces. "I like bricks because they don't pretend to be anything they're not," Greg says. He also advocates that, architecturally, Melbourne is deserving of materials that will "stand the test of time". One advantage of being part of the building industry for many years is the firsthand knowledge gained of likeminded tradesmen who take pride in delivering quality work and finishes. That certainly applies here. It was through Greg's work that he met Karen Alcock, co-founder of MAA. Similarly, most tradies were handpicked through previous work associations as attested by the detailing and finishes of carpentry, tiling, steelwork, glazing and concrete works throughout.
Bricklaying is, of course, Greg's forte. He was ably assisted by his former boss and later business partner to hand glaze 9500 household bricks during a four-week period. The resulting blue tones of the bricks form a literal reference to a glazed ceramic pot made by Greg in high school, which is proudly displayed in the kitchen. The exterior of the home to the laneway is solid brick teamed with roughcast render. Traditional brickwork placement has been combined with a breeze wall above the entry, created by placing the bullnosed edge of the brick to the outside. Visually, this "breaks up the wall" and, functionally, it encourages a breeze to enter and penetrate an ingenious internal wall of openable windows.
Contributing to the authenticity of the home is the way the individual textures, tones, form and materiality of a pared-back palette have been allowed to make unique statements, without being overwhelming. And, while several primary colour accents are at play, it's the application of blue in the brickwork, the staircase and the locally made tiles in the kitchen and dining space that is the unabashed hero.
The reuse of items from yesteryear contributes to the home's lived-in feel. This was a priority for the couple and also typifies their practical approach to sustainability rather than "doing things just for the sake of it." Examples include the silver metal Wilco light switches that were discovered in an old electrical shop in Warrnambool, Vic, by a friend. Greg also regularly scoured the Delta Group warehouse for materials that had been salvaged from building demolitions. The substantial metal beam that now runs from the ground to the first floor ceiling was one of those special acquisitions. Lockers from a former Cadbury Schweppes warehouse have also been repurposed as storage cupboards underneath a workbench, while the timber atop was created using remnants of a workbench that once belonged to Greg's father.
Having now experienced their first winter in the home, Greg says investing in double-glazed windows "was well worth it" as it assisted in maintaining a comfortable temperature. During the summer months, exceptional cooling from cross ventilation is assured, aided by fans and the brick and concrete surfaces, while an external frame for planting will also help to thwart heat gain.
Incredibly, room was also found to accommodate a quaint dip pool on the front deck as part of a floorplan that provides both community amenities, as well as a choice of getaway spots for family or friends to find their own urban sanctuary. Completion of the roof garden is still on Greg's to-do list as is, hopefully, getting back on his bike. And although the project had the challenge of managing a job on a tight site, he says the 14-month build was "very rewarding." It's Emma, however, that he credits for ultimately making it happen and giving him the encouragement to sift through his myriad ideas, garnered over many years, and to turn those into reality.
Pullquotes
Contributing to the authenticity of the home is the way the individual textures, tones, form and materiality of a pared-back palette have been allowed to make unique statements, without being overwhelming
Greg and Emma were committed to the idea of creating a home that has a warehouse feel and respects the past, but without being contrived
Wherever possible, Greg looked to source locally made products, old and new. The drive behind selection was quality design and manufacture, along with a contribution of integrity
PROJECT TEAM
ARCHITECT (Design and council approval) McAllister Alcock Architects (maarchitects.com.au)
BUILDER
Owner-builder Greg Saunders
INTERIOR DESIGN & FIT-OUT
Owner-builder Greg Saunders
STRUCTURE
Architecture McAllister Alcock Architects (maaarchitects.com.au) Construction Greg Saunders Brickwork Greg Saunders (owner-builder) and John Angoletti Bricks Austral Bricks (australbricks.com.au Custom window and door systems Rob Dekker (0400 429 625) Carpentry and joinery Stuart Sloane (0407 804 381) Staircase Italian Designer Staircases (idstairs.com.au)
Decking recycled timbers from Delta Group (deltagroup.com.au) Awning Insail Awnings & Shade Sails (insailyachting.com.au, 0448 155 000) Pool Waterview Swimming Pools (waterviewpools.com.au, 0407 350 408)
FIXTURES & FITTINGS
Kitchen Appliances VZUG (vzug.com/au/en, 03 9699 4720) Steel seat and shelf Delta Group (deltagroup.com.au) Steel balustrade Bent Metal Iron Works (bentmetal.com.au) Lighting Empirical Style (customised by Greg Saunders) (empiricalstyle.com) Kitchen sink Schott (schott.com) Ribbed glass Armac Glass (armacglass.com) Kitchen and dining room tiles SaJo (sajoceramics.com) Bathroom sink Reece (reece.com.au)
SERVICES
Plumbing Gordy (0418 359 394) Electrical Brandon Electrical (0418 324 319) Landscape Oliver Stone (0414 325 711)
FURNITURE
Eames moulded-plywood dining chairs (livingedge.com.au) Bedroom scales Grays (grays.net.au)
Words / Marg Hearn Photography / Rhiannon Slatter
From Grand Designs Australia magazine Vol. 3 No. 1