Featured on the LifeStyle Channel's Grand Designs Australia, Stoneyfell Watertank house is an experimental and intricate building based around two enormous water tanks that can capture and store a year's worth of rain water.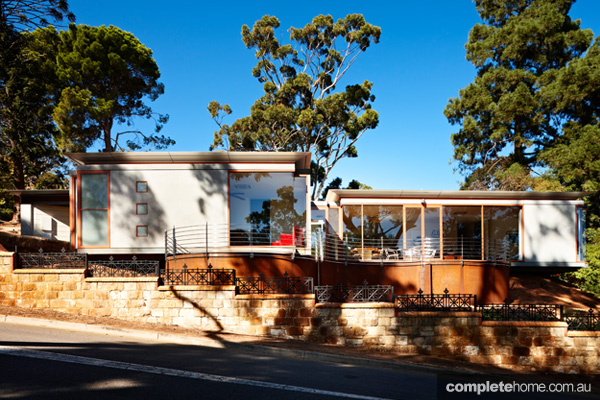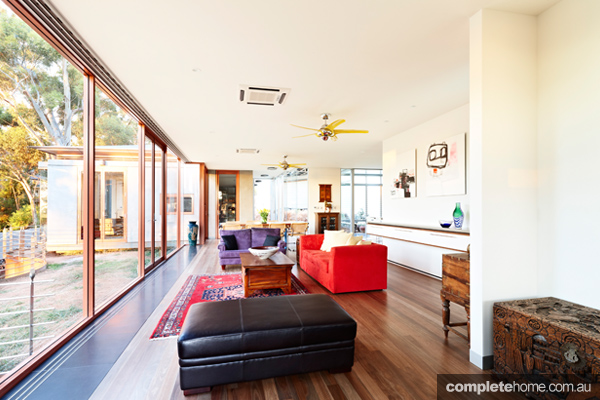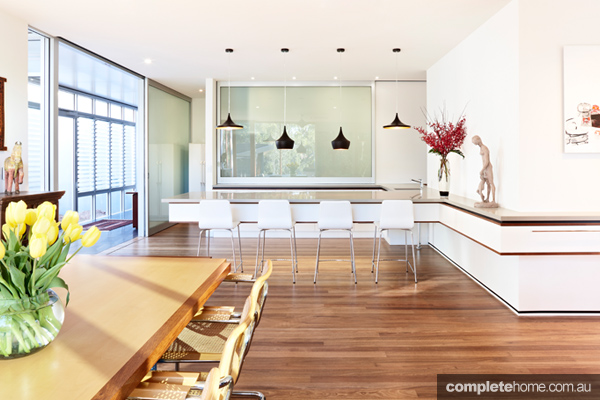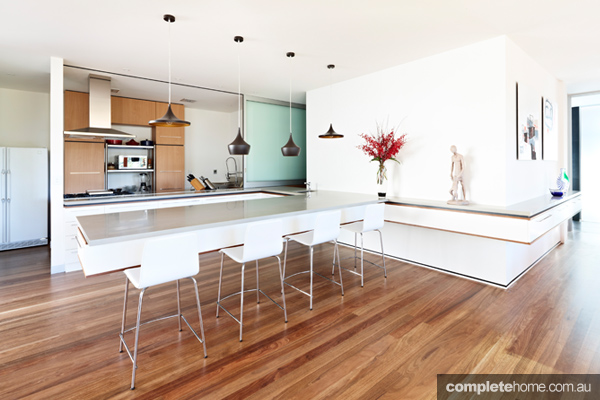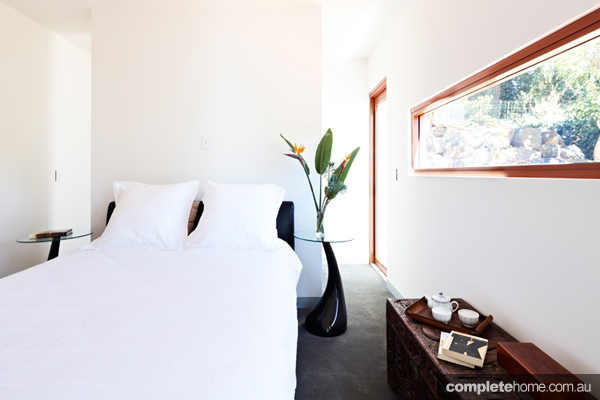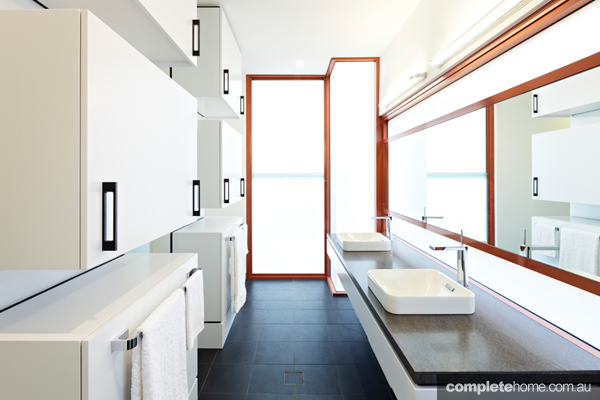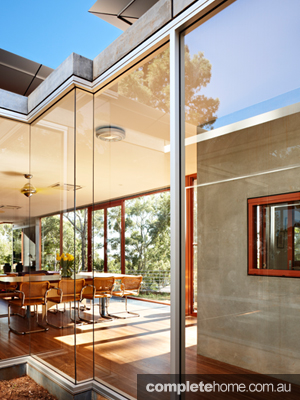 Of all the Australian capital cities, Adelaide is the driest, with an average rainfall of approximately 520mm a year. When designing and building homes, saving rain water through the installation of water tanks within the build should ideally be incorporated into the design. This, however, is an uncommon approach for a number of reasons, including structural, space and aesthetic challenges. For Mike Dare and his wife Lowen Partridge, this challenge was the drive for their new home – the Stoneyfell Watertank House.
Mike's working background spans 40 years as a structural engineer, and he has designed some of Adelaide's most prominent buildings. Mike could almost cite finding solutions to problems as a hobby of his. "I've always been taught you can find a solution to a problem," Mike states. Designing a home with water tanks is not uncommon, but Mike and Lowen decided to design a home with two massive custom-designed water tanks, each one holding up to 100,000 litres. These water tanks would anchor and support the rest of the house structure — and be hidden.
With a passion for practical and well-designed buildings, Mike's aim for this watertank house (his fifth and Lowen's sixth) was to design a structure that would not only capture a year's supply of water, but also be heated and cooled by the water tanks. Wanting to do it all, and acting as the designer, structural engineer, builder and interior designer, Mike came up with a plan that challenged almost every concept of house design.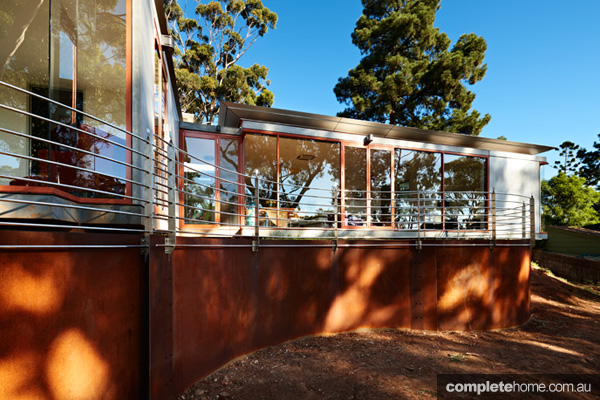 The two tailor-made 3m × 3m × 5m water tanks, placed on slabs, provide the only connection of the Stoneyfell Watertank House to the ground. Designed to capture rainwater and provide heating and cooling, the tanks act as the backbone for the two main living pavilions. One pavilion houses the master bedroom wing, complete with an en-suite bathroom, large walk-in wardrobe and home office. The other pavilion features the main living area — lounge/dining room, TV room, double open-plan kitchen and sun-room — as well as the main bathroom and two additional guest bedrooms.
The third pavilion is home to a garage and workshop, and completes the triple-fronted house look. "I was inspired by the many post-war triple-fronted brick homes that served the country well during the period of material shortages," Mike explains. The irony is what's "hidden" inside. "We wanted to construct a thoughtfully designed, modern and environmentally conscious dwelling that sits well in its local and broader SA environment," Lowen explains.
All structural elements were highly evolved and integrated before construction began. Mike's engineering background meant that he was able to design sturdy pieces that would last and provide comfort for his and his wife's home. The main components were, however, all designed off-site, and the Stoneyfell Watertank House is a great example of how this contemporary way of building can successfully work. It's quicker, weather-resistant, and provides immediate access to all the machinery required.
The enormous water tanks were prepared in a factory specialising in industrial steel fabrication, a fitting decision based on their scale. The walling system, also designed off-site, proved a hiccup: the panel company went into administration, with the wall panels only half finished. Luckily Mike was able to strike a deal with his employer at the time to buy the machinery for their own work and finish making his walls.
The Stoneyfell Watertank house, thanks to the decision to build off-site, went up quickly. The placing of the 2.5-tonne tanks required the street to be closed off, but the beautifully engineered tanks fitted perfectly into their designated space. On another day the wall panels (weighing at up to 700kg each) were easily inserted into their spaces, and the shape of the house became apparent. It was evident even at this early stage that the structure was robust and tough, designed to withstand and also capitalise on the intermittent Australian environment.
Another pioneering feature of the experimental Stoneyfell Watertank House is the simple yet effective roof system. The corrugated-iron funnel-like configuration provides a large gap for rainwater to fall in, and then funnel down into the well-built tanks. There are no roof gutters, and all water caught goes straight into the tank.
The fabric roofing overlay is an interesting and novel touch. The gauze-like material (imported from Paris), normally used for sunshades, offers the appearance of a traditional pitched roof. Like the rest of the house this depends on an illusion: Mike has chosen an array of materials that offer the appearance of something they are not. The fabric roofing looks like a solid conventional roof, the glass reinforced concrete used to make the walls looks like concrete, and the utilitarian tanks are completely hidden. These hidden tanks mesh into the interior scheme, and if you weren't told, you might never guess that they were present.
Apart from collecting a year's supply of water, the tanks also offer temperature control. Mike designed the Stoneyfell Watertank House with this capability in mind, and implemented expandable insulation foam (a meringue-like foamy spray) to be sprayed into all the cracks to ensure the dwelling was airtight. The stored water now provides a stabilising 15-degree thermal mass which helps reduce heating and cooling requirements.
Traditional eaves were also eliminated to enable Mike and Lowen to use the sun's rays on the Trombe operable glass walls on the northern facade of the building. In the colder months the Trombe walls heat the living area, and in summer they act as thermal pumps to draw air across the cold water tanks and into the living areas of the dwelling. It's a futuristic and drought-proof creation that today, perched high in its position, fits into the Stoneyfell streetscape.
The earthy tones accentuated by the brown window-frames add a certain warmth to the exterior, and the colouring works marvellously well among the Australian foliage. It's what's inside that astounds and inspires.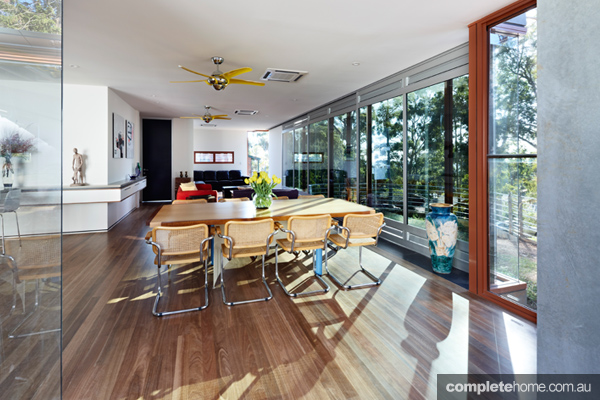 As you step into the living area you are met with remarkable views and an abundance of light channelled through the floor-to-ceiling windows. The kitchen is Lowen's favourite part of the house. The sliding-screen window can be opened or closed, doubling the kitchen space when it comes to entertaining, a hobby of Lowen's. The furnishing items are fresh and minimal, accentuating the simple chic look that the couple were after. "I love the double kitchen and bar because it's the social centrepiece to the house and I love cooking. I also really enjoy sitting down with a book in the lounge-room while taking in the stunning views of Adelaide," she says.
Mike's favourite space is his office, and it's no surprise, since we know this man likes his work (who else designs, engineers, builds and decorates their own home?). He also finds himself in the sunroom often: "I love it because of its purity of form," he says.
It's evident the Stoneyfell Watertank House is a success. Mike and Lowen are comfortable, and are living in what can only be called an environmentally conscious multifarious magnificence. The complete package of engineered elements, all innovative and experimental, has worked impeccably well, and the average person would have no idea looking at the house from the outside.
"If you don't try something through a fear of failing, then you'll never do anything in your life," Mike says — and this house, sitting confidently in the leafy suburb of Stoneyfell, is legacy to that.
PROJECT TEAM
Head Contractor/Builder Darengineer Pty Ltd (0408 828 090 or mikedare@internode.on.net) Structural and Civil Engineer Darengineer Pty Ltd (0408 828 090 or mikedare@internode.on.net) Concreter SA Construct Pty Ltd (0421 708 007 saconstruct.com.au)
STRUCTURE 
Aluminium and Glass Aluco (08 8276 5555 aluco.com.au) Architecture and Construction Darengineer Pty Ltd (0408 828 090 or mikedare@internode.on.net) Carpentry Bone Built Carpentry (0403 879 535) GRC Wall Fabrication & Erection Robin Johnson Engineering Pty Ltd (08 8300 9500 rje.net.au) Concrete SA Construct Pty Ltd (0421 708 007 saconstuct.com.au) Roof Covering Weathersafe Shades (08 8276 1111 weathersafe.com.au) Steel Erection Montica Engineering (08 8333 2400 montica.com.au) Steel Fabrication Bowhill Engineering (08 8570 4208 boweng.com.au)
FIXTURES AND FITTINGS
Cabinetmakers Spry & Spry Architectural Cabinetmakers (08 8276 5465 or ts@spryjoinery.com.au) Plumbing Gas & Electrical PGE Pty Ltd (08 8447 5746 or admin@pge.com.au) Timber Flooring Bone Timber Industries (08) 8297 8277 bonetimber.com.au)
By Tatyana Leonov
Photography by Rhiannon Slatter
From Grand Designs Australia magazine Vol. 1 No. 3
If you enjoyed reading about the Stoneyfell Watertank House in Adelaide, check out more great Grand Designs homes in our archives.