A brand-new modernist home in Sydney by Greg Natale Design incorporates features inspired by the late, great Harry Seidler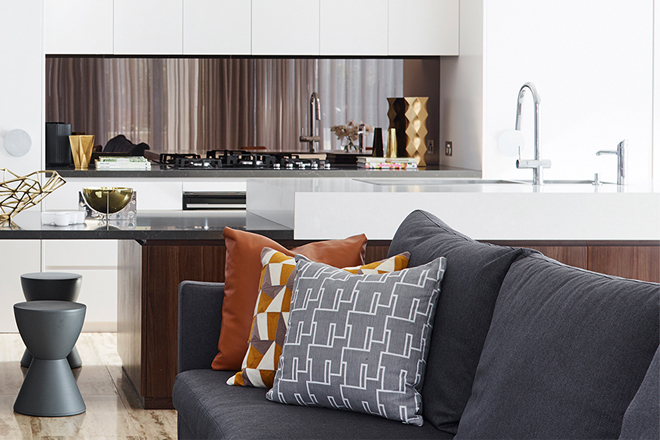 These functional and graceful gestures laid over on a classic, minimal palette make for an aesthetic that will stand the test of time.
Located in Strathfield, an inner-west suburb of Sydney, the previous property was a post- war house in dire need of refurbishment and upgrading. The owners wanted their new home to be a bright, casual family residence full of natural light that would blend indoors and outdoors for entertaining. Another objective for both designer and client was to create a building that wouldn't easily date.
As a brand new build, "The home was designed from the ground up to meet the practical and comfort needs of this young family," comments Greg Natale. Responsible for the architecture and interiors, Greg Natale Design set about creating a modernist-inspired building. As an admirer of the late architect Harry Seidler, Greg sought to reference several Seidler-esque details.
"The building takes on a minimal aesthetic in its shape and in its approach to finishes," shares Natale. "That was then layered with decorative accents, warm furnishings and patterning throughout the interiors to bring a human scale to some of the soaring spaces and open plan layout, and also to demarcate and bring distinct characters to each area."
One gesture that draws heavily on Natale's love of Seidler's work is the ribbon-like concrete formwork staircase, a feature that rises over all three floors as a curvaceous link. Another is a cantilevered bridge that connects the stair to the four bedrooms on the upper level. To meet the call for natural light, a lap pool runs the full length of the property on one side. This deliberate assignment not only offers water glimpses from multiple living areas, but also maximises the sunlight on that side of the block.
In this home, the impressive staircase and the abundant use of filled, honed travertine throughout is a pairing of form and materiality that offers bold statement with a classic elegance.
"The minimal approach in this project, from the overall form of the building to the selection in architectural finishes, meant that the appliances and the functional elements and fixtures had to toe that line too," comments Natale. The Classic Zip HydroTap BCS in chrome was selected, to afford the client the practicality of boiling, chilled and sparkling water in a compact model that would work well in the space. It was important to designer and client that its multi-functional abilities were encased in an attractive design that "would demand minimal space in the otherwise uncluttered and open plan living room and kitchen area."
The desire for modern amenities and a comfortable lifestyle defined this project from the outset — it's what motivated the owners to demolish the outdated existing property and build something that was perfect for them. So in this case, says Natale, it's both "the visual simplicity of this Zip HydroTap and its multi-functionality that make it a great fit for this family home."
For more information