From convenience and customisation to cost-savings and quality, modular and kit homes have a lot to offer
---
Prefabricated building methods are being embraced for myriad reasons: reduced build times, cost-effectiveness, quality control and environmental benefits, to name a few. And while prefabricated building is by no means new, with advances in technology and an influx of design-led, sustainably-aware modular and kit homes companies, the range of choice in terms of style and size — and the degree of customisation — has never been so broad, or exciting.
In recognition of this growth in the industry, and to advance the prefabricated building sector, in June the federal government announced it will spend up to $2 million to kick-start a new collaborative lab. The goal? To foster innovation in the design of prefabricated buildings, produce more eco-friendly and affordable prefabricated buildings, and achieve even quicker turnarounds.
The new lab will focus on a wide range of buildings, including tiny homes and larger houses, and help to strengthen Australia's position in the global prefabricated building market. The funding will go the the Advanced Manufacturing Growth Centre which will undertake a feasibility study and establish the lab. The government is already supporting research in this area, having allocated $4 million to the Australian Research Council Training Centre for Advanced Manufacturing of Prefabricated Housing, all of which all augurs well for the future of the industry.
Why a Modular Home?
Prefabricated modular homes, those that are constructed off-site in modules in a controlled factory setting and then later connected on site, are becoming the preferred choice for a variety of reasons. This method is generally more affordable and sustainable than traditional building methods, and as there is less waste produced and less intensive on-site construction involved, it's good for the environment. Then there is the reduced completion time as well as the quality control and certainty that comes with the factory prefabrication process.
The benefits are many, agrees Jacky McDougall, co-owner of Parkwood Modular Buildings, a leading NSW modular home builder. "The prefabricated modular building method delivers economic, social, environmental and quality benefits," she says. "The main economic benefits are the substantially reduced construction times, the ability to get into your home sooner and start paying the mortgage earlier, reduced wastage of materials, and less risk of vandalism and damage to materials.
"Also, not only does a factory setting allow for regular quality checks, it can provide access to high-quality tools that may not be accessible on-site — superior tools can allow smaller tolerances and improved finishes. And you can visit the home while it is being built so you can make sure of inclusions etc before the modules are delivered to the site.
"For most people, the cost savings, faster delivery times, improved quality and the reduction of a number of negative impacts associated with traditional on-site building methods is what appeals the most."
A Matter of Choice

The number of companies offering contemporary, beautifully designed prefabricated modular homes — some designed by architects — is steadily growing. So, too, is the range of finishes and inclusions and the degree of customisation.
"The options really are endless," says Ken Cornwall, director of Queensland-based Saltair Constructions. "We have built everything from offices and one-bed studios to five-bedroom, four-level houses and are currently looking into the multi-storey unit market. We have a range of clients and most say they really like the architectural difference of our modular homes. They also like the fact that we can customise nearly anything to suit their needs and that we finish off everything, they just need to supply the landscaping and furniture!"
Limitless, is how Jackie describes the range of choice. "The logistics, in terms of transport, may be limited by the size of the modules, but any number of modules can be used to achieve the required build, even multi-storied buildings. Modular homes can also be built on any site as long as the access is good. And what some people don't realise is that the client has the flexibility to choose their own distinctive features and inclusions, to be added during the factory build or once on-site using their own contractors."
Convenience and Cost
For many people, the convenience and predictability of the compressed and controlled time frame appeals. "A major benefit of modular construction is the ability to commence construction of prefabricated elements (modules) in the factory, while commencing construction of all on-site elements, such as driveways, slabs, footings, landscaping etc. The crossover can remove months from a typical build schedule and adds to the cost savings of modular construction," says Gerard Goldsmith of Broadworth Modular, a NSW company that designs and builds custom modular homes.
Quality is another selling point. "We believe quality control is far better with modular construction," continues Gerard. "Our factory environment has architects, builders, contractors and engineers all under the same roof with constant cross-checking and quality control measures in place throughout the build. A factory-build eliminates the restrictions of having resources and staff stretched over multiple construction sites.
"Modular builds definitely appeal to people on a budget and retirees, given the rise in land lease developments across Australia," he adds. "We don't see a lot of first home buyers as the financing of modular construction through mainstream banks can be complex. This is disappointing as people can get a much higher quality home for their money with a modular builder than they can with a project home."
What About Kit Homes?
"A kit home can be defined as a home where most of the major components, such as wall frames and trusses, are prefabricated and then delivered to site where the home is then assembled in the traditional manner," explains Emma O'Shea of Victoria-based Harkaway Homes.
"Components generally include the materials required to complete the shell of the home from the floor level up. After the floor is completed, the first delivery to site is the fully prefabricated, termite-resistant house frame ready to commence frame erection. Windows and doors also are delivered at this stage. Once house frame erection is complete, the next deliveries to site include wall claddings, roofing and trimmings, ready for the tradespeople, or owner-builder, to install and complete the lock-up stage."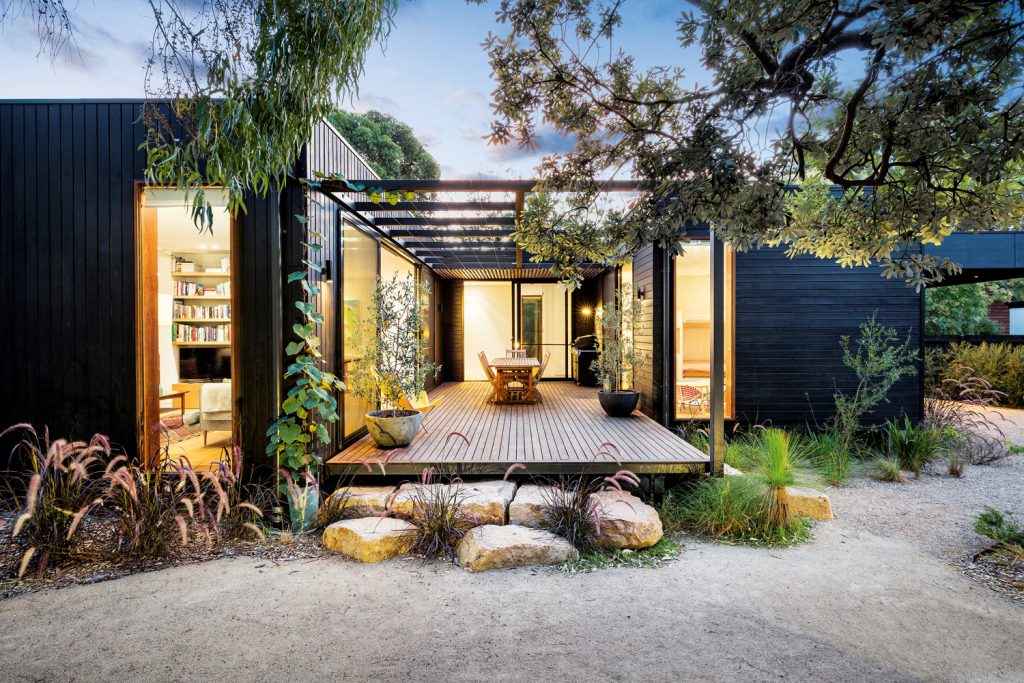 Kit homes come in myriad styles but some companies specialise, as with Harkaway who focus on reproducing homes from the Victorian and early Federation eras. "As with all markets in the 21st century, there are many possibilities when looking to build a kit home, in terms of size and style," says Emma. "Our homes offer the charm of yesteryear but the internal layout can be reconfigured for modern, open-plan living, and they sit just as proudly on an inner-suburban block as on a country property."
Chance to be Hands-on
There are a lot of benefits to a kit home build, says Michael Christie of Paal Kit Homes, a company based in Victoria but with operations in NSW and Queensland. "Firstly, you have the ability to be hands-on involved in the construction process," he says, "Then there are the savings that can be made if the buyer chooses to do the work themselves or owner-manage the process, thus eliminating the 'middle man' … the builder. This also leads to reduced build times because the owner-builder is in control of the project so can arrange trades for the construction when they are ready for them.
"The process usually starts with the customer choosing a standard design and making changes that suit their needs," continues Michael. "They typically select a design from a company's website or brochure then meet with an in-house design team member who works with the customer to finalise the plan. In my experience, at least 80 per cent of standard plans are customised in some way to suit the individual requirements of the homeowner. But kit homes can also be designed from scratch and kits can even be made to order from the customer's own architectural plans, if they have them."
As you can see, kit and modular homes offer a broad array of choice and a high degree of customisation, along with significant cost benefits and time savings — the complete package, you could say.
Words: Karen Booth