Think outside the square and build a home with some shapely style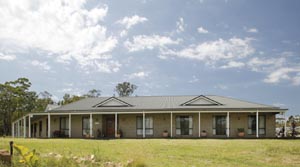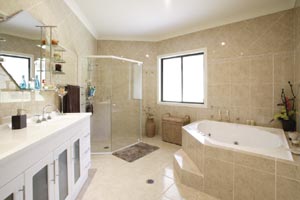 The Richmond Grove
Size: 408.8 square metres.
Accommodation: Four bedrooms with the option of converting a fifth bedroom into a study.
Special features: The house has been modified from the original plan. The owners have added a bay window in the kitchen, taken out the powder room and study to make the dining and family rooms larger.
Going Bush
Looking outside the square is exactly what the owners of this magnificent home decided to do and they haven't looked back since. And why would they? Their spectacular U-shaped home enjoys stunning 180-degree views of the surrounding property. Every room overlooks the magnificent bush setting, making the home an absolute pleasure to live in.
After a dwelling with a difference that was also easy to maintain, the owners immediately contacted Kitome to help them locate their dream home. After sifting through a range of Kitome designs, the owners immediately fell in love with this home's unique shape, open-plan layout and good-sized bedrooms.
Featuring a spacious family/dining area and a large kitchen, perfect for cooking up an array of mouth-watering meals for family and friends, this home is extremely user-friendly. Finished with a number of high-quality products including a black granite benchtop, slump splashbacks and stainless-steel appliances, the kitchen is the ultimate example of how classic, naturally toned pieces can be successfully integrated with more modern materials. From the subtle downlights throughout to the eclectic combination of carpet, timber and tiles on the floors, the home's comfortable interior has been designed to complement the beautiful bush scenery.
The design also boasts an impressive timber leadlight front door that's extremely inviting, as well as beautiful french doors at the back of the home that open up to a gorgeous backyard, aiding air circulation and creating a bright and breezy atmosphere.
Best of all, the owners have been able to tailor the home, down to the very last window frame, so it suits all their wants and needs. There really is no better way to build.
Kitome is renowned for its quality and value and for making homebuilding as easy as possible. The specialist kit home provider has more than 50 standard designs ranging from one to six bedrooms. All floorplans have been designed for flexibility so clients can tailor a home to suit individual needs. Kitome's highly professional team members will gladly help you create an original design to match your requirements.
Kitome is equipped to satisfy the most discerning buyer with styles including modern, colonial, loft and Federation. Kitome also supplies homes in timber or steel frames. Australian owned and operated for more than a decade, the company continues to extend its already extensive range of homes and provides ongoing training to its staff to make sure they are at the forefront of the kit home product.