Whether it's a steep slope or an odd shape, a difficult site can present opportunities as well as challenges
---
Not all building sites are created equal. Some can throw up difficulties that can be costly and timely to resolve. A site can present quite a broad array of challenges, beginning with its location — this might range from a battle-axe block to a block by the beach or a building lot in a remote bushland locale. It also extends to building in a bushfire or flood zone, which brings with it a raft of challenges and a slew of building regulations and council requirements that must be met.
Size and shape can be an issue, too — mainly narrow lots (including those with a zero-boundary) and blocks that are unusually shaped (which can present issues with setbacks, among other things). Sloping sites are a commonly encountered difficulty, often requiring clever engineering solutions along with extensive cut and fill work to turn potential problems into design opportunities.
Soil conditions can also cause complications, as can rocky sites, or blocks with stormwater issues. So can lots in heritage areas, lots in old, established suburbs with low overhead power lines and limited access, sites with easement issues … the list could continue. Doing your research, checking with council, carrying out a geotechnical report (soil test) before building, and working with a knowledgeable, experienced builder can resolve most difficulties. To help you on your way, we asked some leading experts to talk us through the most common issues.
Taming a Slope

"Sloping lots do present a challenge when building a home, with the main obstacle being the type of home that can be built," says Geoffrey Baughan, product development manager for Rawson Homes. "The extent and direction of land fall — for example, it might be a front to back slope or a left to right slope — will play a large part in determining the type of home that can be built, the different construction methods that are needed to accommodate the slope, and the impact on structural and hydraulic engineering requirements."
Adds Nathan Thurston, marketing manager for McDonald Jones Homes, "The slope and contours of a block will determine what cut and fill is required. It might be that the concrete slab will require a drop edge beam, or that the import or export of fill is needed, or that terrace cuts might be required. And there may be planning restrictions in regard to the way we can manipulate a site with cut and fill or edge beams and retaining walls.
"When we are changing the natural fall of the building site, consideration also needs to be given to drainage and stormwater run-off as well as any other issues that could affect the neighbouring properties. In terms of the design of the house, perhaps a full split-level will be required, in which case you need to design it well to ensure the home flows with ease and is well balanced."
Going to Ground

Depending on the location, ground conditions and soil quality can throw up myriad challenges. "The type of ground can affect the type of footings required. In sandy soils we may need to screw piers or provide sleeves for concrete piers. In extremely reactive clay areas we may need to increase the thickness and concrete strength of the slab," says Geoffrey.
"Ultimately, it all depends on the type of soil conditions applicable to your site. Poor soil conditions will mean a slab must be designed with these in mind. Drop edge beams, bored piers and thicker waffle pods are some of the methods employed by engineers to help combat poor soil conditions. Before deciding to go ahead, remember these add considerable cost to house slabs with no real visible benefit to the homeowner," says Brodie Sheiles, Porter Davis' Queensland marketing manager.
"In South East Queensland, for example, the ground can often consist of clay. This clay swells and shrinks and you need an engineer's analysis to determine by how much and what the best solution is," adds Brad McLachlan, director of McLachlan Homes. "With this in mind, we work closely with our engineers to construct the house slab to the optimal thickness to suit the ground conditions. Slab thickness can range from 300mm to 700mm. Additional piering and deep piering are also used if the build site is on a high water table area or if the ground has a low-bearing capacity."
Challenging Shapes

"We find 'greenfield' sites are where you might encounter odd-shaped blocks but the irregular shape can actually end up adding a unique flair to the design of your home — we just alter our designs accordingly," says Nathan. "Also, sometimes finding a plan with a smaller footprint, like a double-storey design, can help with odd block shapes."
"Oddly shaped blocks can also be found in existing enclaves of old land that have been subdivided," adds Brodie. "The most obvious challenge when faced with unusually shaped blocks is trying to find a home design that fits the land. Narrow sites and zero-boundary lots, where the homes are built right against the boundary, also require some clever thinking to maximise space and ward off any potential problems with privacy."
"Irregular-shaped blocks require attention to detail in regards to setbacks, building envelopes and aspect," says Brad. "With the majority of our projects being custom designed, we have a tried-and-tested formula for working with a block's natural strengths and problem-solving any potential weakness within the site. Having created a custom design, it is then computer modelled on the block so clients can assess its look, feel and functionality."
Fire and Flood

"Building in bushfire areas is common practice these days and houses are now designed with this in mind. Depending on the BAL (Bushfire Attack Level) rating, the additional costs for building can be considerable," says Brodie. "Similarly for flood-prone areas, most councils will stipulate minimum house pad heights, referencing AHD (Australian Height Datum) that ensures the house stays high and dry during flooding. Of course, increasing pad heights will add to site costs. If the flood overlay is too extreme the client may have to consider building their home on stilts."
"Do your research before purchasing the property. In NSW, the S10.7 certificate (formally known as a S149 certificate) is a zoning and planning certificate which can be purchased from council — it will confirm if the property is bushfire and flood affected," says Geoffrey. "The 88b instrument is also a good source of information relating to bushfire ratings and some significant flood controls. In addition, council and the Rural Fire Service can provide additional information about the extent to which the lot is expected to be affected.
"It is important that prospective clients understand that there may be further cost implications that come with building within areas that do have environmental challenges such as bushfires and floods. These costs are generally for requirements that are mandatory for compliance with both legislative requirement and building standards," he adds.
Pros and Cons

"It ultimately becomes the decision of the customer if they want to purchase a more difficult site. Sometimes people don't have the knowledge to know what they need to look out for, so it's important to research the site, understand the building regulations and restrictions that might apply, and educate yourself about what is and is not possible before proceeding on a block," says Nathan.
"Sometimes the blocks that are more difficult are reduced in price to compensate for the additional costs that might be incurred through the build and that's why just going with a cheaper block doesn't always mean it will actually end up being cheaper," he adds.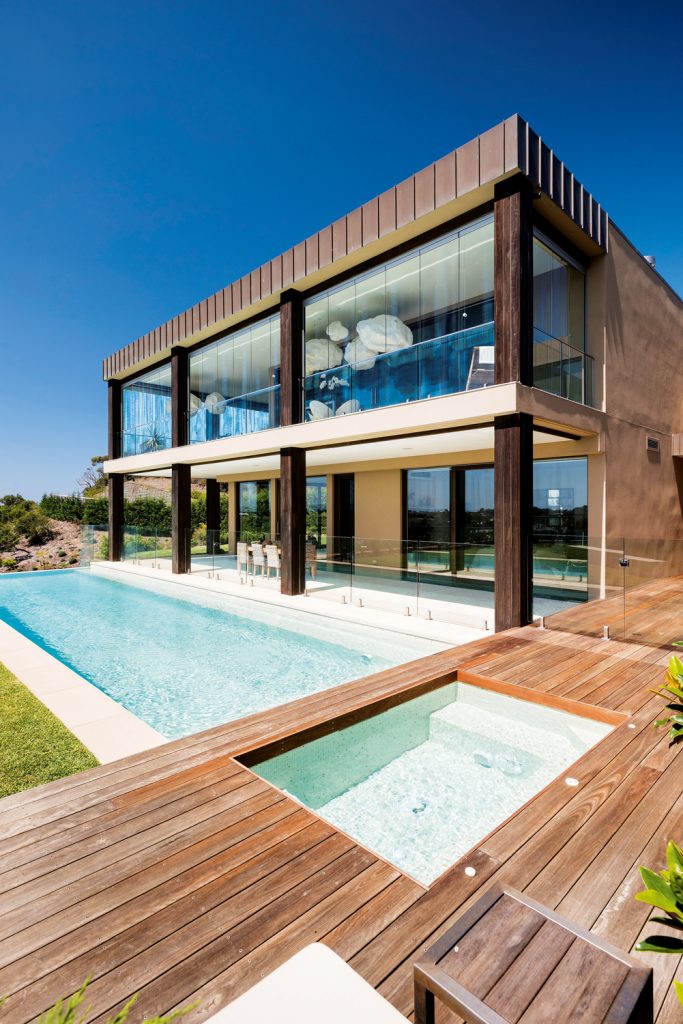 "Do your homework and try not to over-capitalise as site costs provide no real tangible benefit to the homeowner," says Brodie. "Get good advice from your builder about what block would best suit your dream home design and ask neighbours in the area you want to build in what road blocks they may have encountered. Was it poor soil, BAL ratings, or flood overlays? These could add $70,000 to a new home build. Someone building on land without these design parameters could put the same money into something like professional landscaping or a swimming pool."
Although there can be costs and restrictions, there can be benefits. "The potential of these difficult blocks is truly amazing," says Brad. "These individual sites stand out and can lead to the creation of not just another cookie cutter home. A unique block can offer incredible design potential."
Words: Karen Booth