This new (and very essential) check list ensures you haven't forgotten anything when it comes to building your home…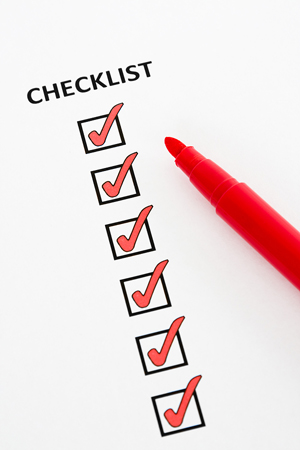 What can you afford?
Have you calculated your total budget, including legal fees, cost of the land, land evaluation legal fees, rates and taxes, stamp duty, site works, landscaping and moving expenses?
? Have you considered whether you qualify for finance? Find out if a bank, building society, mortgage broker or an independent financial adviser is the best option for you.
? Are you eligible for any financial assistance from the government to build your new home, such as the $7000 first homeowner's grant or no-stamp-duty option for first homebuyers purchasing a home under $500,000?
Phone the Office of State Revenue to find out on (02) 9685 2187 (NSW) or (07) 3404 3956 (Qld).
Choosing the land:
? Does the area you have chosen to build in meet the needs of your family? Find out about schools, transport, shops, doctors, dentists etc.
? Have you checked with the Land Titles Office to find out if the land has any encumbrances, easements or restrictive covenants, or whether there is likely to be any delay in subdivision approvals that might prevent the builder lodging plans with the local authority?
? Check with the local authority to see if there are any future subdivisions, road changes or any special building conditions that may apply.
? If it's a strata-title block, have you checked with the local authority to see whether or not there are any special building requirements?
? Are you informed about the availability of gas, water, sewerage and electricity?
? Are you fully aware of the extent of site works needed (such as tree removal, levelling, retaining walls, removal of clay or rocks, extra drainage etc)?
Getting ready to build:
? Develop a simple filing system to keep track of the building process.
? Visit a few display homes, kit homes and custom-designed homes to gauge the different options and to clarify special offers.
? Are you happy with the type and dimensions of the materials used, such as the thickness of the wall slabs, type of brick to the inside walls, roof framing, roof tiles, wall plaster or finish? Ask an independent expert for an opinion.
? If buying a display home, have you checked that the model you are purchasing includes all the features you expect? Remember to check the contract and specifications.
? Do you fully understand what is — or is not — included in the price? Make sure you have everything in writing, including features such as driveways, fencing, hot water service, light fittings etc.
? If the plans were prepared to your instructions, ensure no copyright laws have been infringed by using any part of someone else's designs. If in doubt, check with the Copyright Council on (02) 9318 1788.
? Check with the Master Builders Association to ensure the builder is registered with them by calling (02) 8586 3555 (NSW) or (07) 3404 6444 (Qld).
? Have you checked whether your builder is providing home warranty insurance and public liability insurance?
Checking your plans:
? Check all plans and specifications thoroughly — make sure you fully understand the plans and all the symbols used. If plans are drawn up in advance of a building contract, check with your local authority that they will be approved without major amendments.
? If you have chosen a display home, take the plans along and check the features, measurements of rooms and furniture installed. Check any changes or extras are included.
? Ensure all of your selected materials and design changes are included in the drawings and/or specifications. Variations made after the contract is signed may incur a fee.
Before you sign the building contract:
? Read, check and make sure you understand all contract documents thoroughly. Insist on using a recognised form of building contract, such as those published by the Housing Industry Association or the Master Builders Association. If you don't understand any part of the documents, ask questions and seek your own legal advice.
? Does the contract require the release of progress payments at various stages of construction and, if so, are the terms satisfactory to you and your finance provider?
? Do you intend to provide any materials for your home, such as a spa, kitchen equipment or light fittings and, if so, have you checked whether the builder's insurance covers the loss or theft of these materials from the site or damage after installation?
? Have you checked the dates or time periods that the fixed contract time is scheduled to start and finish? Establish what your rights and the builder's rights are if the builder runs over the original contract construction time.
? Ensure the contract documents are fully complete. There should be no blank spaces and the contract should include everything that has been discussed. Check the Schedule of Particulars very carefully and make certain nothing is left blank. Ask for a copy of the Department of Fair Trading's information brochure about the Housing Building Contracts Act 1991.
Once construction starts:
? Do you have the name and phone number of your contact person in the builder's office?
? Have you organised to confirm all important agreements or comments in writing throughout the entire building period?
? Ensure you have received a claim from the builder for a progress payment. Carefully check that the work is properly completed up to the appropriate stage.
? Record in a diary all of the day-to-day happenings, including discussions with your builder.
? Has your builder advised you if the home has reached "practical completion"? Check every aspect to ensure you are satisfied and the home is habitable. You can then hand over the final payment. Remember that you have made a financial commitment to your builder to pay in accordance with the conditions of the contract before obtaining your house keys.
Moving In:
? Arrange connection of the telephone (you can organise for cabling to be carried out during construction), gas and electricity.
? Advise the water board, local council and post office you have moved.
? Notify the electoral office, bank, employer, Medicare, insurance companies, schools and professional associations.
? Make a note of any minor defects and arrange to provide a list to the builder.
Remember, the builder has a legal responsibility to ensure the work is carried out in a proper and professional manner. If necessary, the Building Disputes Committee is able to adjudicate on a workmanship complaint provided the complaint is received within six years of completion. However, you should try to resolve any problems or disputes with your builder in the first instance.