The warmth of exposed hardwood combines with a modern interior.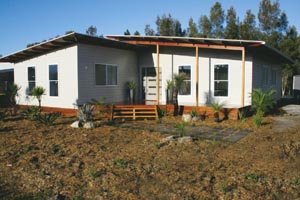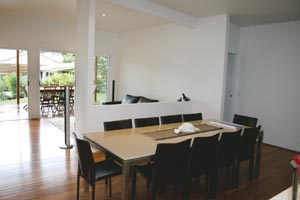 This new design from Ozkit Homes was developed for a coastal block at Tea Gardens on the New South Wales mid-north coast. The block backs onto wetlands at the rear, with the front entry and deck area facing north-east to take advantage of the summer sea breezes and the winter sun.
The home is from Ozkit's "Scott Head" range, which has unique features including tall, raked ceilings that give the home a lovely, spacious feel. The design boasts contemporary lines and space for ceiling fans in all living areas for economical cooling and heating. All Australian hardwood is used for the exposed rafters under the eaves, with the generous deck area also featuring Australian species of hardwood for the beams, joists and posts. Hardwood has been used to skirt the house to enhance the timber look and blend with the Australian bush-themed landscaping. The pavers and pebbles entry path is a characteristic that adds to the rugged lines of the entry and covered front deck area.
This home features three generous bedrooms, two bathrooms and a rumpus/study area as well as a large 9m x 7m combined living/dining/kitchen area that faces north-east to pick up coastal breezes for cooling in summer and winter sun for warmth in winter.
The 900mm-wide eaves don't only look great, but assist in the solar-passive qualities of this design. Due to the close proximity of the home to the wetlands and bush at the rear of the block, the house complies with a level-three bushfire rating in NSW, with toughened glass and wire flyscreens used, and all exterior timbers are fire-retardant Australian hardwoods. With Ozkit's standard supply, you also receive insulation to walls and ceilings.
Ozkit Homes has just completed a new factory office and display complex at Tea Gardens, just north of Newcastle in NSW, where the ublic is invited to view its completed display homes and structural displays.
Oz Kit Homes offers a unique steel floor system that is supplied complete with engineering certificates. A choice of steel or timber frames and trusses/rafters are available for all designs. For interior fit-out with kitchens and bathrooms, Ozkit now stocks most items that are available for inspection when visiting.
To simplify the owner-builder process, Ozkit now includes in its service to submit all plans to council for DA and CC approval, so customers can concentrate on planning and getting started with their site and building works.
You can visit Ozkit Homes' displays, factory and hardwood mining facilities at Tea Gardens Monday to Friday.
www.ozkithomes.com.au