When selling up and buying a new home just isn't an option, consider dual-occupancy or subdivision. Architect Robert Harwood shares his advice on the sometimes tricky subjects.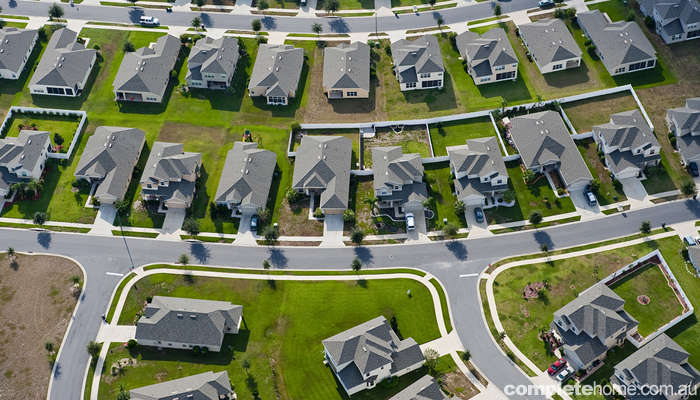 With the high costs associated with selling and buying a house and the risks involved in not finding a solution, this option may be ruled out.  If you don't have the capital to complete extensive renovation work and are reluctant to borrow to do so, what do you do? Dual-occupancy or subdivision may be your best option.
For house blocks with a frontage of more than 15m, or blocks with room for a side driveway, it can often be an option to demolish the old house and build two new homes, side by side or front to back. One of these houses is sold and the property owner then keeps one to live in, effectively transferring land into a new home.
Alternatively, you could elect to build a new freestanding home behind yours, then sell it on and, in theory, use the proceeds to renovate your existing home. Whatever configuration suits you and your site, there are some fundamentals you need to consider before deciding to move forward with your project.
How much land do you need?
In the inner city, the amount of land required could be as little as 75sqm for the second housing site. In the middle suburbs you'll probably need around 600sqm in total — ie 300sqm for two new homes.
Dual-occupancy or subdivision
When considering the structuring your project, you need to think about whether you want dual occupancy or subdivision, so it's important to understand the difference between to the two.
Dual-occupancy can be bound by different planning regulations to a subdivision. With dual-occupancy, you're placing two houses on one title and no subdivision is involved. Instead, you have a second owner who has a legal relationship with you over the title of the land.
With subdivision, you create two distinct titles. This keeps you independent from the owner of the other title and can lessen the reduction in value of the property you keep.
Side by side vs front to back
If possible, it's best to choose a side-by-side layout on your site, as it's preferable for resale if both properties have street frontages. However, long, narrow sites will be better suited to a front-to-back configuration. This option usually works when you want to keep your existing house and use the sale of the rear development to fund renovations.
Design compliance
Whether you choose to develop a dual-occupancy or subdivision, you or your project designer (or both!) will need to ensure the design complies with local council regulations for multi-unit projects and neighbourhood character, so it fits harmoniously into the surrounding context.
Issues of overlooking and overshadowing can often become significant simply because the two properties are located closer to each other than the usual one house per block. There's an art to resolving these issues to ensure both properties offer an adequate degree of space, amenity and privacy.
Cost breakdown
Once you've confirmed that your title has no restrictive covenants, nor any easements that limit your property to one house per block, you can then proceed to compile a cost breakdown for the project. Be aware that this is a one-off project, so if you're expecting your figures to be similar to those you may have heard being quoted by a volume builder, this just isn't realistic.
Be prepared to budget for $1700–$2500 per sqm for building costs. On top of that, add 20 per cent for construction design and documentation, approvals, connection costs, management and the often-neglected landscaping component. Add a further 2 per cent for estate agents' sales fees. You are also going to have holding costs once you start drawing down on a construction loan.
Conduct some research into this area and you'll find many companies claiming to do it all for you. However attractive that might sound, the reality is that you will inevitably give over a considerable degree of control and you might not get what you expected, both in terms of the resultant building or the returns you receive.
By contrast, architects are bound by a professional code of conduct that protects you as a consumer and also ensures regulatory control. A project such as this would be completed by an architect for a service fee without a commercial margin added on top.
Does it stack up?
When assessing the viability of your project, you need to consider whether you can make a profit out of what you build. Ultimately, you need to decide whether it's worth sacrificing your land to build and sell so that you can, ideally, pay for renovations involved in creating a new dual-occupancy or subdivision to your existing home.
Do
• Allow two years for the project from start to finish. • Check your title for restrictive covenants prior to getting too excited.
• Use an architect. The extra initial cost will be repaid when you achieve a better sale price for a truly architect-designed townhouse.
• Budget to provide suitable landscaping and outdoor areas.
Don't
• Over-design or overspend on your townhouse before having an idea of what your sale price for the other townhouse might be. • Get locked in with a builder or developer up front who claims they'll do everything. You risk losing control over the build and could be left with something only vaguely like what you expected.
• Be too avant-garde, nor too conservative. Neo-classicism is not fashionable.
• Take your brother-in-law's advice.
By Robert Harwood, RAIA RIBA
Image by Kent Weakley/bigstock.com
From Grand Designs Australia magazine Vol. 1 No. 2