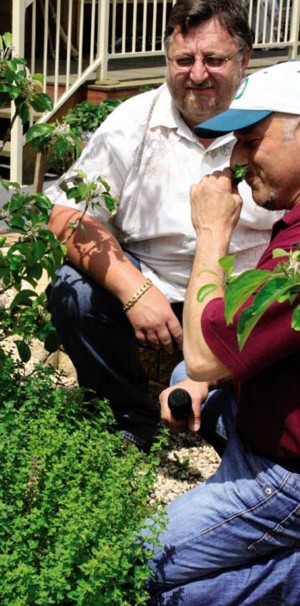 A comprehensive guide for avid gardeners
1. Organic fungicide
Banish black spot and mildew
With the warmer weather just around the corner, protect your plants from black spot and mildew with your own homemade natural fungicide. Mix 100ml of organic milk with 900ml of water in a spray bottle, shake well and spray on a fortnightly basis. It's great to control black spot on roses.
2. Oregano carpet
Stop codling moth pupating
If you haven't already controlled codling moth, chances are there will already be signs of fruit damage caused by this pest. Stop codling moth caterpillars from pupating in the soil beneath apple and pear trees by planting oregano around the base of the tree. It's groundcover-like habit will spread like carpet, stopping the caterpillars in their tracks.
3. Homemade worm farm
Recycle old car tyres
Make your own composting worm farm using old car tyres. Stack two tyres one on top of the other in the garden then fill with kitchen scraps, garden waste and anything else that can be composted. Dig up a few worms from the vegie garden and add them along with soil to the compost mix. Within a few weeks there'll be plenty of worms and even more compost to add to the garden.
4. Tree protection
Recycle milk and juice cartons
Recycle your milk and juice cartons into tree guards. Open both ends of the carton and place over young plants to help protect them from bad weather. Insert two bamboo stakes into the ground to help the carton stay in place.
5. Tiny hot-house
Get seedlings established
Make a mini hot-house using plastic storage containers. Simply place your seedlings inside the container and cover with the lid. To prevent seedlings from drying out too quickly due to excessive heat, drill a few holes across the lid to provide extra air circulation.
6. Potato preventive
Begone caterpillars and aphids
As an insect destroyer, the juice of the potato plant is said to be of great value.Fill a pot with potato leaves and stems, top up with water and bring to the boil. Strain and allow to cool. Spray the mixture over plants attacked by insects; it works great on caterpillars, aphids and other pests. An odour remains on the plant, preventing insects from returning.
7. Grapes of wrap
Protect them from birds
Use recycled paper or plastic bags. Open both ends of the bag then pass it over a bunch of grapes and tie one end to the stem of the grapes. Birds will definitely have a very hard time getting to the grapes.
8. Border protection
Snails hate treading on eggshells
Create a barrier around your plants by crushing eggshells and sprinkling them as a border around individual plants. Snails hate crossing over the jaggedy surface.
9. Eggshell imposter
Fool the cabbage butterfly
Large eggshells placed around your brassicas with the white side up are a great way to deter cabbage butterfly. Thinking the white eggshell is another butterfly, the butterfly won't lay its eggs and will continue flying elsewhere.
10. Stake it out
Make your own reusable tomato plant frame
Build a 20cm wide by 30cm deep T-frame out of timber or steel. Drill three holes across the top of the T-section and stake it into the ground next to the plants. Construct a 2m-high metal frame over the vegie garden with crossbars running over each planting row. Tie three rows of string from the bottom T-section to the top bar, using the strings to secure your plants by twisting the leaders around the string as they grow.