These dream outdoor room designs are worth heading outside for.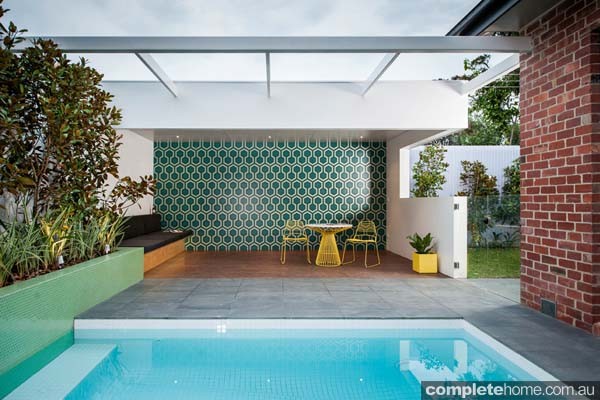 1.  "Ideally your outdoor space is an extension of your home and interior style, although outdoor areas are a great opportunity to break out and have fun with bold colours and prints," explains Susan Tait from Made By Tait. "The Jak+Jil setting from Tait is ideal for this sort of thing. When creating an outdoor room, carefully selecting key furniture pieces helps to set the tone and style of your space. Often outdoor areas are used for relaxed entertaining and again this should be taken into consideration when choosing furniture. Scale and weight of furniture is important: you don't want to overwhelm a space with heavy, chunky furniture or the reverse — place too small a setting in a large area so it appears swamped by its surrounds." madebytait.com.au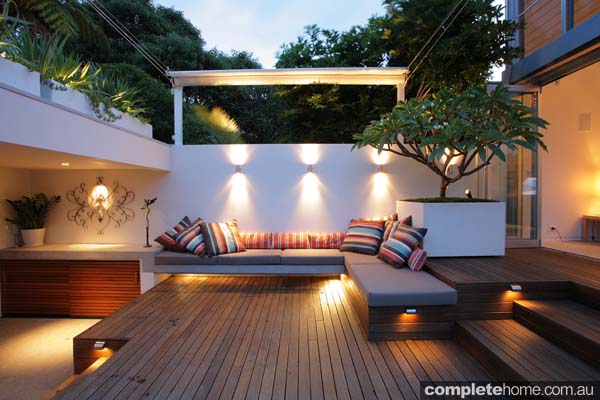 2. Designed by Matthew Cantwell for Secret Gardens of Sydney, this clever and unique courtyard garden in Randwick is the perfect inner-city solution. Offering a quiet and private sanctuary for a young professional family of six (including the dog), the space features bi-fold doors that create a seamless transition between interior and exterior, two water features and a variety of levels and zones. Photography by Peter Brennan. secretgardens.com.au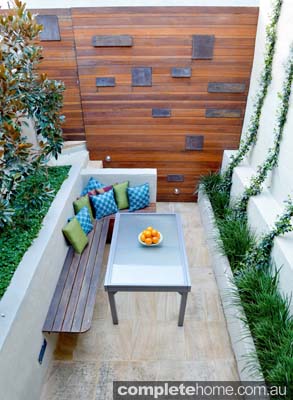 3. Only 3.5m-wide and 6m-long, this compact outdoor room design was a challenge for OUTHOUSE Design. The homeowners wanted an inviting garden that also had a relationship with the modern interior of the home. OUTHOUSE Design's solution was a natural timber feature wall at the back that included rust panels paired with sandstone pavers and thoroughly considered plant, seating and barbecue placement. outhousedesign.com.au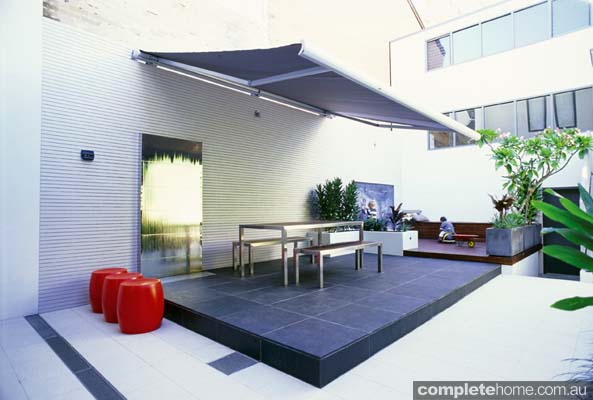 4. This outdoor room design is a fabulous example of family-friendly fun. A selection of levels creates segregated sections for different purposes. Designed by Matthew Cantwell for Secret Gardens of Sydney, this Woollahra home includes a sophisticated dining area complete with water feature and retractable awning but, most impressively, there is a decked children's area, which features built-in seating and a large chalkboard for added fun. Photography by Peter Brennan. secretgardens.com.au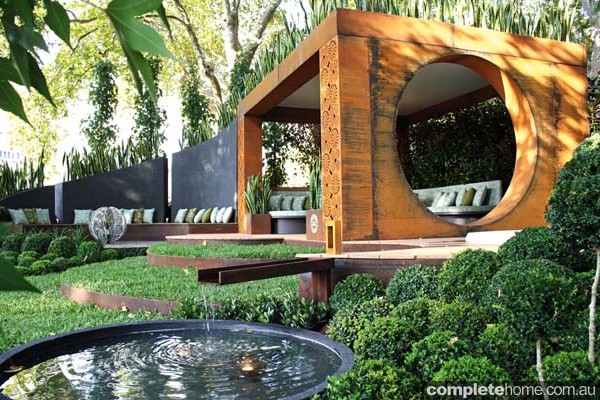 5. Aptly titled, Conversation, this outdoor project by Paal Grant Design showcases a space that works to bring friends and family together. Through curves and spirals, the design's intention is to lead the eye to three main circular meeting spots, feeding thought regarding our dependence on modern technology and social media and how this impacts on the importance of communication through speech. paalgrant.com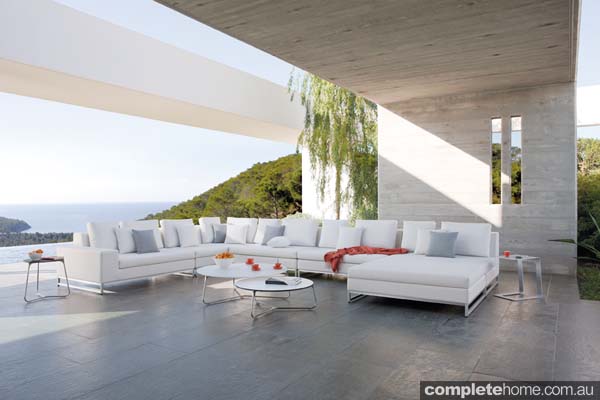 6. Designer and manufacturer of outdoor furniture, Manutti, always aims to be innovative, both in terms of design and the use of exclusive materials. The Zendo range from Cosh Living is the perfect accompaniment to an outdoor space as it is infinitely adjustable, making it suited to a variety of spaces. With water-repellent material identical to that found on yachts, the range works extremely well in both wet and dry environments. coshliving.com.au
Find out more about Cosh Living here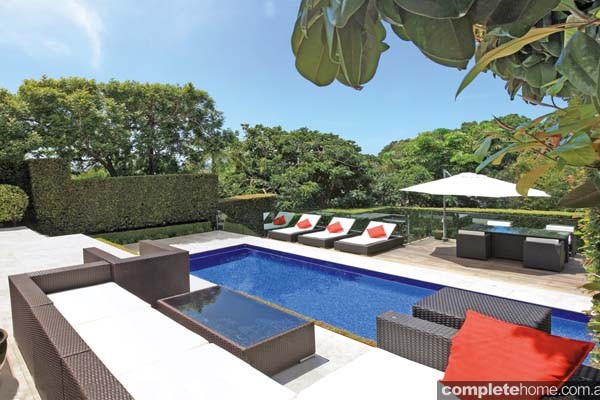 7. This multi-level poolside entertainment area and swimming pool was designed by John Storch of A Total Concept. Simple clean lines and an elevated paved area with a timber deck adjacent to the swimming pool create individual areas with separate functions. The two entertaining spaces complement each other, with similar-quality cane furniture providing options for relaxing. Kids in one area and adults in the other! atotalconcept.com.au
Find out more about A Total Concept here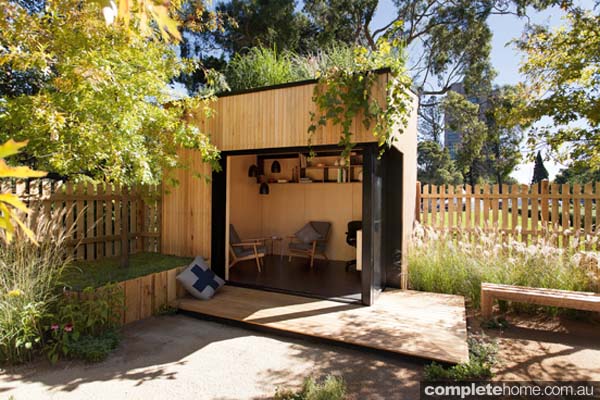 8. Not your average outdoor room, the Backyard Room from ArchiBlox approaches the outdoor concept from a very different angle. The growing need for space means that a segregated office, studio or exercise room set apart from the home in the back garden is a great little getaway. The Backyard Room shown here won the sustainability award at this year's Melbourne International Flower and Garden Show and the silver award for best garden. backyardroom.com.au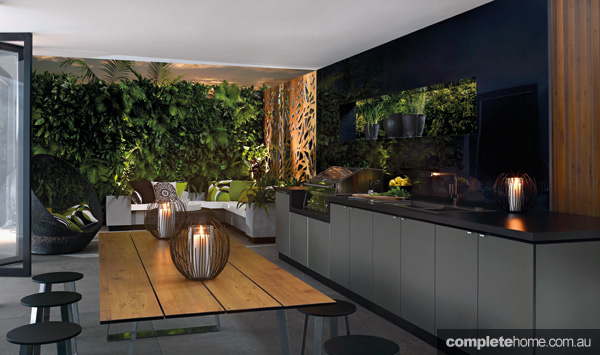 9. Laminex Marketing Manager, Joanna Baker, says "Outdoor living is no longer just having a drink or enjoying a meal around an outdoor table, we're seeing homeowners and renovators incorporate the design elements of their interiors outside."  Made to withstand the outdoor elements, Laminex Alfresco Compact Laminate offers outstanding resilience and design-leading looks. The range even includes woodgrains that provide the look of timber without requiring the maintenance. laminex.com.au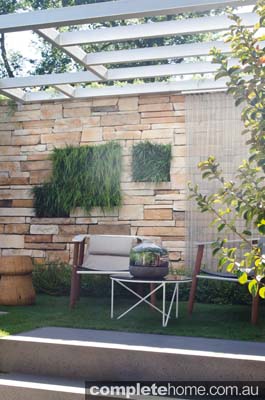 10. A student entry by Peta Donaldson at this year's Melbourne International Flower and Garden Show utilises stone cladding as a feature in its Piet Mondrian-inspired garden design. The space incorporates Boral Cultured Stone in a vertical-style garden, out of which grassy squares leap to create texture and layering for a natural but intriguing space. It is the perfect artistic getaway. boral.com.au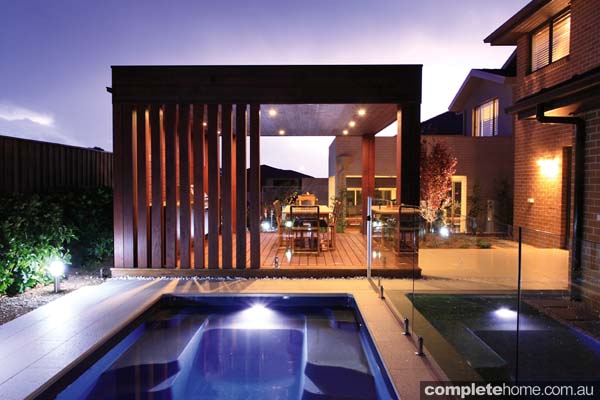 11. An innovative Japanese-inspired outdoor space by ecodesign® that won the 2012 Hills Building and Design Awards Urban Landscape category. This outdoor timber-clad room has a stunning pavilion containing a kitchen and outdoor living area so that you can enjoy this space any time of year. ecodesign.com.au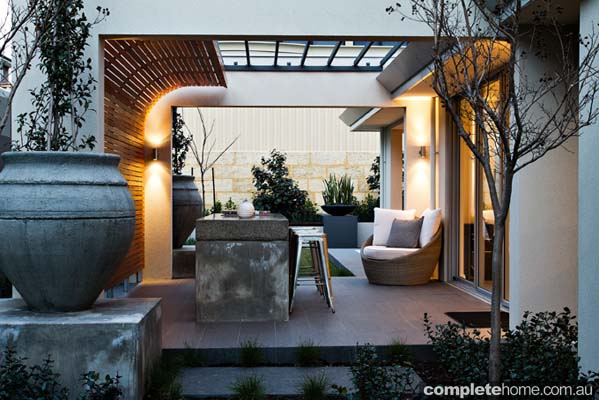 12. Kelsie Davies of Tim Davies Design has created a simple, elegant and dual-functioning space with this project. The living area inside the home spills out to this sophisticated extension of the interior and gives the homeowners extra living space, while still retaining privacy through the bold curved timber screen. tdl.com.au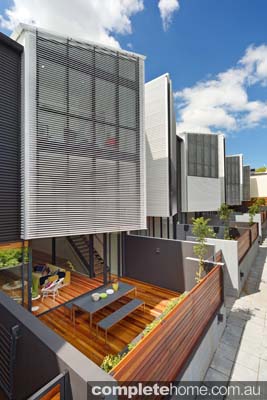 13. Forming part of the Sugarmill project by Smart Design Studio, this courtyard garden is a wonderful extension to the apartment space. With the timber floorboards that continue to the exterior, the transition between indoors and outdoors is seamless. The angles found in the architecture and the large external louvres are mimicked in the colours and furniture used within the courtyard. smartdesignstudio.com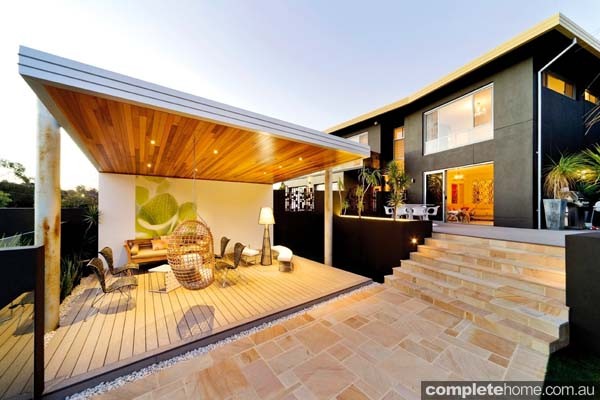 14. Wide paved steps lead you down to this completely separate outdoor room created by Fratelle Group. The large cabana features a kitchenette, built-in barbecue, extended cantilevered bench for outside dining and a grassy area for kids to play. There is also a water feature which doubles as a pool filter and storage area, and an outdoor shower and storage bench. Photography by Squint Photography. fratellegroup.com.au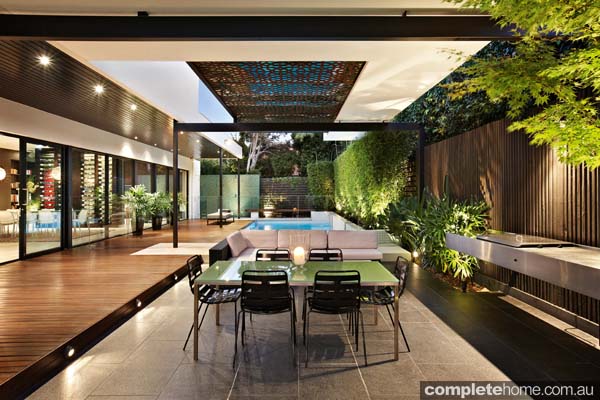 15. Shaded areas in an outdoor space enable it to be used come rain or shine. The Balaclava Residence by Cos Design makes use of an overhead Aludean laser-cut screen that is functional and beautiful. With a barbecue connected to the gas mains, the garden is perfect for impromptu gatherings, too, which was an important factor for the homeowners. Photograph by Urban Angles. cosdesign.com.au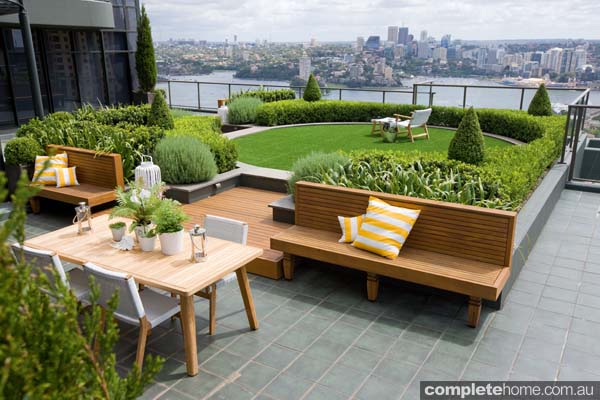 16. This really is the high life. A wonderful view provides a spectacular backdrop to this Sydney city rooftop garden designed by Matthew Cantwell for Secret Gardens of Sydney. Clean lines are offset by the curves and shapes found in the natural elements utilised, and low-level hedging facilitates the magnificent view over the harbour. secretgardens.com.au
17. Victorian ash timber sweeps dramatically through this space, designed by Guy Mouritz of Ritz Exterior Design. Removing any hint of the cramped barbecue area that existed before, the outdoor room now flows from one perfectly orchestrated space to the next, complete with dining area, fire pit, breakfast bar and generous seating enough for large gatherings. ritzexterior.com.au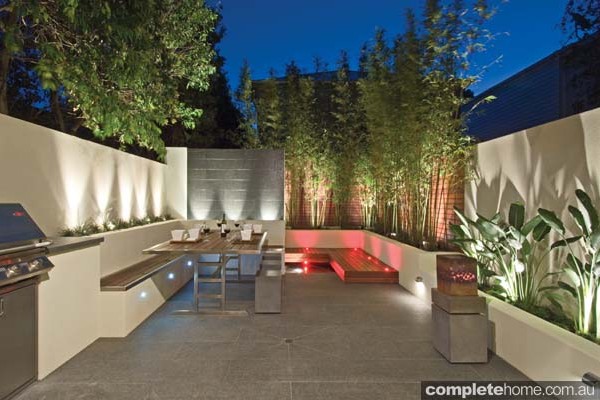 18. With a small space and residences that overlook the garden, Steve Taylor of Cos Design had a real challenge on his hands when it came to generating space and privacy. The homeowners asked for a simple, clean, sophisticated and inviting space for entertaining and relaxation that provided a private escape from the pressures of a high-stress work environment. They wanted a place to enjoy the finer moments and pleasures of life, so tall structures and Oriental touches were implemented to create a private oasis. Photography by Tim Turner. cosdesign.com.au
Looking for a professional to design your outdoor room?
By Alexandra Longstaff From Home Design magazine Vol. 16 No. 4