This 1903 chapel has been painstakingly restored to create a stunning and dramatic London home.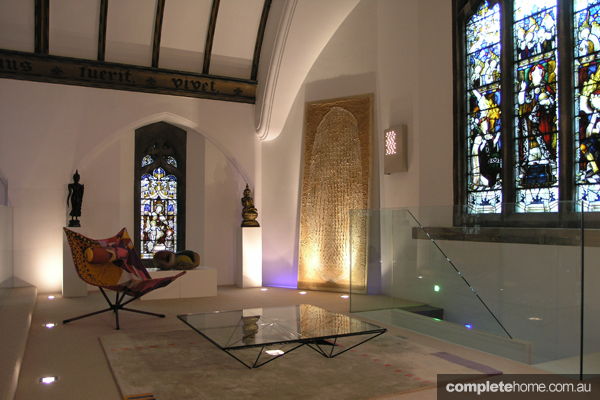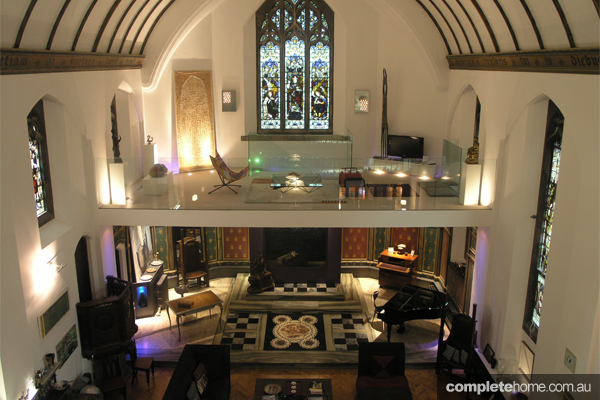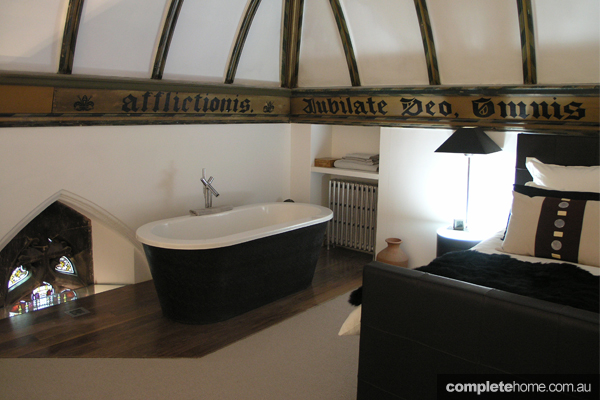 Original is something of an overworked term, but it has real meaning when it comes to interior designer Peggy Prendeville. Her home is a case in point.
A converted chapel in South London, it throws out the style rulebook in favour of an idiosyncratic melange of furniture and accessories, running from Chinese antiques to Italian classics. Cue a Saporiti chair dressed in vintage Missoni fabric. "It's seen better days," Peggy admits. "It's a bit bashed up and the colours are a little bleached out, but it doesn't matter; I love it."
Peggy's home tells the story of her life so far. The ornately carved day bed in her living room, for instance, was purchased while living in Singapore. "I ordered it online from China, which was completely worrying because I didn't know what I was going to end up with," she laughs. The statue of Buddha, meanwhile, was given to Peggy by a client who unconventionally paid for her interior design services in art, and the rug in her mezzanine television room recalls a "phase" in Peggy's career spent designing rugs featuring inset panels. "For this one, I used a piece of stainless steel, but if people were game, I would inset leather, timber or steel, or sometimes a mixture of all three."
To create a successful eclectic scheme, Peggy has brought together mismatching pieces that casually unite in colour and theme. Highlights include a cluster of upholstered pieces that form an informal seating area on the ground floor, a carefully considered space that opens out to create various 'zones' of activity including dining and cooking. "Because this is such a tall space, I wanted the furniture to relate to it," continues Peggy. For this reason, the high back design of her sofa, love seat and chaise longue (all designed by Peggy) are the same height as the kitchen island unit. "It's all very contrived," Peggy explains. "Sofas are usually much lower, but I thought it might look like an airport lounge if everything was low."
The kitchen was installed by the chapel's previous owner, but Peggy added her own design spin by wrapping the "ugly" kitchen carcass in stainless steel. It's an inspired decorating trick where the stainless steel acts like a mirror and reflects the rest of the room. The kitchen comprises a single run of base units with additional storage available in the adjacent island unit, which started life as the chapel's altar before it was converted by the previous occupant. Peggy retained the existing Baltic Brown Granite work surface but has added a smart black glass splashback and glass light shelves that run the full length of the kitchen. In addition, utensils are well placed, suspended from rails positioned above the work surface. And to create a super-sociable setting, a bespoke dining table by celebrated designer Mark Brazier-Jones is placed within striking distance of the kitchen.
In spite of its history, Peggy's home doesn't take itself overly seriously. Witty additions to her bedroom include a freestanding bath wrapped in faux ostrich skin and a plastic armchair that plugs in and lights up; they may have come across as naff in anyone else's hands, but somehow Peggy makes it work, notably by juxtaposing these with her more sedate sleigh bed in rich chocolate brown leather. The bedroom is one of two mezzanines she installed at either end of the chapel. "I wanted it to feel cosier in here and while it is a very grand space, which is lovely, without the mezzanines it was a bit like living in a cathedral."
The beauty of Peggy's interior design is that it does not draw attention away from the chapel's original features. Beautiful panelling on the walls is a talking point, as is a row of pews which were badly damaged when Peggy found them but have been lovingly restored. Like all seasoned interior designers, Peggy understands the value of natural light. The bottom section of each stunning stained-glass window is hinged and opens on to plain glass to ensure that the chapel is bathed in natural light throughout the day. "This work was actually carried out by the previous owner," says Peggy. "I believe he used the same company who made the original stained-glass windows."
Due to the chapel's Grade II-listed status, Peggy had to run her proposed designs past English Heritage and the local planning department. "Interestingly enough, they didn't want everything that was new to be a pastiche of the past," she reveals. "In fact, they prefer to be able to see instantly what is original and what is new." On that basis, Peggy installed both mezzanines with glass balustrades, allowing for a completely open space as well as unobstructed views of the Latin inscriptions running the perimeter of the walls.
Surprisingly, it took Peggy some four years to start work on her chapel. "We were living out of cardboard boxes like hippies!" she recalls. "Partly, it was because I didn't have the money to start it and partly because it took a lot of organisation; I had to get two lots of listed building consents." Living in the chapel before converting it also gave Peggy the chance to carefully consider her final decisions. "My first instinct was to have a big Hollywood staircase to connect the ground floor with the television room," she admits, "but then I decided against it because the staircase was to be where the altar once stood, and I wanted to keep the feel of the chapel."
The upshot is a narrow staircase tucked out of sight behind a joinery wall. And what of the painting that hangs there? Peggy smiles, "It's quite a pressure on a painting to be the equivalent of an altar. I have had this Andrew Mansfield painting from the early '80s and it's already hung in three previous houses. It has a big job, but I think it carries it off quite well."
By Katie Hughes
From Renovate magazine Vol. 9 No. 1