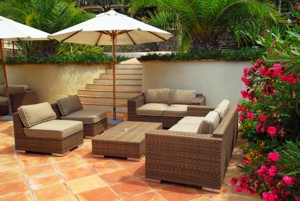 There's no better place to be during the long, hot Australian summer than outside, which is why balconies, decks, gazebos, pergolas, screenings, shading, strategically placed plants and trees and the ubiquitous 'outdoor room' are such important aspects of any modern-day renovation.
By Lisa Doust

The key to a successful outdoor living area is to treat it as an extension of your home by blurring the boundaries. No matter how big or small the space is, you can create an area that's perfect for either relaxing or entertaining all-year round.
As award-winning landscape designer Dean Herald points out in his book, Resort Style Living (Jamie Durie Publishing, $59.99), scale is an essential consideration when starting to design any outdoor space. "Take the time to understand the scale of the area you have and the elements you would like to have within it," he advises. "Combine this with the right plant selection and you will have a space that feels welcoming and balanced."
Aspect is equally as important — your outdoor area's relationship to the elements should be respected and used to your advantage, says Herald, who adds that function is another key consideration. "If an outdoor space has been designed with function in mind, you will move through the space and interact with it effortlessly," he says.
When designing gardens and outdoor living spaces, Herald says his priority is to gain an understanding of how his clients intend to use the area. "One of the first questions I ask is how many friends and family they would usually have at a casual function such as a barbecue," he explains. "This is of critical importance in designing the paved areas for outdoor dining, and cooking if required, and from there we can start to consider furniture layouts. Once these basic considerations are determined, we can access the remaining space and elements within it, and start to introduce levels of innovation to build on a selected theme and style," reveals Herald.
According to Helen Snyders, Creative Director of Sydney-based House of Bamboo (www.houseofbamboo.com.au), you want to create a place that not only looks great but provides shade and privacy while adhering to good design principles. "You want the air to be flowing freely through the space so it is comfortable at all times of the day and night," says Snyders. "We offer a range of natural cladding and materials for screening and shading, including bamboo and Natureed®, both of which, importantly, allow the air to flow and natural light to filter through."
Snyders says that, thanks to the enormous range of products now available, you can completely transform your outdoor living space without having to blow your budget. "It doesn't have to cost a lot to make your outdoor area look great," she says. "The materials we supply, for instance, are to be used imaginatively and allow you to create different themes. You can go for a completely modern appearance or create a tropical, Asian or Polynesian-inspired space — it's entirely up to you."
GET CREATIVE
Working with a restricted budget? Then use these tips to create a fabulous and functional outdoor area without going to great expense:
• Your primary investment should be outdoor furniture that has been built to last and resist the elements. An extendable table and foldaway chairs will allow you to free up some space when necessary.
• Shade and shelter are paramount. There are many cost-effective options available, including hard-wearing umbrellas and pergolas with Natureed® cladding that allows the air to flow freely. Vergola offers a complete louvre roofing system, which provides versatility and a certain amount of control over the elements (visit www.vergola.com.au).
• Use some funky cushions and a matching table runner to add colour, style and comfort to your outdoor setting.
• Use plants to add colour, texture and life. The staff at your local garden centre will be able to advise on which plants will work best in your particular environment.
• A coat of paint can go a long way to enhancing an outdoor area. Get creative and paint a coloured feature wall, then add a mirror to enhance your sense of space.
• Install some outdoor lighting — garden lights and torches come in myriad shapes and sizes and many don't require a power source. You can also add candles to the dining table to create mood and atmosphere.
• Invest in a barbecue — there are small, medium and large sizes available and they instantly increase your summer menu options.
TOP TRENDS
The latest trends in outdoor entertainment areas add a whole new dimension to your home life:
• Outdoor rooms: By blending the interior of your home with your outdoor area, you can literally create an extra 'room' in which to take it easy or entertain. The fundamental components of the outdoor room are overhead shelter, decking or solid flooring, a kitchen area and a dining setting and loungers that allow you to kick back and relax.
• Water features: It took us a while to catch on to the Japanese concept of adding water features to the garden to create ambience, but we have wholeheartedly embraced the idea. There are many options available — from small and compact designs to sheets of water running down stone walls and fully blown waterfalls that run into pools.
• Lap pools: Householders who have limited space but want the luxury of a swimming pool have been installing lap pools; at just two metres wide, they can be up to 25 metres long. Another popular option is an organically shaped pool that is integrated into the shape of the garden rather than dominating the space.
• Innovative products: As well as barbecues, appliance companies have been busy designing grills and outdoor ovens so you can literally set up a second kitchen outdoors. Everhard Industries has even designed a deep and compact sink, the Como, which can be used everywhere from the wet bar and outdoor kitchen to the laundry (visit www.everhard.com.au). The increasing demand for outdoor heaters has also seen designers getting clever and coming up with a range of options that allow you to utilise your outdoor living area the whole year through.