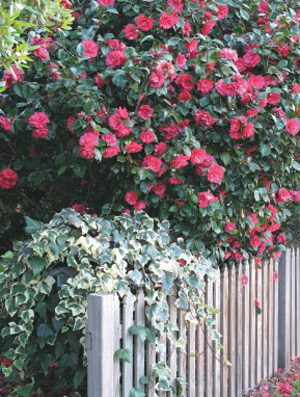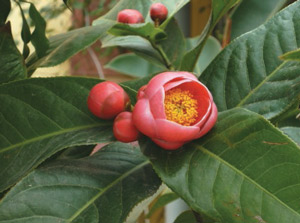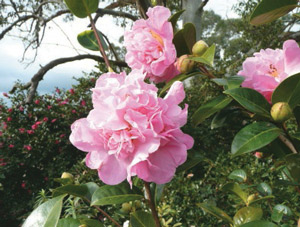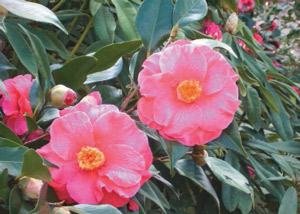 By Pam Watson
Some of the earliest camellias in Australia were sent by John Macarthur jnr from England to Camden Park, southwest of Sydney. They were described by him in 1821 as … "the most magnificent flowering shrub that has ever been introduced to this country. The flower, which is red as the rose or white as the driven snow, is the most perfectly beautiful that can be imagined."
Those words are true today and we value camellias of different species for their long flowering season through autumn, winter and spring, and their blooms of many shades of white, through pinks to the darkest red of 'Black Opal'.
They are wonderful plants and generous in their flowering and become the pride and joy of their owners. They are worth the care required as a well-grown plant in full flower is beautiful in any garden.
The most popular camellia in the world is the tea plant, Camellia sinensis, from Southeast Asia, now grown around the world for its leaves. It has small white flowers and can make an attractive hedge.
Most gardeners are familiar with C. Japonica, which flowers from early winter to early spring. It has a wide range of colours and flower forms, including variegated, striped and shaded colours. Flower size varies but many would be 10–15cm in diameter. Most are best in light shade, although singles and darker colours usually withstand more sun.
Some easy to grow cultivars include:
White — Polar Bear, White Nun, Lovelight, Fimbriata, Nuccio's Gem, Brushfield's Yellow (pale-yellow petaloids in centre)
Light Pink — Buttons-N-Bows, Mrs D.W. Davis, Mrs D.W. Davis Descanso, Desire, Debutante, Fashionata, Lady Loch
Dark Pink — Carter's Sunburst Pink (and sports), Drama Girl, Elegans, Elegans Supreme, Dona Herzilia de Freitas Magalhaes (purple-pink)
Red — The Czar, Great Eastern, Guilio Nuccio, Grand Prix, Grand Slam, Bob Hope, R.L. Wheeler Variegated, Takanini
Unusual — Margaret Davis, Tama-no-ura
C. sasanqua is well known for its autumn flowers. The leaves and flowers are quite small. The flowers are often single or semi-double and drop quickly, but the plant flowers profusely. They are suitable for full sun and informal or formal hedges.
Tall growers include Beatrice Emily (double flowers white-edged pink), Jennifer Susan, Narumigata, Setsugekka, Hiryu, Star above Star.
Low growers include Silver Dollar (a personal favourite, white, gardenia-like), Yuletide (red), Paradise Petite (pale pink), Paradise Little Liane (white).
Less well known is Camellia reticulata, which has large foliage and very large flowers and grows in full sun. The flowers usually appear later than the japonicas, in spring. The shrubs are more open and tree like. They are usually grafted onto sasanqua rootstock and are therefore more expensive. Dr Clifford Parks (red), Valentines Day (pink) and Lady Pamela (white) are spectacular.
There are many more species, well over 200, in fact, several of which have real garden potential because of their flowers or growth habit. C. lutchuensis has a beautiful perfume, C. nitidissima has yellow flowers, C. fraterna has clusters of flowers, C. amplexicaulis is tropical from Vietnam and C. saluenensis has mauve pink flowers.
Hybridists have been cross-pollinating different species, and attractive hybrids are becoming available. Some of the cluster-flowered weeping hybrids look as spectacular as flowering cherries and flower for six weeks. Wirlinga Princess, Our Melissa and Bogong Snow flower profusely. C. japonica 'Kuro-tsubaki' has almost black flowers.
Fertilising can be a controversial subject and there are probably more plants killed by over-fertilising than under-fertilising. Mulches of compost or cow manure, or modern slow-release fertilisers can be used sparingly in spring but take care not to use fertilisers that are alkaline, as camellias prefer acid soils.
Reticulatas resent pruning but other established camellias can be pruned to any convenient height or shape, preferably in early spring before new growth. Even if cut back to the trunk, they will shoot again. If pruning sasanquas as a hedge, prune after flowering and throughout spring but don't prune off all the flower buds. Camellias can also be trained as standards or as espaliers against a wall or trellis.<
If you want to know more about camellias, there are camellia societies in all states of Australia — check the website of Camellias Australia, www.camellia.org.au. Many camellia societies and garden clubs hold camellia shows around July and August and they are well worth visiting to see an enormous array of flowers.
The website of the International Camellia Society has The International Camellia Register with descriptions of about 30,000 camellias online.
If you wish to see camellias growing, on the first weekend of May and August, Bob Cherry of Paradise Plants, Kulnura (near Wyong on the NSW Central Coast), opens his 12-hectare garden to display his collections of camellias. Bill Fleming's garden at Galston, featuring camellias, opens for Australia's Open Gardens Scheme.
Pam is a Past President of the NSW Camellia Research Society, and of Galston District Garden Club. She grows more than 500 camellias in her garden. Contact Pam at nswcamellias@hotmail.com.