With its chic coastal design, this outdoor retreat truly is a modern masterpiece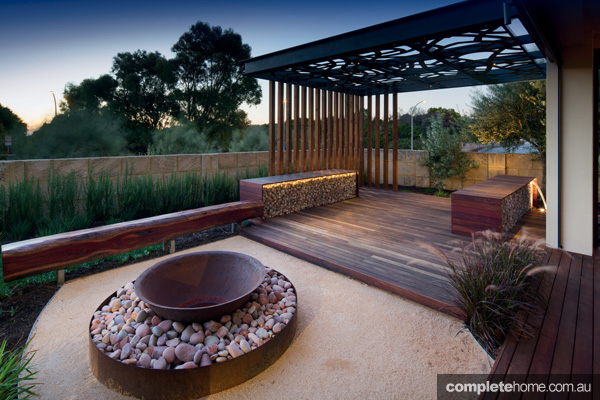 The family that owns this property in Port Kennedy, a seaside suburb on the outskirts of Perth, wanted to be able to enjoy their garden to full advantage and make the most of the clement coastal weather.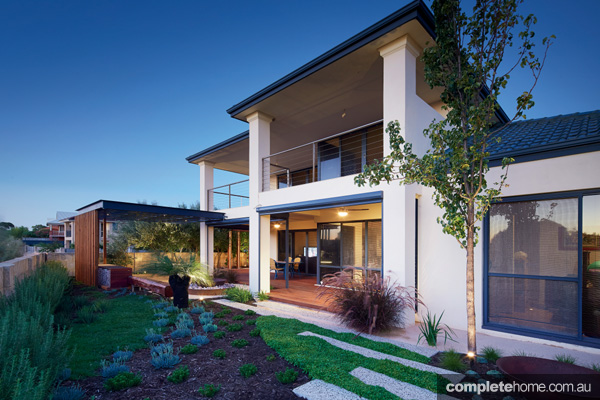 They turned to Deep Green Landscaping (DGL) to design and build for them a series of functional and aesthetically pleasing outdoor spaces that would meet their lifestyle needs. DGL's design is contemporary yet has just the right amount of coastal charm, in keeping with its location.
This is a garden that abounds with arresting design elements. There is a stunning fire pit set before a rustic timber bench, a custom-designed timber and steel arbour, a gabion water feature and a laser-cut patio roof.
The patio roof is a stand-out feature that defines the outdoor seating area as a distinct entity, while simultaneously connecting it to the house. As the owners neither wanted nor needed this area to have a solid roof, DGL was able install a laser-cut roof that allows light to stream through during the day and a lovely view of the night sky when the sun goes down.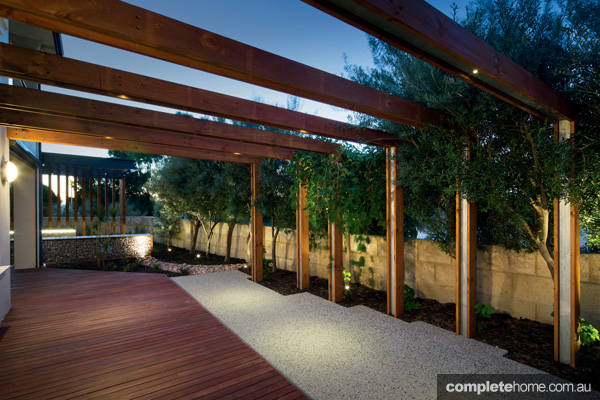 Timber benches formed around rock-filled gabions provide casual seating at the back of the house. These benches work with the mahogany decking and complement the compacted gravel flooring used in the adjacent fire pit area. Adding to the visual connection between the spaces, the metal fire bowl sits atop a large metal ring filled with the same rocks used as the fill for the gabions.
Along the side of the house you will find the bespoke timber and steel arbour, the angularity of which references the contemporary architecture of the house, as do the clean lines of the exposed concrete paving and the timber decking.
In designing this garden, care was taken to choose products and plants that worked in harmony and would stand the test of time, given the coastal location. This extended to the sub-surface dripline irrigation system Deep Green Landscaping installed to prevent any overspray and wastage of water from strong ocean winds.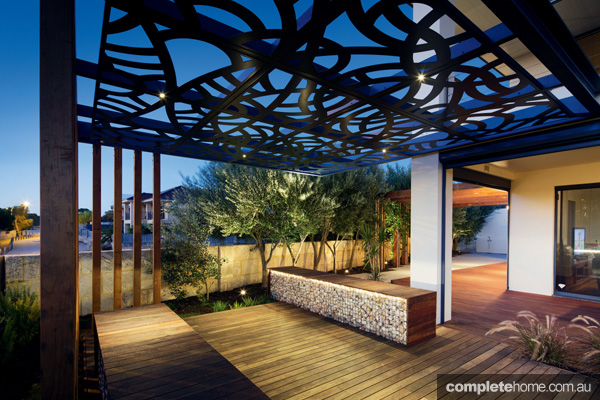 Lighting was also a big part of the design and Deep Green Landscaping went to great effort to hide the cables to ensure a seamless finish. The finishing touch was the creation of a small but functional barbecue area on the back deck.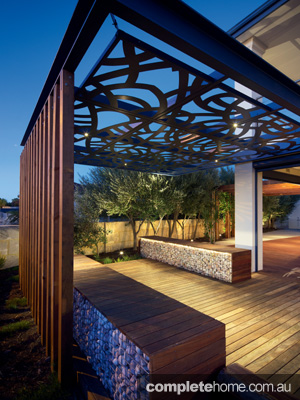 Project details
Landscape design and construction by Deep Green Landscaping (DGL)
23 Colray Avenue, Osborne Park WA 6017
(08) 9242 2299
info@deepgreenlandscaping.com.au
www.deepgreenlandscaping.com.au
Photography by Ron Tan
Originally from Outdoor Design and Living magazine, Volume 31