This garden project proves that big ambitions can still be realised, even if you have a small space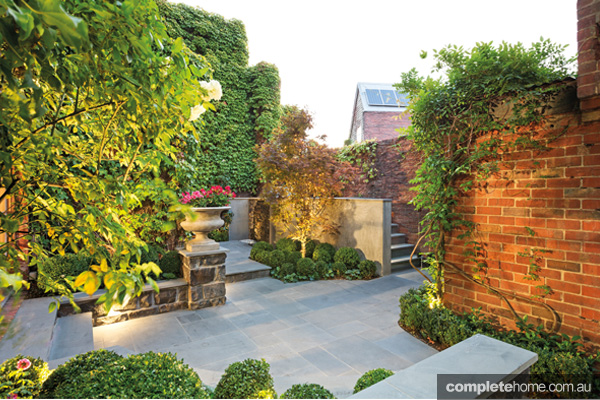 What do you do when you have big ambitions for your garden but not a great amount of space? You seek the guidance of a professional landscape designer, which is precisely what the owners of this luxurious home in Melbourne's inner suburbs did.They sought out David Franklin of Franklin Landscape & Design, who says: "The brief from the owners of this house was to give them a garden that looked like it had been there for years. This meant giving the garden an established feel and ensuring it complemented the architectural style of the house. Another important element of the design was the creation of entertaining areas and finding space for a plunge pool."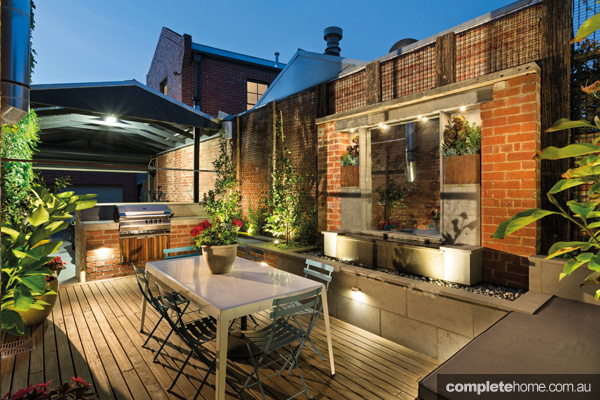 David chose a French cottage-style theme for the garden, which combines rustic charm with easy elegance and a dash of formal flair. One of the ways the Franklin Landscape & Design construction team was able to give the garden an established look was by incorporating some salvaged materials.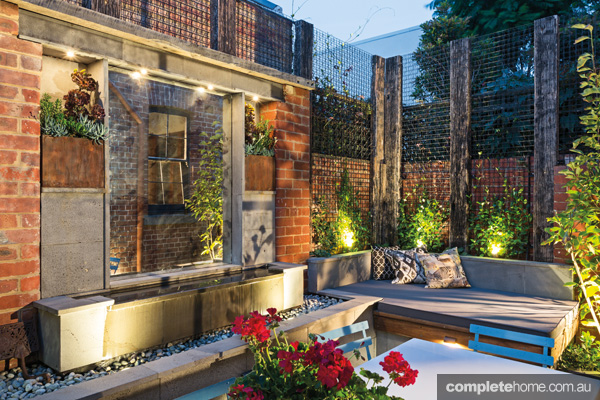 "There is the bluestone water feature which we built out of blocks saved from the original garden and we also managed to get some wharf timber from an old pier on the Mornington Peninsula. We used this timber as our uprights around the dining area and then attached ArchBar trellis mesh panels, along which Boston ivy and star jasmine now grow to create a leafy screen," says David. The plunge pool is another stand-out feature. "Building the plunge pool in such a small space was definitely a challenge," he says, "especially trying to fit in the pool equipment and all the pipe work."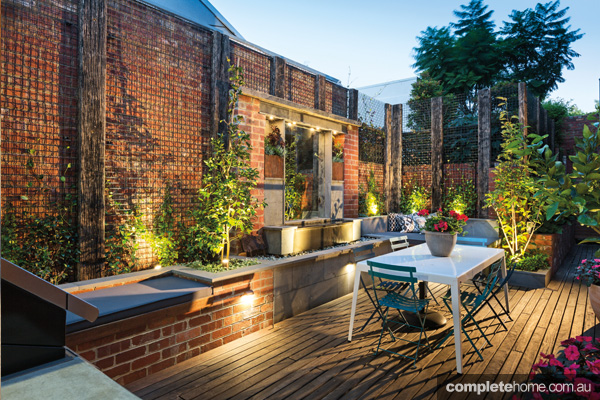 Making the most of the space in the dining area was equally important. Here there is a built-in daybed and a built-in seat as well as a large wall-mounted mirror that gives the space the appearance of added depth. Spotted gum was used for the decking in this area while elsewhere, sawn bluestone paving was the flooring of choice.
The paving offsets the rich greens of the planting palette, which includes multiple buxus balls that create a softening "cloud" effect, feature plantings of Japanese maples and succulents in pots. At night, the plants, as well as the key design elements, are illuminated by Aqualux lighting and there is an outdoor sound system to set the desired mood.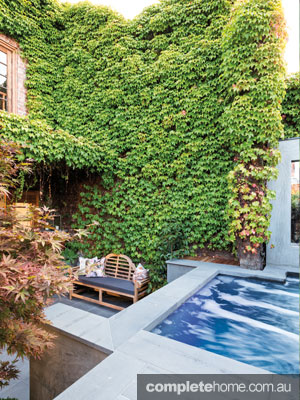 In summing up, David says: "This garden was such a pleasure to work on and I am very gratified by what we have been able to achieve in such a small space. It has everything that you want for inner-city living and a lovely natural flow that integrates so well with the house."
For more information
Landscape designed and construction by: Franklin Landscape & Design
Address: 197A Bay Road, Sandringham VIC
Phone: 03 9598 1094
Email: david@franklind.com
Website: www.franklind.com
Originally in Outdoor Design Living, Volume 31