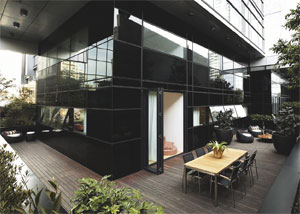 Nature and luxury become one in this leafy garden apartment
FINDING THE balance between a demanding lifestyle and spending time in nature can be a difficult task in today's rush-rush society. Yet high above the commotion of the city, on the 15th floor of the Lumière Residences, is a verdant oasis. Interior design company Coco Republic brought Mother Nature to this apartment, a residence that reaches unbelievable heights, far removed from the chaos below.
Coco Republic chose to explore a décor that unified its interior and exterior design to create a nature-lover's dream home, designed for those who enjoy a life of luxury but still want their own arbour. Possibly the reason this apartment took only 10 days to sell.
Coco Republic used neutral colours throughout the apartment, beginning with the entrance where visitors are greeted with blackand- white forest wallpaper, wrapping around to the nook of the study. While the dark tone may seem overbearing and gloomy, it instead balances the light-coloured hardwood flooring and white with reddish-toned kitchen, validating itself as a creative space where gourmet cooking can really come alive. Open and spacious, its clean interior is refreshing and light, perfect for culinary experts to enhance their skills. The colour scheme travels through the apartment, with the living room adopting earthy tones. A soft-brown Jardan Albert sofa decorated in beige and red pillows sits adjacent to the visible garden outside. Teamed with a leopardprint rug, an ambience of living in the wilderness of the African Savannah is conjured.
Cleverly designed for optimum privacy, the master bedroom is hidden away, enjoying a vista of the garden through its floor-to-ceiling glass windows, creating a harmonic and tranquil atmosphere to a room dedicated to peacefulness. A neutral textured wall is the backdrop for the bed and adjacent is the ensuite, which adds a real touch of elegance, with a double shower and trademark glossy tiles.
Soft, neutral shades recur in the second bedroom, complemented by accents of pastel blue and highlights in red, perfect for guests, with a queen-size bed and a large streamline wardrobe. Guests can enjoy the lovely garden scenery, providing added freshness to the luminous guestroom.
To highlight the distinctive L-shaped decking, Coco Republic matched a sitting table to the building's dark exterior and decorated with oversized pots of greenery and a unique social feature — an open-fire dish from Brad Pit surrounded by basket chairs and stools from Robert Plumb. Imagine a cool wintry night, sitting by an open fire with friends, sipping warm drinks and sharing a laugh in this surprisingly quiet terrace. This elegant and enjoyable outdoor setting completes the lavish apartment, ensuring its position as one of Lumière's top apartment designs.