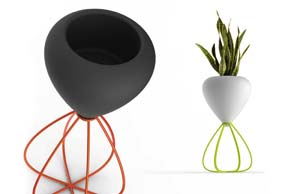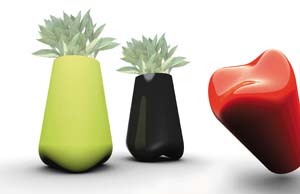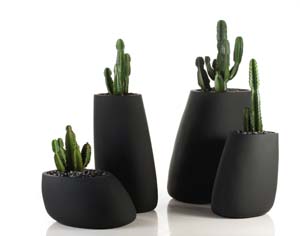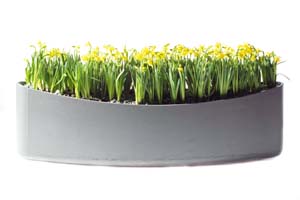 Pots are a great feature to have in the garden. Discover how to make the best use of them…
Form or Function
You can use pots to add a structural element to your outdoor space. Think pots that are long and tall, but still narrow, such as Mosarte's Fiberstone Divider Pots, and fill them with slender or clipped plants like bamboo or nandina. Or use a group of pots to fill in the corners of your outdoor space, transforming a straight-edged square or rectangle into something more free flowing. Another option, depending on your needs, is to use strategically placed pots to create visual weight to balance heavy structural features like walls, pergola posts or overhead awnings. Or disguise unattractive elements of the garden such as stormwater or sewage pipes, air conditioning compressors or gas connections with elegant potted plants.
Size Matters
If you plan on arranging pots at various intervals throughout your garden, you need to be sure they're large enough to avoid looking lightweight and insignificant – if they're spaced 10 metres or more apart, anything less than 60cm high and wide will look too little. But, on the other hand, if yours is a smaller, more intimate space, pots that are too big will feel overwhelming and intrusive. A grouping of smaller pots of varying heights might be a better option.
Group Think
Small pots dotted about your garden will just look like clutter, but if you group them together, they'll look much more appealing, visually. When it comes to a collection of objects though, the trick is to maintain one constant element: it might be the material, the shape or the colour of the pots, or, perhaps, the plant you put in them. You could try a group of different shaped terracotta pots, painting your pots one striking colour, or planting a neatly clipped topiary box in your motley assortment of pots.
Colour Criteria
Black, grey and off-white are pretty standard colours that will suit most gardens. Interesting textures and patinas are great if you want a bit more pizzazz, but if you want to be really adventurous, colour is back with a vengeance this year. Pots in various shades including lipstick pink and red, sunny yellow, warm orange, lime green and intense blue, are available from Northcote, Cotta Pots and Greenbo. Metallic finishes are also popular, but in subtler, burnished shades like bronze, lead and zinc.
Sharp shapes
Although squares and rectangles are currently the most popular shapes for pots, some industry insiders are predicting are return to the traditional round pot in the near future. But there are also some exciting new shapes on the market at the moment – Lechusa has ribbed pots, while Mosarte's Ginko pot has tessellating petals and the Safari range from Hive are almost animal-like in shape.
Maintenance Matters
Use the best potting mix you can afford for your new plants and be sure to re-pot them every few years. Potted plants need to be watered more frequently than those in your garden. Use a soil wetter every few months or so to ensure the whole root ball is absorbing the water you're putting on your plants. If you can, immerse smaller pots completely for an hour or so. Taking the time to perform regular maintenance will be worth it in the long run; after all, there's nothing worse than having a beautiful pot with a straggly looking plant in it. 
Practical Advice
Make sure the pots you choose for your garden have been rated for outdoor use, as some are only made for indoor plants.

Placing pot feet under your pots will save your paving from stains or your deck from rot. You can place your pots on top of a saucer if you can't find matching pot feet.

Tall cone-shaped or tapered pots could fall over during strong wind unless you fill the bottom with bricks or pebbles.