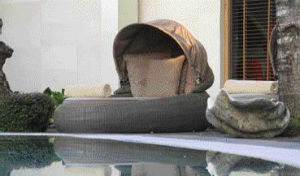 Synthetic-weave outdoor furniture offering unrivalled comfort and class
Contemporary home and outdoor design is all about creating a seamless blend of indoor and outdoor living. One of the simplest ways to achieve this highly sought-after sense of connection is with the right outdoor furniture.
Satara Outdoor Living offers a diverse range of stylish, high-quality outdoor furniture designed to meet our ever-evolving entertaining needs — and the demands of the most discerning customer.
"With the continued move towards integrating indoor and outdoor living spaces, our hand-woven synthetic furniture provides myriad options for maximising the use of outdoor spaces, whether for relaxing, socialising, dining or escaping from the hectic pace of life," says Colleen Johnston of Satara Outdoor Living.
Satara works closely with designers, decorators and a few selected retailers to help their residential and commercial clients achieve the best possible results. And by providing a full range of designs, colours and delivery options, it has built many long-standing relationships.
"Our outdoor furniture is made to impress and last," says Colleen. "The furniture is all hand woven by skilled weavers with a synthetic weave that resists fading and cracking in the sun. Many of the pieces feature unique combinations of teak and synthetic weave and all pieces can be mixed and matched to create integrated outdoor areas for entertaining, dining or relaxing."
Satara offers several outdoor collections — including its latest range, Votsalo (featured here) — so has every outdoor need covered. The company also has decadent daybeds, comfy sofas, luxurious sun loungers, dining chairs and arm chairs, dining tables and various accessories — all available in 12 different weave colours and a multitude of water-resistant fabrics.
And a final word from Colleen: "As we cater to designers who are always looking to meet clients' individual needs, we are happy to customise our products. Tables and chairs can be custom-made and modular systems can be ordered in pieces. If you have a special requirement, just give us a call."
For more information
Satara Outdoor Living PO Box 1173, Hampton Vic 3188 Phone (03) 9587 4469 Fax (03) 9587 4496 Email sales@satara.com.au Website www.satara.com.au