A series of beautifully composed outdoor rooms combine to create a garden symphony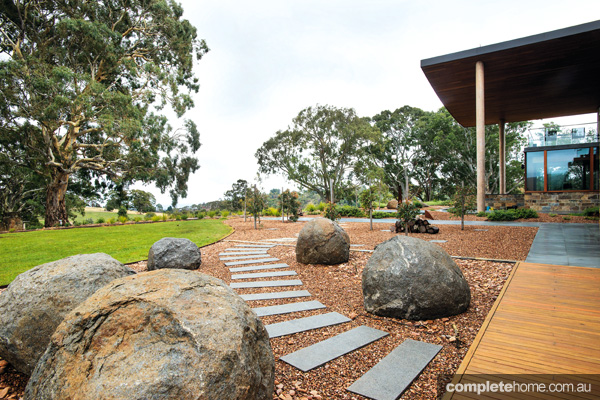 For some, such a large site with such an imposing residence would prove daunting. For Nathan Hunt from Outdoor Domain Designs, it was an exciting opportunity to create something truly special.
"Because of the scale, I decided to break down the site into separate gardens, each different without being themed and each flowing into the next as you walk around the site," explains Nathan. "The owners wanted gardens that would complement the architecture and scale of the residence but also blend into the surrounding rural environment as you ventured further from the house. It was also important to link the gardens via pathways so you could journey through them and immerse yourself in the outdoors."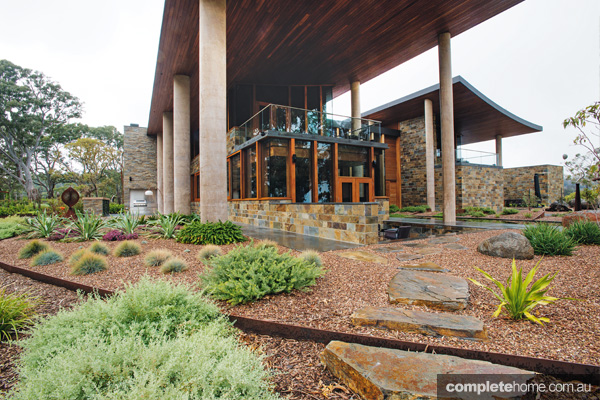 Encouraging native wildlife into the garden and keeping maintenance to a minimum were other priorities, as was implementing a largely native planting palette. To achieve all of this, Nathan designed some of the gardens from scratch; others he developed using existing preliminary designs.
Nathan and the Outdoor Domain Designs' construction team then set about giving form and life to the various garden areas, which range in look from modern to stylised, Australian to formal.
"To help settle the gardens into the wider natural landscape, natural stone was used extensively," says Nathan. "This includes Barossa river pebbles, 3.5-tonne granite boulders, basalt paving, edging and cut steppers of granite, and Kanmantoo Bluestone random steppers."
This is complemented by the blackbutt timber deck, which references the cladding on the house, and is contrasted by the judicious use of steel, which can be seen in the garden bed edges, the arbour and the modern sculpture.
The planting is also extensive, starting with the front of the house where Outdoor Domain Designs installed mature dragon trees, under-planted with Rhoeo spathacea, to draw the eye to the entry courtyard. These architectural plants rise up from custom planters made by Toppco and add a dash of drama. There is also a mounded garden with striking grass trees along with dwarf cushion bush and blue chalk sticks at the front of the house.
In the barbecue area, the plants are a careful mix of sago palms, Mexican lily, Sedum 'Purple Emperor', Dichondra 'Silver Falls' and Philodendron 'Xanadu'. As with any contemporary landscape, lighting plays a key role. Using premium-quality lights supplied by Gardens at Night, Nathan ensured the gardens look enticing both night and day.
For more information
Outdoor Domain Designs
Website: www.outdoordomaindesigns.com
Email: nhunt@outdoordomaindesigns.com
Mobile: 0408 900 195
Originally in Outdoor Design & Living, edition 31