Create an impressive cooking space outdoors for all your family and entertaining needs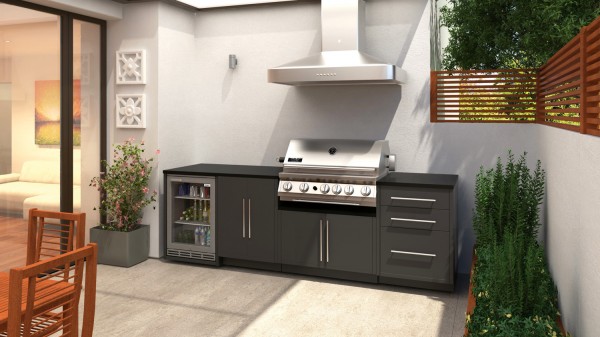 From humble beginnings that mostly involved throwing a snag on the barbie, outdoor cooking has grown in leaps and bounds over the past 10 years. These days you can cook anything from pizza to dessert in your outdoor kitchen and everything you need is right at your fingertips.
"Outdoor cooking has become more adventurous," says sales and marketing manager at Lifestyle BBQs, John McGran. "People want to create the exotic dishes they have enjoyed while travelling overseas or at the wonderful international restaurants we have in Australia. The old snags and chops are the exception now rather than the standard offering."
Of course, this means more sophisticated cooking tools need to be utilised outdoors. "Creating these new dishes requires items such as wok burners and wood-fired pizza ovens," says John. "To make life easy, there are sinks, dishwashers and fridges — basically bringing the whole kitchen outdoors."
Selecting your barbecue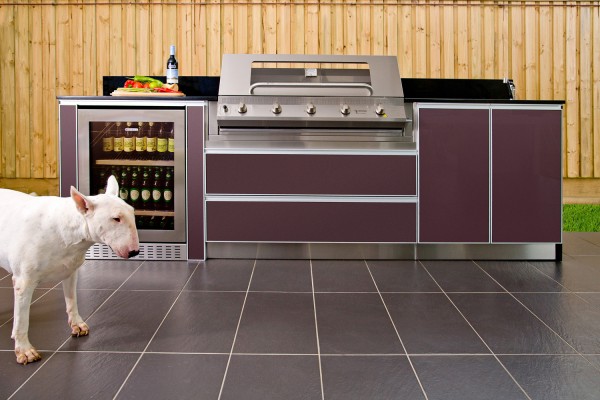 First and foremost, John suggests choosing a barbecue that's Australian-made and built to last. While you might have to invest a little more, you will get greater value for money in the long run. "Don't buy online from someone who doesn't advertise a street address for their business," he warns. "Beware of gimmicks! The traditional units can often be the best. It might seem like a good idea in a brochure or online, but until you see one in operation, you won't know how it works."
When choosing between a freestanding or built-in unit, consider how permanent your living arrangements are. "The traditional freestanding barbecue still has a lot of merit," says John. You can adjust its positioning in the yard depending on the weather conditions, the position of the sun at a particular time of the day or even how many people are coming to lunch and the space you require. "A built-in is more appropriate if you have the ideal spot and intend to stay in that particular property for a while to maximise your return on the investment," he continues.
Kitchen design tips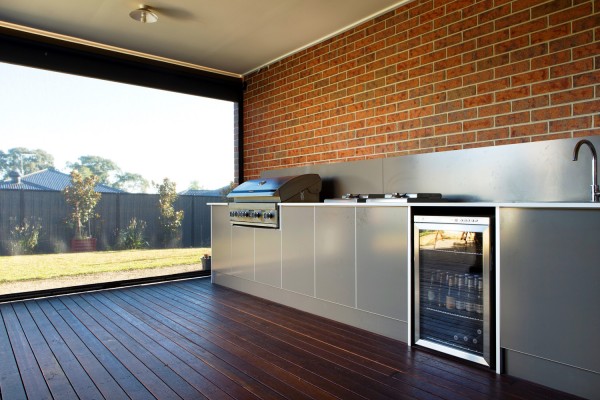 When designing an outdoor kitchen, it's important to consider its proximity to your indoor kitchen. Being close to the main kitchen can open up the possibility of shared services between the two areas, and perhaps eliminate the need for certain components like an outdoor refrigerator. On the other hand, some people may want their outdoor kitchen to be self-sufficient.
The aspect of the home should also be considered as it may determine the materials used or whether there is a need to incorporate awnings or screening into your space or provide individual covers for your appliances or hardware. For example, will your kitchen be in full sun for extensive periods of time or be exposed to high winds? "If you want a glass door bar fridge in the unit, make sure it's in a spot that won't get direct sunlight," advises John. "If it will be, you'll have to opt for a stainless-steel door fridge."
Judging the suitability of the site is another important step. How will utilities be connected and will you connect gas or electricity? Is additional plumbing required and if so, will you require cold and hot water? "A lot of the plumbing and electrical considerations are best thought out before putting the services in," says John. "Order your outdoor kitchen before you have tradesmen locate those services. That way, they will go in the right spot."
To ensure your space is usable day and night, sufficient lighting should be an integral part of the design. The first area to consider in an outdoor kitchen is above the barbecue or cooktop.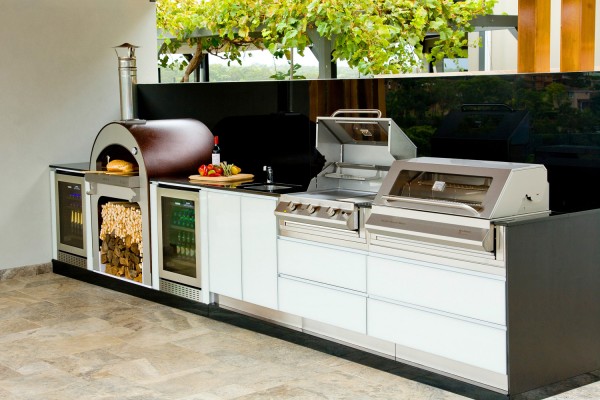 Being able to see the food you're cooking properly is essential so that meats are cooked to the right temperature — particularly when preparing chicken or fish. In this instance, halogen task lighting is ideal as it is resilient in high temperatures. For covered outdoor kitchen and dining areas, consider installing a ceiling fan with a light fixture. This has the added bonus of repelling mosquitoes.
The functionality of your outdoor kitchen is of utmost importance. Here you should consider how much bench space you will require for food prep and the type of storage you will need. Think about the food you cook when you barbecue or eat outdoors — the barbecue you buy will depend on this. However, many modern barbecues are a jack of all trades when it comes to different cuisines.
Written by April Ossington
Originally from Outdoor Rooms Volume 29