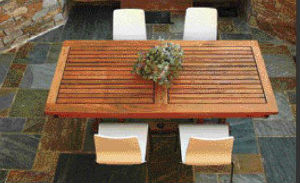 The right flooring will turn your outdoor room into a practical and aesthetically pleasing space
Words: Ada Mears
The floor is an intrinsic part of an outdoor room's visual impact, connecting and unifying all the different elements, blending inside and out and being touched in some way by every single person who enters. The scope for outdoor flooring is virtually limitless these days. From sandstone pavers and cobblestone, to timber decking and concrete, there are numerous options available when it comes to creating the perfect floor for your outdoor room. But whatever you choose, it's important to remember the functionality of the material as well as the aesthetics.
Flooring is one of the most important aspects of your outdoor room. In addition to complementing the overall style of your outdoor space, flooring needs to be sturdy enough to accommodate traffic, and durable enough to withstand the elements. It also needs to be suitable for its purpose. For example, if your outdoor room has a swimming pool, the best flooring is non-slip pavers that are water-resistant. Or if your outdoor room is largely used for alfresco dining, stain-resistant flooring is a better option. Overall, flooring should enhance your outdoor room and enable you to utilise the space effectively.
The material you choose for your outdoor floor will most likely be the last thing you decide on because it will be dictated by things like the prevailing colour theme of your outdoor room, the choice of plants, the placement of tables and chairs and the amount of wear and tear it will have to cope with. The choice of material will also probably be the biggest decision you'll have to make.
When deciding on a material ask yourself how the outdoor room will be used: will it have to put up with kids' wear and tear; will your pets spend a lot of time in it; or will it be primarily decorative so the look and feel of it are the top priority? Once you've ascertained what your outdoor room will be used for, then you'll be able to choose the appropriate flooring.
There are a few tricks of the trade that will assist you when designing the floor of your outdoor room. Things like colour play a huge part — light colours open up a smaller space, making it appear larger, while darker colours will make your outdoor room look smaller. Also, a floor that will be subjected to full sun for much of the day will benefit from a lightly tinted surface that won't reflect the light or promote a feeling of stuffiness.
Pavers are popular for outdoor rooms. They're hardy, versatile, cost-effective and come in a variety of colours. Laying them is also very easy. Stone is another popular choice. It comes in a multitude of textural finishes including honed (an unpolished matte surface with a sheen) and split face (a roughly chipped, highly uneven surface). In addition, there is a wonderful variety of reconstructed stone such as terrazzo where crushed aggregates are bonded together in concrete and polished back to give a retro look. Stone is cool and elegant and will bring a sense of luxury to any outdoor room.
Other flooring materials include concrete — a versatile, inexpensive contemporary surface that when finished in the right way, can look very impressive. Ceramic tiles can become a stunning focal point in outdoor rooms, although it's recommended they be used in sheltered areas as water will make them slippery. Wood is one of the most neutral, controllable materials for flooring. Cool in summer and warm in winter, its tactile nature makes wood a very appealing option for outdoor rooms.
The good thing about flooring is that the technology of products has advanced greatly and today there are exciting innovations when it comes to exterior floor surfaces. Technology advancements also mean that flooring without a safe level of slip resistance, such as tiles and stone, can be treated to create a safer non-slip surface. Non-slip floor treatments can be applied to most stone-based surfaces, including granite, marble, concrete, exposed aggregate and quarry tiles. A non-slip floor is crucial if your outdoor room has a pool, spa or outdoor shower or bathtub.
If your outdoor room is mainly used for entertaining purposes you should consider timber decking. Not only will it create a seamless transition from the inside if timber floors are part of the home's interior, but an elevated timber deck is ideal for sloping blocks and where a concrete or brick construction would be too expensive. A deck can also be used to cover an old concrete patio or as an alternative to pavers.
With decking, it's important to ensure the timber used is able to resist the elements. It's best to use a timber that has been specifically treated for outdoor conditions. Hardwood is the strongest choice for decking timber and, although it's generally more expensive than softwood, it is naturally resilient to insect damage and usually possesses a richer timber hue. Hardwood's natural durability also means it will stand the test of time. In comparison, softwood such as pine has low durability unless it is treated.
Timber, however, is not the only choice for a deck. Compressed sheeting is a synthetic option that's durable, cost-effective and waterproof. You can also cover the sheeting with any finishing material.
Cobblestone pavers can be a great solution for your outdoor flooring. They're manufactured stones that come in a variety of shapes, sizes and hues. The good news is high-quality stone lasts for decades, but be aware that wide gaps between the stones may encourage weeds and ants, and the rough surface that cobblestone produces can make walking or driving anything over the stones a little difficult.
Flagstone is another manufactured stone solution with character and is not as uniform as cobblestone, creating a more rustic-looking outdoor room. Natural slate can also be a distinctive solution for your outdoor flooring — just make sure you purchase a quality grade of material. Slate tiles can flake with wear, causing the material to become thinner over time. But if you purchase high-quality slate tiles, this should not be an issue. Quality slate flooring is naturally slip-resistant, making it a popular solution for outdoor flooring.
Another solution for your outdoor room floor is to resurface an existing concrete pad with snapping tiles. Snapping tiles are made with hardwood slats that are joined together over a plastic base. The base elevates the tiles and allows drainage. You can create interesting designs and patterns with snapping patio tiles. Plus, if a snapping tile becomes damaged, you can easily remove and replace the square.
Stencilled concrete could be something to consider as the shape, colour and texture of a particular paver, such as cobblestone or brick, is achieved by placing a stencil on wet concrete and then spraying a paint-like substance on top. But, while it is generally cheaper than traditional pavers, it can be prone to cracking and difficult to match the original colour or pattern in areas requiring repair.
And, if you'd rather get back to nature, why not opt for a traditional favourite: grass. While its upkeep can sometimes be challenging, there are different varieties for different climates, enabling you to choose the best one for your outdoor room setting. There's nothing quite like the feel of real grass under your feet, but if you don't have time to maintain real lawn, there are many synthetic varieties that have the look and feel of real grass minus the upkeep.
With so many options to choose from for your outdoor room floor, getting the right mix of aesthetics and practicality is today a very stylish affair.
PAVING POINTERS
• Appearance: When selecting pavers, bear in mind that what looks good in the showroom may not have the same effect in your outdoor room. Ask for a couple of samples, take them home and see what they look like next to your house and the other garden features they will be near.
• Cost: As with most home improvements, price is a determining factor. Work out a budget before you go shopping to avoid being talked into buying pavers you can't afford.
• Maintenance: Before you buy, ask how to maintain your chosen pavers. Think carefully about how much work they require and whether you will be able to sustain this.
• Durability: Think about how much traffic your paved area will receive when choosing pavers. If you are paving a high-traffic area, select a durable paver.