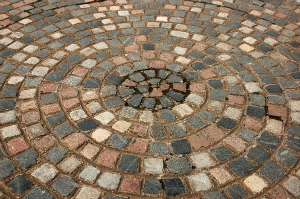 Choose well and your new pavers will maker your garden a safer, more pleasant place to be

Story: Natalie Raad
With the array of paving options now available, paving your garden has become a more creative and enjoyable task. And with traditional lawns being regarded as a less attractive option due to the drought, there has never been a better time to consider replacing some of your lawn with the latest designer-look pavers.
If done correctly, paving can enhance an outdoor area, adding sophistication and functionality to it. The right type of paver will not only add appeal to your garden, it will also help to extend your living environment.
But before you start choosing pavers for your outdoor space, determine first what the paved area will be used for. Will it be an entertaining area? Perhaps a pathway? Maybe you want to embellish a pool surround? Once the functions have been established, the search for the right paver can begin.
The first thing to consider is the overall design effect you're looking for to create your outdoor space. A poor choice of paver can date your garden or just look wrong, so be sure to select pavers that match your landscape design and the look of your house.
From a design perspective, the aim is to match the style of the paver to the colour, tones and architectural feel of your home, or any other nearby structure such as a pool cabana. As such, colour choice is very important.
Choose a paver that does not dominate the colour of your home. The idea is to tone it in, not make it the main feature. Charcoal and grey-coloured pavers have become very popular for this reason. Sandstone and cream-coloured pavers harmonise with most styles of homes, as do cream-coloured terracottas, so they have always been popular.
Considering the overall design direction is the best place to start when you're looking to match an outdoor paving product, says Ben Kerr, director of Eco Outdoor Australia. Ask yourself is there another design element already in the outdoor space that you'd like to pick up on by using a paver of a complementary stone colour or type, he suggests. This element might be a stacked-stone feature wall or an accent colour used on the exterior of your house.
Pavers are available in a range of sizes and can be arranged in a host of patterns. They are also available in a variety of materials, including natural quarried stone, clay, cast concrete and cast sandstone. The size and laying pattern you choose will be determined by the style of the landscape design and your own personal preference. The type of paver will be influenced by look, price and what will work best in a particular location.
For paving around a pool, for example, opt for pavers and coping that are salt- and slip-resistant, says Corrine Meunier, director of Benzini Australia. Also look at the shape of the pool to help you determine what paving shapes, sizes and laying patterns would work best.
"Longer coping pavers look great on rectangular-shaped pools but if the pool is curved, then a smaller coping paver will look better and require less cutting," says Corrine.
For a driveway, you will want a paver that is strong and offers great traction. Choosing a dark colour is also a good idea as tyre marks and any oil spills won't show up as much.
The choice of materials for pavers used to be very limited. The majority of outdoor projects consisted of brick-style, small-format pavers. Today, however, there are many more options available, making the task of selecting pavers for your outdoor space much more enjoyable.
In small gardens, large-format pavers and square pavers are best as they open up a small space and make it feel bigger. They are also easy to integrate with interior finishes, such as a tiled floor, and give the appearance of a clean, streamlined finish.
Another factor to consider is the level of natural light in the space you will be paving. Lighter-coloured pavers can cause high levels of reflection but don't absorb heat or get hot. Conversely, darker-coloured pavers will not reflect light; however, they can get very hot under direct sun.
"The clearer you are about the use of the space, the easier it is to select the appropriate product," says Ben. But whatever colour, size or type of paver you choose, since most paved surfaces will be subject to ongoing exposure to the sun, wind and rain, it's crucial the products be hard-wearing and durable, he adds.
Maintenance is another issue you should take into consideration, emphasises Corinne. "Tiles and smooth-finished pavers look fabulous when first laid but then require regular maintenance as marks and dirt will be more noticeable," she says.
Sealing is always a good idea, especially for natural stone pavers which can be porous, she adds, as it helps stop staining and protects the pavers. This is a particularly good idea for pavers that will be used anywhere you will be eating or cooking.
A good design tip to make a simple garden look great, but without breaking the bank, is to use a high-end product sparingly and intermix it with less-expensive, more readily available pavers. The good thing about pavers is you can combine different products to create a look that is luxurious or casual, saving yourself money while still achieving a stunning result.
You could, for example, use a plain large-format concrete paver and then dress it up with a border or decorative strip of granite or basalt cobblestones. The look is sophisticated yet elegant.
Pebbles between pavers can also create great colour contrasts and link certain areas of the garden. Or you can plant compact, low-growing groundcovers between pavers, such as dwarf mondo grass. "Just make sure the pavers are spaced properly to a good stepping distance," says Corinne.
As with any construction job, planning is the key to success. If done correctly, a paved area of the garden can enhance your overall outdoor space. Just remember — keep it simple, choose pavers that will complement your home, and match the type of paver to the function it needs to perform. With such a wide array of materials available and such a broad choice of shapes, sizes and colours, there are no limitations when it comes to paving.