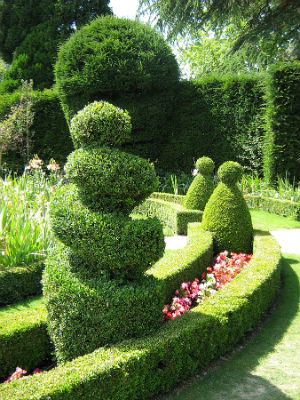 Nestled on a steeply sloping site beside a national park, Rae Bolotin's garden isn't the easiest of places to cultivate. It is also a very small space.
"When I decided to call someone in to landscape my garden, I knew I'd have to find a designer who understood my particular needs," explains Rae. "My works are often on a very large scale and are made of concrete."
She searched the Internet, finally stumbling across the website of landscape architects Pittendrigh Shinkfield Bruce (now PSB). Their graphic, architectural images appealed to Rae. They could have been anywhere in the world but by coincidence were based in Sydney, only a few kilometres away.
Her brief was for a public gallery for her work: flexible, unobtrusive and able to accommodate a changing display of varying scales and visual impacts. Her basic materials of concrete and stainless steel weren't to be dominated by conspicuous landscaping.
Normally when sculpture is included in a garden, it is a particular piece that is chosen to suit the design. In Rae's garden, the sculptures are constantly changing. "It's a moving parade with changes in volume, size, colour and shape so the spaces have to be very functional," she says.
Entering the garden
At road level, Rae's modern garage is not a space to park in — it's her studio. With glass on every side, it's flooded with light and also has views across the garden to the house below and into the surrounding trees. As it is at street level it makes the delivery of materials, and the removal of finished sculptures, a simple matter — even when a crane is required.
Beside the glass wall of the studio is a large and imposing steel gate set in a sandstone-coloured wall. Beyond the gate is a carefully choreographed path system that leads through, down and across the sloping front yard via a series of steps, landings and walkways. The significant drop (1:2 and 1:3) is barely noticed as it is broken into many small changes of level.
As the paths change direction and move from one side of the garden and one level to another, they provide different viewpoints. And at each new direction there is space to display a sculpture.
The garden is made up of hard-edged spaces. It is constructed mainly in concrete, wood and steel. Stone, used as mulch, varies from round river pebbles at the top of the garden to small gravel near the house.
The angular concrete steps are flanked by strong, but open, steel handrails. Vertical painted concrete slab walls form not just a changing backdrop, but also a surface that captures the play of light and shade reflected from the sculptural pieces. Where paint is used, the muted sandstone, pink and green tones reflect colours found in the surrounding native angophoras. These same colours are also used on walls inside the house.
With clever lighting it is a garden that's as exciting by night as it is by day. In keeping with Rae's need for versatility, lights throughout the garden can be manipulated to suit each new sculpture.
A centrepiece of the entire space is a water feature, wall of water sliding down a textured concrete wall. The 'waterwall' has been designed so that it is not noisy, nor does it splash. All that is heard is the gentle sound of running water. The wall has been angled so the water isn't falling vertically, but rather runs down the wall and into a shallow pool from where it is recycled via a small pump.
While plants take a back seat in this garden design, they have in fact been carefully selected. Most are native plants from the area including gymea lilies, tree ferns, native ferns and paperbarks.
It is obvious that Rae Bolotin is happy with her garden, but her response extends further than mere satisfaction with a job well done.
Rae says she was surprised at the effect of the new landscape on her work. "It was so strong an impact on me that now it's become my sculpture lab. I've started to react to the space. It's an experimental place where I create work beyond what I've done before. You begin to see possibilities you hadn't realised because of the variety of spaces, the larger scale, the shadows and unexpected angles. Even the effect of water sounds. This place motivates me to work, to create sculptures that respond to landscape."