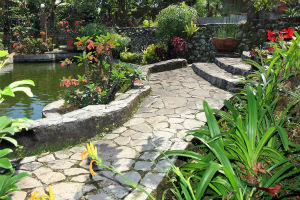 Tucked into the rear of an inner-city home, this tropical-style garden in a haven
Story: Richard Kelly, MAILDM
Australians are some of the most well-travelled of any nationality. They often travel from a young age, be it with sporting activities, on business or for a holiday.
Over the past couple of decades, some of the most sought-after tropical destinations have been the northern tropics of Australia, Asian countries such as Singapore, Thailand, Indonesia and, of course, Hawaii, Tahiti and Fiji, to name a few.
Some of our fondest memories of these destinations are times spent in the gardens and resort spaces where we have relaxed and enjoyed good company and experienced the very essence of a tropical garden. So is it any wonder that so many Australians want to replicate a resort-style space and tropical garden for themselves, family and friends to experience? In fact, it is one of the most frequently requested styles designers are asked to create.
When asked to design this style of tropical garden two key questions are: is the geographic location appropriate for such a garden, and is the site suitable? One should be mindful of such elements as scale, proportion, light and air movement and how these can affect such a space.
If the site analysis is favourable, the fun begins. One should first concentrate on the initial structural framework and infrastructure that will include some of the following: boundary walls, walkways, decks, level changes, swimming pools and pool fences, pavilions and water features, and how these key elements seamlessly relate, flow and connect with the residence and garden. Underground services — plumbing, electrical, gas — must be resolved early in the design and planning phase.
Another key consideration when designing pools and gardens that are closely linked to a residence is the screening of the 'uglies' such as pool equipment, gas bottles, heaters and other utilities and services, and, importantly, masking unwanted noise. Who wants to be in a beautiful pool and garden with a pool pump singing along in the background and equipment in full view? These aspects must be resolved prior to construction.
It is hard to imagine how such an environment could be achieved for this particular residence and garden, in the hub of the inner city, adjacent to a busy arterial road and sited among three- and four-storey apartment blocks.