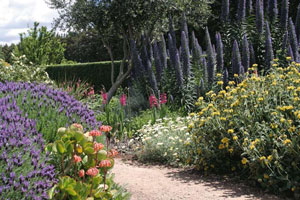 Surviving on less than half the district's annual rainfall for the past 13 years has not stopped David Glenn of "Burnside", near Ballarat, having an exquisite garden of wonderful plants, a thriving organic vegetable garden and an abundance of fruits and vegetables for himself, artist wife Criss Canning and their family.
The average rainfall in this area from 1854 to 1996 was 700mm and for the past 12–13 years it has been at least half that with only 280mm three years ago. This is a stark contrast to the garden where David's son works near London, where the soils have been so extremely wet over recent years they have great difficulty cultivating and mowing because equipment keeps getting bogged. Originally from England, David is an avid plant collector and enthusiast who sells plants, largely by mail order from his Lambley Nursery at historic "Burnside". This is a farming area renowned for its crops in the deep soils, particularly potato production. Sustainable practices are a philosophy for the mail-order plant business and David's organic home garden. Apart from his outstanding collection of dry-climate garden plants, David is an avid vegetable and fruit grower. He grows most of his own vegetables and a number of fruits, including 18 varieties of apples, one of them his famous Stewarts Seedling variety, which was originally discovered in Ballarat. "I grow all my vegetables from commercial vegetable growers' seed because it has a guaranteed germination rate as well as viability and has been correctly stored," he says. "Growing from seed from unreliable sources can waste time and effort. If home gardeners do not get results they tend to blame themselves, not the seed."
Growing from reliable seed means David gets top results for his time and effort. He always has enough vegies to take a basket full of fresh organic produce as a gift anywhere he goes. He has no regular spraying program for his gardens and uses only two materials on his plants. They are Dipel, a naturally occurring non-toxic bacteria application for caterpillars such as cabbage white butterfly, which he uses on cabbage, broccoli and other brassicas. For any slugs and snails, he uses naturally occurring diatomaceous earth. It works as a dust that causes the slugs to dehydrate. "I find that encouraging plenty of birds into the garden controls most of the slugs and insect problems," he adds. Mixing the vegetables in with the flowers is another strategy that works well. "To repel wandering rabbits and bush rats from the surrounding countryside I sprinkle a light layer of blood and bone around the plant beds, which seems to do the trick," he adds. "Composting and good soil preparation are essential to growing plants here. Getting the soil right is the most important thing in gardening; get it right and everything else will look after itself." All the waste plant materials and trimmings from pruning the plants, including the vegetables, are composted in a huge compost heap (almost a mountain) more than three metres tall and eight metres across. Winter is the busy time here for composting. As soon as there is some rain, serious composting takes place, adding extra moisture, mixing it through the heap and adding some lime. The extra water for the garden is sourced from an existing bore, which David manages sustainably with his potato-growing neighbour.
The soils here are acid, so adding some lime is important. "The soils are dug over using a plumber's trenching spade down to 30cm and then a layer of 15cm of decomposed compost is mixed in. This is largely to keep the worms happy and lighten the soil, replacing organic matter. The soil here cracks in summer and can compact tightly around the plants if you don't keep up the organic matter. A little organic fertiliser is also added to the soil before plants are planted GreenLiving 85 out into the ground. "It's important to encourage strong growth on our plants, but if it's too soft, the first blasts of north wind shrivel it up," David says. "After planting, we immediately mulch straight away, using a 4cm layer of fine composted pine bark. It inhibits weeds germinating if it's put on straight away, but if you leave it three or four days before you put it on, the weeds seem to get a hold." The larger the mulch material, the more difficult it is for rain to penetrate and the more rainfall you will need to reach down deep to the roots. The 4cm depth of mulch suppresses the weeds, protects the plant roots and still allows light showers of rain to penetrate in these dry conditions. David's speciality in the mail order business is dry-climate plants, including bulbs, shrubs and perennials he has sourced from all around the world. "A sustainable garden does not have to be just gravel, rocks and natives," he says.
David tests out all his plants in the field thoroughly before he sells. He wants to be sure they perform well in severe conditions before he markets them. The plants are grown out in the windswept paddocks, in the deep volcanic soils where they will have to withstand frost down to -6°C to -8°C and top temperatures of 45°C to 47°C in the summer time and, receive an absolute minimum of any supplementary water. As part of the selection process, David looks for the tough plants that were popular in gardens before the 1950s, largely before reticulated water, when most people had tanks and plants had to be resilient. The collection of easy-care plants grown in the dry-climate display gardens, with their contrasts of flower and foliage colours and form, provides subjects for the rich and vibrant compositions of artworks by David's wife, artist Criss Canning. Inspired by natural beauty and vibrant colour and style, Criss's work is exhibited around Australia and has sold to clients from many countries. The stunning dry-climate display gardens around Lambley Nursery are open to the public throughout the year and spring is especially beautiful as it's the time for many of the hardy lowmaintenance bulbs in flower among the trees and shrubs.