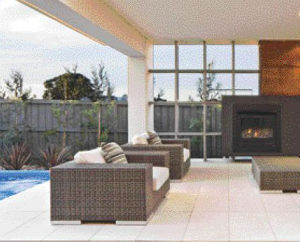 With winter around the corner, it's time to turn up the heat in your outdoor room
Words: Natalie Raad
With outdoor rooms designed to be enjoyed all year round, heating is an important consideration, especially as the weather starts to cool down and those chilly days and nights beckon us inside. Equipping your outdoor room with the right heating, be it a patio heater, outdoor fireplace or brazier, will not only ensure your space is kept warm and cosy during the winter months, but it will also extend the use of your outdoor room throughout the year.
From cosy fireplaces to contemporary fire pits, outdoor heating is today a very stylish affair. Whether you're after a modern look or a traditional and timeless design, you're sure to find an outdoor heating solution perfect for your outdoor room. And with both portable and fixed options to choose from, outdoor heating can play as big or small a role in your outdoor room as you like.
Of late, there has been an increased interest in fire pits and braziers (basically the same thing) because of the ambience they create. Also referred to as hot boxes or fire bowls, fire pits are usually made of metal (copper, aluminium, stainless steel, cast iron) and burn solid fuels such as wood or briquettes. Available in various shapes and styles — everything from wide, shallow bowls with a rust finish to compact, contemporary designs with clean lines — fire pits are both good sources of heat for outdoor rooms and aesthetically pleasing design features.
Some fire pits also come with a detachable grill, turning them into mini barbecues perfect for camp-fire-style cookouts, while some can also be used as planters should you no longer wish to use them for heating purposes.
If your outdoor room lacks that warm and cosy atmosphere, a chiminea may be the solution. Commonly referred to as Mexican fireplaces, chimineas are usually made of clay or cast iron and have a curvy shape and a rustic quality. Perfect for a casual and relaxed outdoor room setting, chimineas use solid fuels and sometimes have optional grills if you feel like barbecuing over the flames.
For outdoor heating, it's hard to go past outdoor wood-burning fireplaces. Whether integrated into a wall or freestanding, outdoor fireplaces are very much in vogue and add that special touch to outdoor rooms. Not only does the open fire provide warmth and enhance the overall ambience of the space, but the fireplace itself tends to be used as a focal point in outdoor rooms.
If you'd rather not bother with log storage and the need for a flue, you can achieve a similar effect with a gas fireplace. Quick and easy to use, gas fireplaces provide instant heat, are low maintenance and, as with wood-burning fireplaces, make an effective design feature in outdoor rooms.
Gas-fired patio heaters are also very popular heating options in outdoor rooms. And with today's patio heaters sporting sleeker designs, they have become assets rather than eyesores. In addition to their improved looks, patio heaters are also stable, easy to move and often come with space-saving optional extras such as lighting and detachable tables. There are also table-top versions available for the space-savvy outdoor room.
Most patio heaters have a metal finish, while some are available in powder-coated colours for those who want a completely co-ordinated look for their outdoor room.
Another option for turning up the heat in outdoor rooms is electric heaters, which are making a comeback today thanks to the electric strip radiant heaters that began catching the eye of homeowners a couple of years ago. Strip heaters come in various lengths and can be attached to ceiling beams or walls. And with the added bonus of being low-maintenance — there are no logs to buy, stack and feed in, no ash-collecting trays to empty and no gas bottles to refill — electric strip heaters ideal. Plus, they are safe to mount under or near umbrellas and shade sails.
Fuelled fireplaces have been gaining momentum, and for very good reason. These fireplaces don't need a chimney or direct venting, they burn a clean fuel, they're portable, they can be used inside or out and they're designed to look like a piece of art or furniture.
No matter what heating option you choose for your outdoor room, safety should always be a priority. Ensure adequate ventilation in outdoor spaces you are trying to heat and remember that the surfaces of each outdoor heating device can become extremely hot. Flames, coals, iron and clay heated to high temperatures can seriously burn curious and unwary children. All heat sources should be kept away from combustible materials.
Outdoor heating today is as much about the warmth as it is about the ambience. Regarded as an accessory, outdoor heating contributes to the overall atmosphere of an outdoor room and plays an important role in ensuring the room outside is cosy and inviting during the cooler months.
HEATING POINTERS
Patio heater
• Choose one with a safety switch that automatically turns off should it tilt or be knocked over.
• If fuelled by propane, it will need to be placed in a well-ventilated position.
Electric heater
• If you have young children, mount electric heaters on walls away from curious fingers.
Fire pit/brazier and chiminea
• It would be wise to forgo the use of fire pits and chimineas until children are old enough to understand they need to keep clear.
Outdoor fireplace
• Choose ethanol fireplaces where the flames are behind glass.
• Screen an open fireplace.