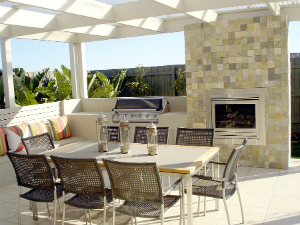 Extravagant or restrained, freestanding or attached to the house – the outdoor room is a lifestyle must
Story: John Storch
All Australians love entertaining outside. In fact, outdoor living is so entrenched in our culture and such an important lifestyle focus that the outdoor room has become a backyard essential. An outdoor room can be a freestanding structure or it can be linked to the house. It can be a destination in its own right or integrated with a tennis court, swimming pool or alfresco entertaining area.
If luxury is what you crave, an extravagant approach can be taken. This might take the guise of a fully equipped poolside cabana with change rooms and bathroom facilities, an outdoor kitchen with wok and barbecue, a flat screen TV and state-of-the-art sound system, designer outdoor dining and lounge suites and, perhaps, in-built day beds for relaxing. Décor and soft furnishings will be important, including cushions, throw rugs, all-weather carpets and rugs, candles and wall art.
The cabana might also lead to other outdoor living spaces, such as a sunken conversation pit set within a paved entertaining area or a pool deck outfitted with comfy sun loungers, and be expertly designed to flow with ease into surrounding areas of lawn and capture views of flourishing garden beds and feature plantings in pots or purpose-built planters.
Of course, an outdoor room can be a much simpler more cost-effective affair containing elements of the above — an outdoor room does not need to be elaborate or showy to bring you enjoyment. A simple vine entwined pergola, large cantilevered umbrella or folding arm awning covering a paved or decked area is all you need as a starting point. Add an outdoor table and chairs, a trolley or pedestal barbecue, some outdoor lighting and a portable patio heater or brazier for chillier weather and you are set.
The most important design consideration is to integrate the outdoor room with rest of the landscape and ensure an easy flow between the house, the outdoor room and any other garden spaces and outdoor entertaining areas. Ensuring the design meets the lifestyle needs of the family, complements the architecture of the house and is flexible enough to cater for a variety of functions — from a dinner party for mum and dad's friends to an after soccer practice get-together for the kids — is also essential. After all, a well designed and built outdoor room does more than enhance a family's lifestyle; it is a way of adding to the re-sale value of a property.
To ensure a successful end result, there is much to consider. Which direction will the outdoor room face and what impact will that have on the amount of sun or shade you get, what kind of weather protection will you need, are there views that need to be maximised (or avoided), will the outdoor room be overlooked by neighbours and compromise privacy, do you want running water for cooking or bathing facilities or electricity for TVs or lighting, in which case you need to consider your plumbing and cabling needs.
Adequate shade and sun protection is important as it can mean the difference between whether an outdoor room is used constantly or only when the weather's not too hot. Some kind of roofing is essential. It might be a solid tiled roof, a thatched roof, an operable louvre system, an awning, shade sail or umbrella.
From what's above to what's underfoot, you need to consider if you want some, all or none of the outdoor room to be paved? Whether brick, sandstone, terracotta or tile, the paving must be non-slip and non-staining. A coast of sealant over any natural stone is always wise. The other option is decking, either oiled and stained hardwood or one of the many decking systems now available that use recycled materials to offer a sustainable, minimal maintenance alternative.
Lighting is important in an outdoor room to extend its use into the night-time hours. There are two different types of lighting to be considered with the outdoor room: functional lighting and mood lighting. Functional lighting, that is bright lighting so that everything is seen, is often achieved with 240-volt spot and flood lights. Ensure that they are placed high enough and in locations that will prevent them from being directly viewed when entertaining.
Mood lighting is mostly achieved by low voltage lighting placed within gardens and swimming pools. It is subtle lighting and used to draw either attention to the pool as a design element or to garden features such as a sculpture, fountain or an accent plant. It can also create washes of light that set a relaxed mood, often simulating the glow of moonlight or star light.
LED lighting integrated into steps, the perimeter of a decked or paved area or along a garden path can add considerably to the night-time ambience.
Then there is heating and cooling. Good orientation and the use of louvred windows or roofing systems can help to cool a space by maximising cool breezes. A ceiling fan can aid in this. For heating, there are radiant electric heaters that can be wall or ceiling mounted, outdoor fireplaces (built-in and portable, wood-burning and gas or ethanol fuelled), chimineas and braziers (but be wary of embers on timber decked floors or around children) or gas patio heaters and their smaller table top counterparts.
For those who want to enjoy the full outdoor entertainment experience — or simply fancy watching a DVD or televised sports in the great outdoors — there is no shortage of weatherproof TVs available or projectors and projection screens designed to deliver excellent results in open-air environments. These outdoor systems can be linked to your home's interior home entertainment or audio visual system if you feel like going the high tech route and having them networked.
Plants are also part of the equation, of course. Bar fridges, plasma TVs and outdoor kitchens are all good and well but the attraction of being outside is the opportunity to get closer to nature — and that means plants. Native, tropical or formal, the plants you choose for inside the outdoor room and for around its perimeter must of course fit with the overall landscape plan. And considering our time constraints these days, the lower maintenance the plants the better.
Clearly, when designing an outdoor room, the landscape architect or garden designer needs to consider many things. The overall look and style of the home and garden, the lifestyle needs of the owners, the available budget and the challenges (or opportunities) the site provides. Today, people are much more discerning — and demanding. They want the best they can afford and thanks to the greater availability of everything from all-weather indoor-outdoor furniture and rugs to more affordable building materials (such as natural stone flooring and walling) as well as attractive weatherproof fittings and finishes, it is becoming increasingly possible to create something stylish without breaking the bank.
Of course issues of function and aesthetics need to be considered in tandem so that the outdoor room has longevity and is part of a seamless flow between the interior of the home and its outdoor areas. If you can achieve the big three — great flow, great layout and great materials — your outdoor room will function like an extension of your home and provide your family with somewhere they can sit relax, entertain and simply enjoy the great Australian outdoors.

John Storch is a landscape architect and principal of A Total Concept, a Sydney firm specialising in landscape and swimming pool design.