This captivating private courtyard doubles as an entry garden and a relaxed outdoor living space
Designed by Brenton Stokes of intrinsic Landscapes, this unique entry courtyard is sleek, modern and stylish. "The homeowners wanted to beautify the facade of the house and landscape the courtyard," explains Brenton. "And they wanted a visually appealing courtyard entrance to the home which could double as a functional outdoor entertaining area for their teenage children to use when their friends were over."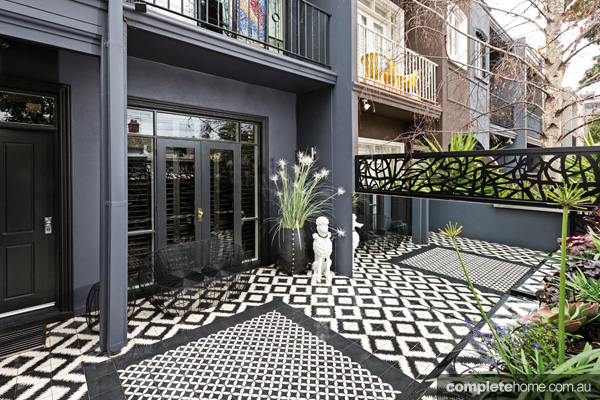 What Brenton and the Intrinsic Landscapes' construction team has created is a garden full of contrasts. Most notably, the solid black-and-white patterns of the tiles versus the natural curves and colours of the vertical garden. Imported Moroccan tiles were used to create a beautiful graphic pattern. In the middle there is a solid Noir square bordered by plain Kohl tiles. Around the outside, Zig Zag tiles complete the arresting pattern.
"The vertical garden consists of plants such as hellebores, black mondo, dwarf agapanthus and heucheras, chosen to thrive in the on-site conditions. There is variety in foliage colour and type, and flowers in different seasons, ensuring colour year round. They were also planted to mimic the pattern of the privacy screens," says Brenton.
The previously established street-facing wall was painted and a black powdercoated steel gate and matching privacy screens installed on all sides. "The ornate lines of the screens create a juxtaposition to the wall when observed from the street, but mimic and complement the plants of the vertical garden when seen from inside," says Brenton.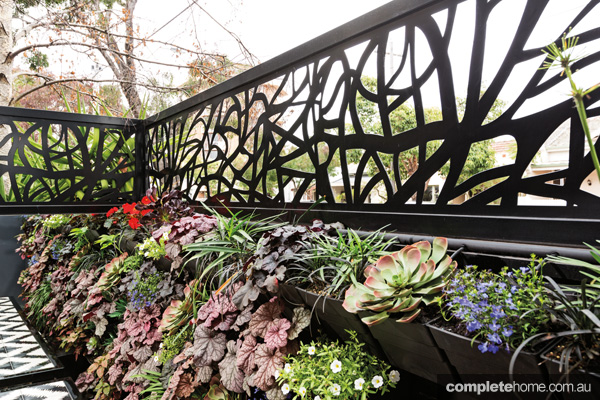 "All the garden features were custom- or hand-made: the colourful vertical garden, the enormous frameless mirror which covers one wall and makes the space seem twice as large, the handmade pressed Moroccan tiles, the tiled bench seat, the powdercoated steel privacy screen and gate, and the matching powdercoated steel gas meter screen," says Brenton. The result is what Brenton calls "a secret garden in an inner-city jungle".
For more information
Intrinsic Landscapes
Website: www.intrinsiclandscapes.com.au/
Email:  brenton@intrinsiclandscapes.com.au
Mobile: 0400 573 880
Originally from Outdoor Design Living, Edition 31