Self-cleaning and automated sanitation systems make this modern, low maintenance pool design by Award Pools & Spas, perfect for the whole family.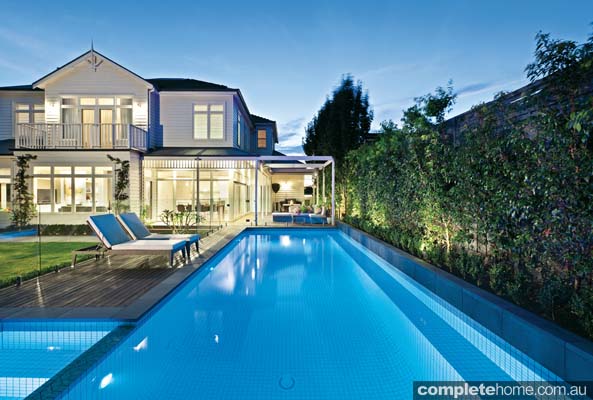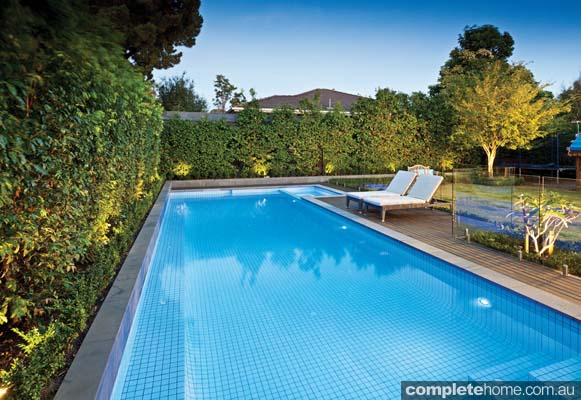 This pool was designed to adapt and suit the changing lifestyle of an ever-growing household. The modern, low-maintenance pool design caters for all members of the family, functioning as both a lap pool and a play pool with the added bonus of a relaxing spa area.
It combines the most aesthetically pleasing design with leading efficiency elements of modern pool construction. An AquaLink in-house control system enables all functions to be controlled from the kitchen. The pool is low-maintenance as it self-cleans and has an automated sanitisation system that can test and monitor the pool.
The pool features sawn bluestone and timber deck surrounds, LED lights, a PCC2000 in-floor cleaning system, Chemigem and Saltigem pool management, and solar and gas heating.
Careful planning by the owners and Award Pools & Spas ensured the pool suited the sport-loving family and enables the busy parents to spend as much time with their kids as possible.
Award Pools & Spas designs and constructs concrete in-ground swimming pools and works regularly with builders, architects and designers. John D'Arcy, the founder of Award Pools & Spas, has been involved in pool building for more than 31 years. He enjoys what he does and says that makes all the difference. And now a second generation has joined the ranks. Most of the tradesmen have been with the company for more than 10 years, with some exceeding 20 years. Award Pools & Spas works within a broad spectrum of the market, with most of its projects in Melbourne's bayside and surrounding areas. The company also restricts itself to a limited number of jobs every year so full attention can be offered to each and every client.
Pool designed and built by Award Pools & Spas, Victoria, awardpools.net.au
A: PO Box 7034, Beaumaris Vic 3193
P: 03 9585 6661
M: 0418 306 839
F: 03 9585 6662
E: john@awardpools.net.au
From Poolside magazine 41