This modern pool, from Award Pools and Spas, is family friendly and fully-functional without sacrificing on fabulous design.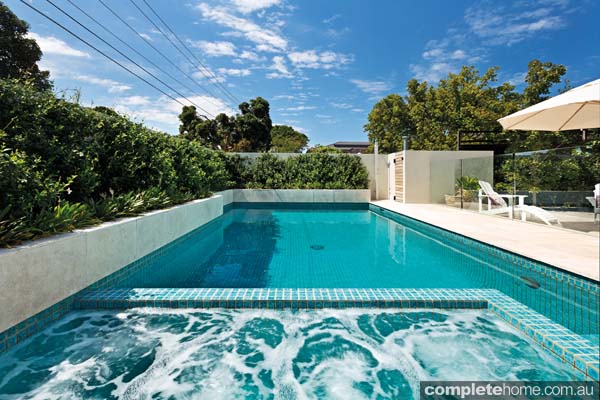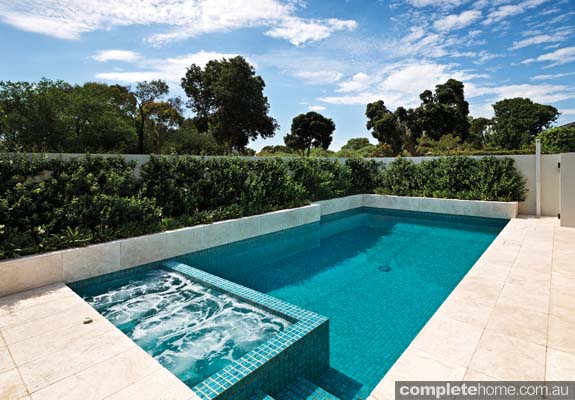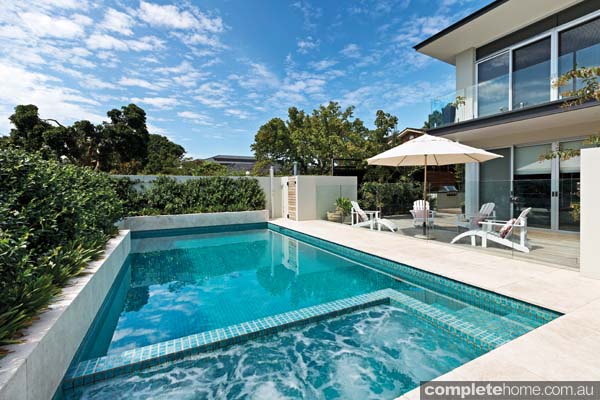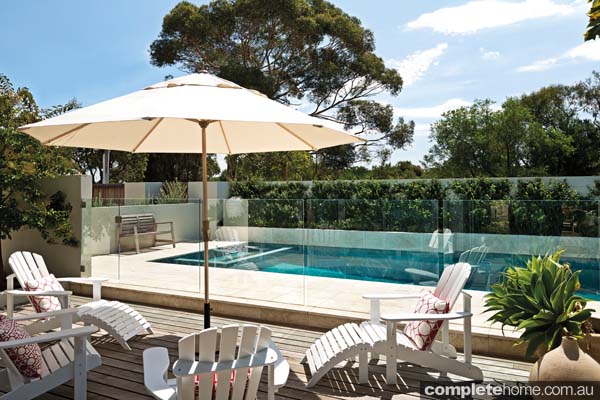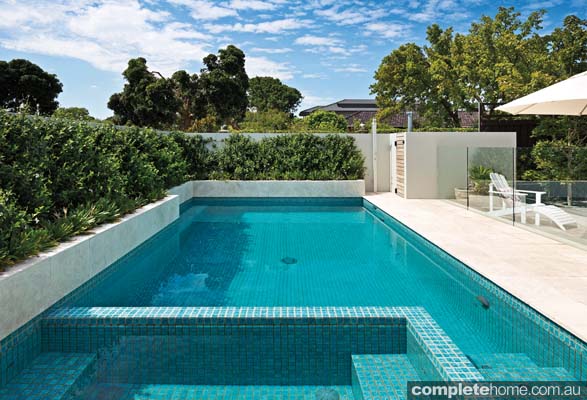 Built for a young, sporty family, this pool and spa combination encompasses everything that a growing family could possibly want from a pool. Set in a central but quiet boulevard opposite a park, and placed facing north in the home's front yard, it has become the focal point of this family's home.
The client's came to Award Pools and Spas wanting a pool that would improve the value of their property and that could be used for play, exercise and personal therapy. Award Pools and Spas listened to their needs and delivered a pool that ticked all of the boxes.
Near-invisible glass fencing acts as a safe and attractive barrier between the pool and the deck area and ensures that those in the home can enjoy the aesthetics of the pool area without having any visual obstructions. Cream travertine paving complements the design of the home while creating an interesting contrast against the flourishing green bushes that frame the space. Non-slip, aqua pool tiles were also used as the pool interior and ensure that the pool looks an even more brilliant blue.
The homeowner's wished for a pool that was fully functional and easy to maintain so Award Pools and Spas installed state-of-the-art technology that would guarantee that pool maintenance was simple and efficient. A fully automated PCC2000 in-floor cleaning system keeps the water sparkling clean while a gas and solar heating system makes certain that the water remains an ideal temperature all year round. An in-house control system also allows the homeowner's to control the pool and spa's functions without having to leave the comfort of the indoors.
Award Pools and Spas believes that good design means listening to the client's needs before creating a concept that brings together all of their desired components. This project successfully reflects this philosophy, leaving a lasting impression and being the central point for family fun.
Company profile
Award Pools and Spas (Vic)
PO Box 7034, Beaumaris Vic 3193
P: 03 9585 6661
M: 0418 306 839
F: 03 9585 6662
E: john@awardpools.net.au
ABN: 88006227845
Builder's licence number: DBL1508
Award Pools and Spas designs and constructs concrete in-ground swimming pools and works regularly with builders, architects and designers.
John D'Arcy, the founder of Award Pools and Spas, has been involved in pool building for more than 31 years. He enjoys what he does and says that makes all the difference. And now a second generation has joined the ranks. Most of the tradesmen have been with the company for more than 10 years, with some exceeding 20 years.
Award Pools and Spas works within a broad spectrum of the market, with most of its projects in Melbourne's bayside and surrounding areas. The company also restricts itself to a limited number of jobs each year so that full attention can be offered to each and every client.
"Ticking All the Boxes" from Poolside Showcase magazine Vol.19