Earthy tones and a negative edge result in a modern pool design that beautifully harmonises with the picturesque landscape.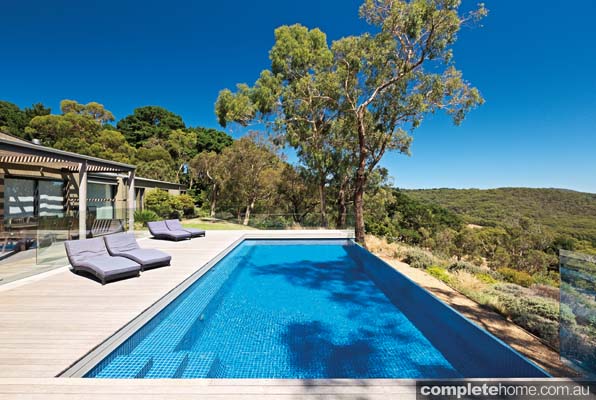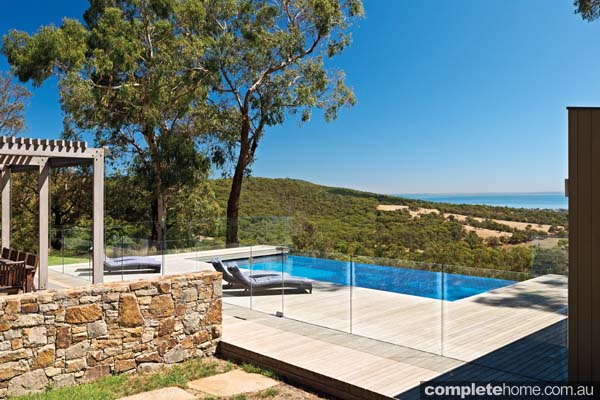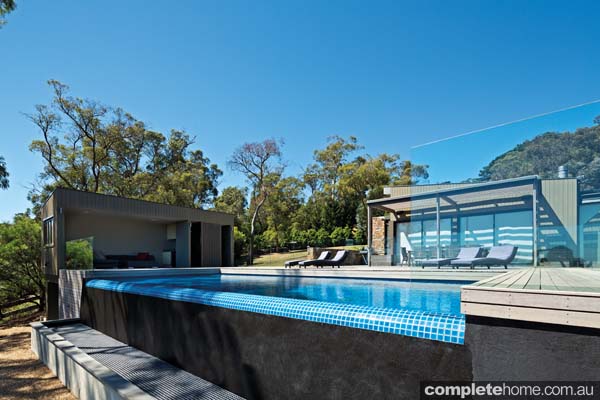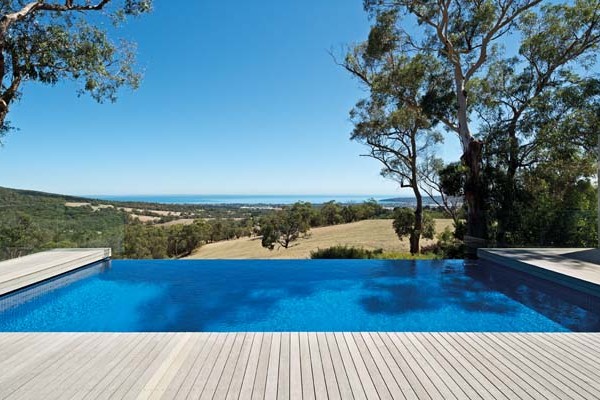 Perched atop a gorgeous coastal hillside in the Mornington Peninsula, this pool is beautifully complemented by the rural views and expansive nature that encase the property. Constructed by Aquarius Pools, the final result was designed to be practical all year round and fun for the whole family.
This clever design ensures that nothing detracts from the scenic delight and provides a peaceful backdrop for when the pool owners wish to entertain guests. The negative edge and near-invisible frameless glass fencing allows the design to blend seamlessly into the landscape, giving those in the pool area uninterrupted panoramic views of Melbourne's Port Phillip Bay.
In keeping with the aesthetics of the location, the muted grey timber decking brings out the azure of the water and creates an interesting contrast against the earthy tones of the hillside. Using a material produced by the land aids the feeling of continuity and the flow of the design and allows the pool to appear integrated into the surrounds.
Water tanks, a Premium Sunbather solar heating system and a Sunbather automatic slat cover minimise evaporation and maintain water temperature, keeping the water an inviting and comfortable temperature, no matter what the weather may be and ensuring that this pool is environmentally viable. Aquarius Pools also fitted the pool with advanced technology to guarantee easy maintenance. An Aqualink in-house controller with remote iPhone controller provides the ultimate convenience for the owners while a PCC2000 in-floor cleaning system keeps the water spotless and fresh.
Using the latest technology, Aquarius Pools succeeded in producing a modern pool that perfectly harmonises with its surrounds and remains practical, functional, and family friendly.
Company profile
Aquarius Pools
1/6 Progress Street, Mornington 3931
P: 03 5975 1314
F: 03 5975 3839
E: info@aquariuspools.net.au
W: www.aquariuspools.net.au
ABN: 184 6793 9250
Builder's Licence Number DBL 1312, DBU 31808
Specialising in high quality custom, architectural swimming pools and spas, Aquarius Pools has been building pools across the Mornington Peninsula and Melbourne's bayside and eastern suburbs for 34 years. Managing director Chris Jackson attributes incorporating the lifestyle of the client, functionality, site placement and quality materials to constituting good design.
Following this principle it is not surprising that Aquarius Pools has won numerous awards. At the 2012 SPASA Victoria Awards, Aquarius Pools was honoured with Pool of the Year, the gold award for Best Commercial Pool and Best Residential Pool/Spa and Landscape Combination and a Highly Commended for Best Natural Pool. That same year, Aquarius Pools won also won the national award for the Best Commercial Pool over $250,000 and Most Sustainable Pool.
"Scenic Delight" from Poolside Showcase magazine Volume 19