If you're planning a major backyard makeover then you need to consider if its time to renovate your pool.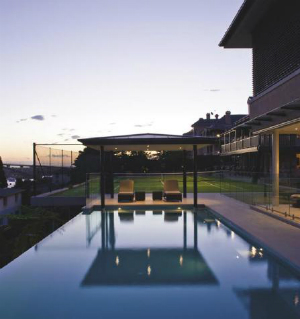 By Rebecca Calvert
Just like any other part of your home, your pool will begin to look tired after 15-20 years, especially if you haven't maintained it properly. Your existing pool might need a new filtration system, a new sanitiser, new interior linings or new copings. You might want to heat your pool for extended use, expand or reduce the size or perhaps add a spa or water feature. Regardless of your objective, renovation can bring life back to your pool — and your poolside entertaining area — when you thought it was beyond repair.
An attractive, easy-to-maintain pool can add value to your property. Before you decide to renovate, though, you need to compare the cost of renovation to the cost of building a new pool from scratch. If the figures stack up, the following renovation tips and options should prove useful:
Interior linings: A new interior may be required if the existing surface material has cracked or faded. There are many options available for resurfacing that can dramatically change the look of your pool. These options include pebblecrete, glass tiles, ceramic tiles, fibreglass and Quartzon.
New copings: Pool copings are the stones or tiles that border your pool. Replacing your pool coping and the surrounding paving can make a huge difference to your pool area, giving it an instant facelift. You can talk to brick, paving and stone professionals for coping renovation advice.
Pool heating: If you're going to the trouble of renovating your pool, installing heating is a great way to maximise your pool's use. Heating options include solar heating, gas heating and heat pumps.
New size or shape: With a pool renovation, as long as the overall dimensions of the pool are not being changed, there's no need to submit any plans to council. This helps to make the process of renovation quicker. If you are opting for a new shape or extending the size of the pool, council approval will be required. Keep in mind that changing a pool's size or shape, however, is almost as costly as starting from scratch.
Adding features: A pool renovation is the time to think about both aesthetics and functionality. This is a time when you can add steps, underwater seating ledges or an automatic cleaning system. It's also a time to introduce fun items like a water feature or spa.
Landscaping: By revamping your pool's surrounds, including the bricks and paving around the pool, the landscaping, the pool fence, pool lighting and water features, you can make your pool area a much more inviting proposition and a focal point for entertaining.
With strict water restrictions in place, it's important to follow procedures in regards to filling your renovated pool. Check with your local water authority first or you may end up with a fine. When undertaking pool renovations it's also important to keep in mind current pool safety standards.
When choosing a pool company to renovate your pool, look for a member of the Swimming Pool and Spa Association (SPASA). There are SPASA branches in Queensland, New South Wales, Victoria, South Australia and Western Australia.

What the experts say …
Chris Manton from Crystal Pools
"There are no inexpensive ways to renovate your pool. The minimum cost of a renovation would be around the $12,000 mark, but it is important to remember that you get what you pay for. As with any building project, make sure you have a good look around for contractors and get lots of quotes and references. It is also a good idea to go and see some of the contractors' work."

Janine Bellifemine from Sunrise Pools
"The best tip to those thinking about renovating is to give good consideration to timing. The best time to renovate is in the winter when your current pool will not be missed while it's out of action. Also, then you will have the added benefit of having your brand-new pool ready for swimming as the warmer months come along."
Paddy Newman from Smart Pools
"Call a reputable pool renovation specialist (a SPASA member) once you have an idea of what you want. Don't employ people who tell you what you need to have; employ a company that listens to what you want. This is a major project, so be realistic about your budget and don't spoil the job by taking shortcuts. As with all renovations, be aware that things can go wrong and things can take longer than expected."