A good filtration system isn't the only key to keeping your pool water pristine; an automatic pool cleaner removes a great deal of debris from your pool's floor and some from your pool walls as well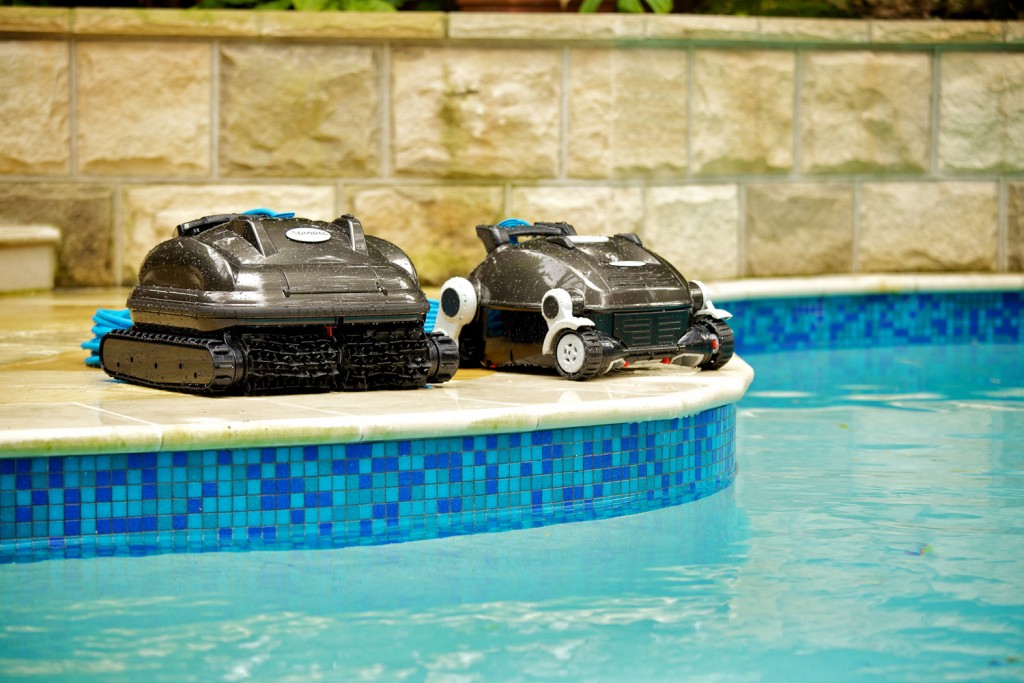 There are currently four kinds of automatic pool cleaners on the Australian market; suction, robotic, in-floor and pressure cleaners. But how do you know which one will be right for your pool? Here's a rundown of the features and pros and cons of each type of automatic pool cleaner.
Suction
How it works:
Suction cleaners are one of the most popular kind of cleaners on the market. They are fixed to the pool's skimmer and operate on the suction created by the pool's pump, thus acting like an underwater vacuum cleaner. They are also attached to your pool's filter system, as they need to deposit leaves and larger debris in the skimmer box, and the finer sediment is trapped in the pool's filter system.
Pros:
– While it sucks debris off the bottom of the pool, it is also sucking water through the filtration system, turning over more water in a shorter amount of time
– Can remove finer particles because it is attached to your filter
– Cheapest pool cleaner option
– Easy to install and use
Cons:
– There are various restrictions of suction cleaners, including the fact that they are fitted into a pool's skimmer, reducing the pool's skimming ability to clean the debris at the surface of the pool water and also reducing its turnover by adding a restriction to its pool circulation. The debris goes straight to the filtration system, which requires backwashing or maintenance
-To operate the cleaner effectively, the pool pump needs to operate at higher speeds, negating any energy savings from the use of variable speed pumps
Robotic
How it works:
The new generation robotic pool cleaners are gaining popularity with time-poor homeowners who want to spend the day enjoying their pool instead of vacuuming! Robotic cleaners vacuum and trap pool debris in self-contained compartments or bags. This technique saves you from having to do excessive backwashing or rinsing the pool's filter, which is the case with suction style cleaners.
Robotic cleaners are not connected to anything, and some have remote controls to control the cleaner's movements or to program the cleaner for specific cleaning functions. You can automatically and systematically clean your swimming pool without relying on the operation of filtering equipment. The result is a dramatic reduction in energy costs when compared to all other types of automatic pool cleaners
Pros:
– Today's top-of-the-line robotic cleaners combine user-friendly operation with water, energy and chemical conservation features
– Requires minimal electrical power to operate its inbuilt pump and motor.
– Independent to the pump and filter system, allowing better circulation of water
– It will free up the skimmer box and enable leaves to be skimmed from the surface of the pool
– Some can be controlled by remote control to allow you to guide it those hard to clean spots.
-Equipped with scrubbing brushes, so not only do they vacuum the pool's floor and/or walls, but they also scrub the actual surface, regardless of whether it's vinyl, fibreglass or concrete
– Minimal maintenance and effort on your part
– Helps to circulate water through the pool, resulting in less algae growth and improved water chemistry
Cons:
– Most expensive type of cleaner (prices starting from $1000 to over $2000)
– It's recommended by manufacturers that you remove the cleaner after each use,
– The cleaner's internal filter bag or cartridge require emptying and cleaning
– The cleaner's cable needs to be wound up and stored correctly after each operation
Pressure
How it works:
A pressure cleaner attaches to your pool's pump system to clean to pool with a combination of suction and jet action. The water pressure from a dedicated pressure booster pump moves the cleaner around the pool, which gives the cleaner its name. It has its own attached mesh bag which it deposits dirt and debris into.

Pros:
– Most suited to a pool located underneath a large number of overhanging trees
– It deposits dirt and debris into its own bag, which means debris is not deposited in the skimmer or pool filter
– It will free up the skimmer box and enable leaves to be skimmed from the surface of the pool
– The pressure cleaner is a very quick and efficient way to clean the pool.
– Mid-range pricing
– Helps to circulate water through the pool, resulting in less algae growth and improved water chemistry
Cons:
– Doesn't scrub the pool's floor or walls
– Cannot filter small particles through the bag
-Not only requires the normal filtration system to be operating, but also requires the addition of a pressure booster pump. This significantly increases energy consumption and ultimately cost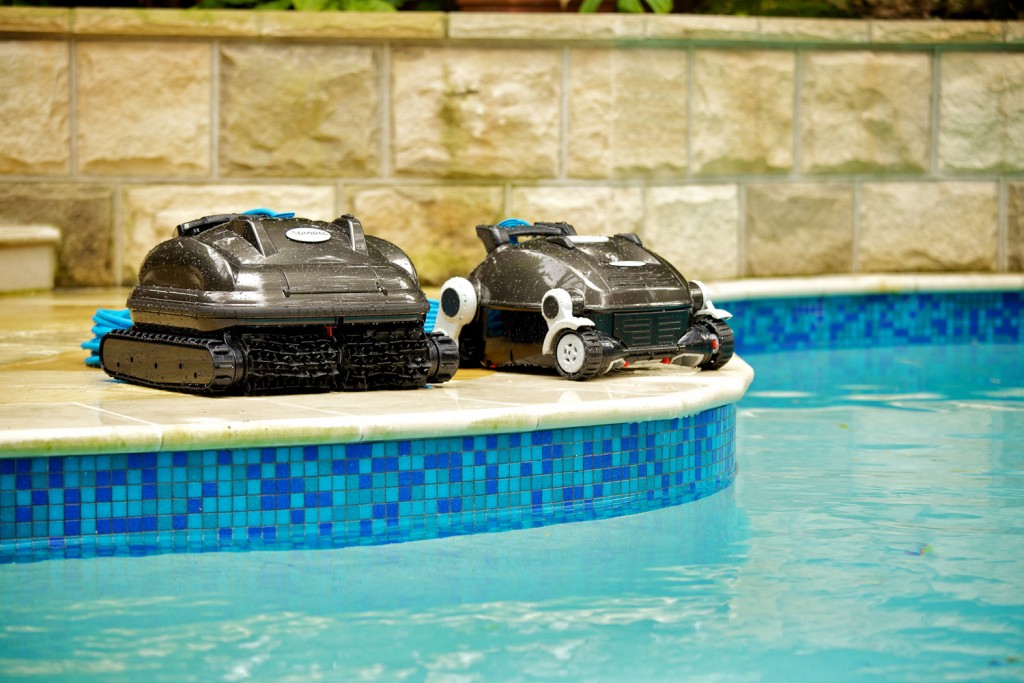 In-floor
How it works:
An in-floor cleaning system is designed prior to the swimming pool being constructed or manufactured, depending on the pool interior. In consists of a series of heads that pop up in the floor and steps of the pool. This is not dissimilar to pop up heads in your garden sprinkler system.
Their purpose is to drive the dirt and debris towards a drain point, usually located in the deep end of the pool. Once the dirt is removed from the drain point by the pump, it usually passes into the filtration system where it will get trapped.
In leafy pools, there is an additional primary straining point, which catches the heavy leaf matter before the filtration. Every system must be designed individually as every pool is usually a different shape and size. This system also aids in chemical distribution and heat circulation throughout the entire pool.  Some systems rely solely on the filtration pump to drive them and others require a separate pump to operate the cleaning system.

Pros:
– Ideally suited for difficult shaped pools and lap pools
– It can handle very high debris levels
– It will free up the skimmer box and enable leaves to be skimmed from the surface of the pool
– Minimal maintenance and effort on your part
– Helps to circulate water through the pool, resulting in less algae growth and improved water chemistry
– Aids heating circulation throughout the entire pool
Cons:
– Doesn't clean the wall of the pool
– Can only be fitted to pool during the construction stage
– May require separate dedicated pump to operate it. This significantly increases energy consumption and ultimately cost
– Fairly high investment up front
For more information
Waterco 36 South Street, Rydalmere NSW 2116
Phone 02 9898 8686
Website waterco.com