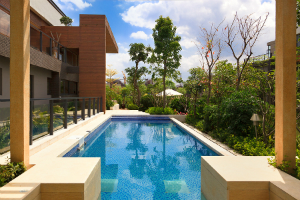 Big or small, a swimming pool is a major investment so proper planning is essential
By Ian Barker
The need for us all to participate in a more active lifestyle is becoming increasingly evident. The health of our children in particular has suffered due to the popularity of computer-related games and more sedentary interests. A swimming pool is a fabulous way to encourage activity for the entire family.
When planning a pool, the first and most fundamental 'rule' is to ensure it is designed as part of the garden. What you want is an integrated result, not just a pool 'dropped' into a garden. With this in mind, you really need to consult a professional landscape and/or pool designer. It may seem obvious to say but a pool is a considerable investment and its placement in the garden is critical.
So, where should you place your pool? Generally, pools should be positioned parallel to the back of the house. Placement in full sun is not always possible or advisable. The aim is to place 70 per cent of the pool in full sun and to have a small portion of the pool in a shaded area to provide respite from the heat and glare of a blistering summer's day.
Pools are also the ultimate garden water feature so wherever possible, position the pool so its most spectacular aspect can be seen from inside the house. This way, even when you're not using the pool you can still enjoy the beauty of the water and the sense of serenity it engenders.
The next thing to consider is how big and what shape. Naturally, the pool's dimensions will largely depend on the available space in your garden; however, you also need to consider the number of people who will be regularly using the pool and how they will be using it. Are you a person/family who intends to swim laps or is the plan to simply take a cooling dip from time to time and just have a bit of fun? At present, the most popular pool size is approximately 8m x 4m, or variations thereof. This size seems to satisfy most requirements.
The shape of a pool will, again, be largely dependant on the available area. Personal taste is also a major consideration, as is the style of the residence and garden surrounds. Rectangular, straight-edged pools usually best complement formal and contemporary architecture and garden settings. Curved lines, on the other hand, tend to better complement a more whimsical, meandering-style garden but there are certainly no hard and fast rules.
All decisions relating to pool installations are important. After all, the pool will be a part of your landscape for a long, long time … which brings us to colour.
The colour of your pool will be one of the most critical choices you make. Do plenty of research, review lots of pool and garden magazines and visit as many pools as you can.
The colour you choose for the interior of your pool will affect the colour of the water and the ambience you create. Navy blue and dark-green pool interiors give a 'classic' look. Black, white and baby blue are presently fashionable choices. White interiors result in water that takes on a soft aqua hue. This lends a look of subtle beauty to contemporary settings. Black interiors, on the other hand, deliver a more spectacular result but can be rather 'confronting' for some children, so perhaps not a wise choice for those planning a family pool.
Pool fencing is another major consideration. Regulations largely determine the dimensions and location of a pool fence, but the style is a matter of personal taste. In areas of high visibility you should consider using glass, but not necessarily for the entire fence. A mix of glass and powder-coated fencing can provide an economical option.
One of the most frequent questions asked is if a pool should include a spa. From a design perspective, a pool will be no more successful with a spa than without so it comes down to personal preference. For some people, the thought of relaxing in a hot spa is tempting in the extreme, not so for others. Others feel that they will use their pool more often in winter if they include a spa; however, this may or may not be the case. Whatever you decide, it should be noted that a spa does add considerably to the cost of a pool installation.
As you can see, there are many decisions to be made when building a pool but it need not be a stressful process. Planning is the key. Step one should always be consultation with a pool builder or a landscape design professional. Once the pool placement is decided, you will often find the rest of the decisions follow as a matter of course.
So should you install a pool? Pools of any shape and size are a tremendous addition to an outdoor space. They enliven areas when they are being used and add a sense of serenity when they are not in use. Pools not only create a focus on an aesthetic level, they often encourage us to focus on getting together with family and friends. So if for no other reason than that, a pool can be a great asset.
Getting water-wise
• Use a pool cover to reduce loss of water due to evaporation. It can also keep the pool warmer (therefore reducing heating costs), make the pool safer and reduce the amount of chemicals required for sanitising the pool.
• Place plants immediately around a pool to protect uncovered water from the wind and reduce evaporation. Pool cabanas and glass fencing can also be incorporated and integrated with the planting to act as effective windbreaks.
• Incorporate a larger skimmer box that allows for the water level of the pool to be set lower than normal, reducing the amount of water lost due to splashing and wave action.
• Place a shade sail or some kind of shade structure over part or all of a swimming pool or spa to keep the sun at bay and minimise water loss by evaporation.
• Using thicker coping pieces than normal (which increases the distance between the normal water level and the top of coping) in conjunction with a greater overhang for the bullnosed paving edge (which better contains wave action) will substantially reduce water loss.
• Incorporate a rain storage tank into the pool and landscape design to provide water for topping up the pool and irrigate gardens and lawn as needed.
• Avoid installing pool water features and fountains that spray water into the air. Incorporate trickling or cascading fountains and wet edges which lose less water to evaporation.
Ian Barker is the principal designer of Ian Barker & Associates and director of Melbourne-based Enkipools. Information supplied by John Storch, director of A Total Concept, a Sydney-based practice specialising in the design of pools and gardens.