Enhance your home with the perfect pool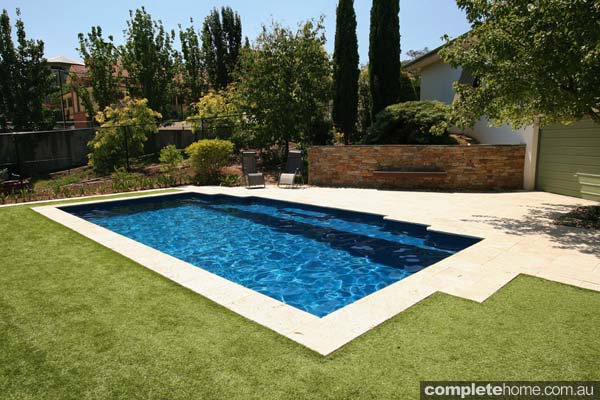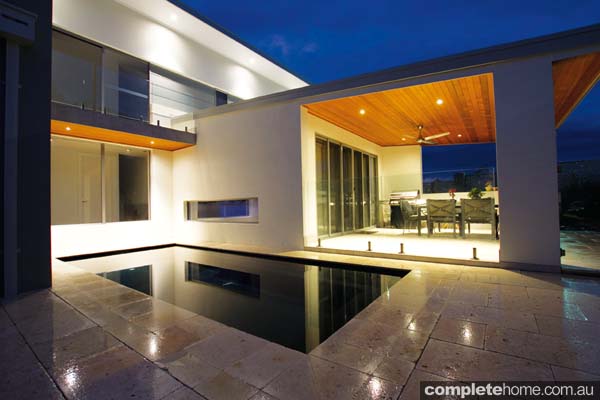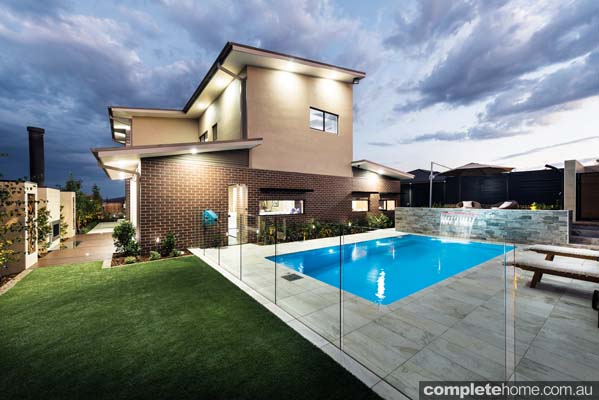 Built to perfection, this pool by Capital Fibreglass Pools is one not to be overlooked. As part of the Billabong range, it was specifically designed and built for Mayfair Homes Canberra building company to enhance its new display home. This is the fourth pool and first display home that Capital Fibreglass Pools has built for Mayfair Homes as its preferred pool supplier.
The featured pool measures 7.5m x 3.8m and sits as the focal point to the home in the backyard space. A strip water feature adds a stylish and sleek quality to the space, enriched by remote-controlled LED lighting in the evenings.
Porcelain pavers and coping create a lustrous entry to the pool, enclosed by frameless glass fencing. Plenty of relaxation and surrounding entertainment space is also ensured for get-togethers during the hot summer months.
QuikClean in-floor cleaning and Cooke's Venturi skimmer system attached to Zodiac variable speed pumping and TRI chlorination keep the pool inviting and ensure easy maintenance.
After purchasing his first pool servicing business at the tender age of 20, Simon Gainey, founder of Capital Fibreglass Pools, now has more than 25 years of experience in the pool construction industry. Capital Fibreglass Pools works on 20 to 25 pool projects per year in Canberra and New South Wales, providing a complete service including landscaping and pool installation.
The company specialises in high-quality products and services, including in-floor cleaning systems, high-end variable speed filtration and hydraulics, and custom stone work around pool surrounds. Capital Fibreglass Pools is the only Zodiac Titanium pool builder in the ACT.
Capital Fibreglass Pools guarantees complete client satisfaction, from initial site consultation to construction and handover. A warranty claim is provided on all equipment as Capital Fibreglass Pools is also a qualified repair agent.
Since entering its first competition in 2004, Capital Fibreglass Pools has been a consistent award winner. Winning categories include indoor pools, fibreglass pools under and over $40,000, water features and display pools. Most notably this year (2014) the company was awarded the Fibreglass Pool Builder of the Year NSW/ACT at the SPASA awards in June.
At a glance
Pool designed by Capital Fibreglass Pools & Mayfair Homes
Pool built by Capital Fibreglass Pools
Heating systems Provisions for Zodiac gas heating
Cleaning systems Cookes QuikClean in-floor cleaning
Filtration Zodiac CV380
Coping Porcelain tiles
Pavers Porcelain tiles
Lighting Aqua-Quip LED Multi
Fence Frameless glass
Landscaping Mayfair Homes
House built by Mayfair Homes, as their display house
Fact sheet
Pool built and designed by Capital Fibreglass Pools
Address Ngunnawal ACT 2913
Mobile 0412 838 644
Email admin@capitalfibreglasspools.com.au
Website capitalfibreglasspools.com.au
Originally from Poolside magazine, Volume 44