This indoor pool is the epitome of good design and relaxed living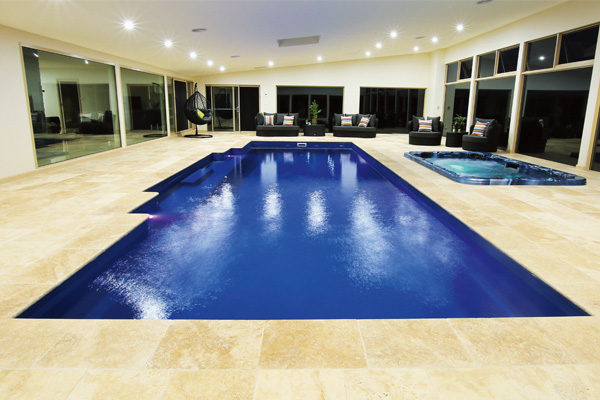 Capital Fibreglass Pools has realised the clients' dreams with this luxurious and stylish indoor pool and spa combo that can be used all year round in any climate.
Instead of moving house to accommodate their growing family, the clients made use of their expansive rural land in a renovation that included this enclosed 10.5m Barrier Reef Monaco pool and 2.6m portable spa. Complemented by the surrounding travertine, this pool is stunning enough to be at the centre of family entertaining but has the versatility to cater for the family's extensive training and hydrotherapy commitments.
The great design of this pool reflects the family's needs. The Monaco shell was chosen as it has no stairs at either end of the pool, allowing the family to swim laps as well as relax on the wide bench seat along the edge. The indoor retreat also features a portable spa sunk within the pool deck to relax and unwind after an intense training session in the pool.
Being an indoor pool, it can still be used during Canberra's harshest winter months, making this design a fantastic option for those wanting all the benefits of a pool even when their environment isn't ideal.
Less evaporation makes an indoor pool a green option and this pool also includes solar heating and variable-speed Zodiac pumps for maximum economical and environmental gains.
Capital Fibreglass Pools has been delivering dream pool projects to families for more than 25 years. The company conducts an extensive consultation process with new clients to ascertain their wishes and requirements. This thorough process enables the company to create a dream pool within a realistic budget, to suit a diverse range of clients and their needs. An award-winning company, Capital Fibreglass Pools has again been voted the 2015 SPASA Fibreglass Pool Builder of the Year in NSW and ACT after taking out the prestigious award in 2014.
For more information
Capital Fibreglass Pools
Address: Ngunnawal ACT 2913
Mobile: 0412 838 644
Email: admin@capitalfibreglasspools.com.au
Website: capitalfibreglasspools.com.au