This stunning apartment and showroom by Anton Venoir Interiors is both beautiful and historically mesmerising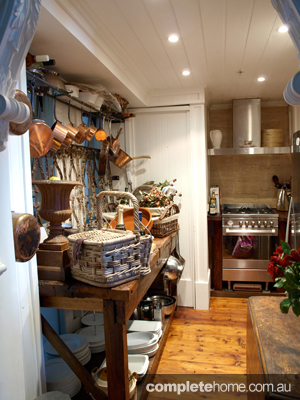 Once an empty space on Chapel St, Prahan this Parisian-inspired showroom has been completely renovated by antique dealer Tony Venois. Specialising in 18th Century French antiques, Tony dreamt of creating a space that wasn't just a shop, but an experience for the potential renovator.
"Most people come into the showroom and say that the space they are renovating is too small to incorporate antique items", Tony explains. "This space is remarkably small yet incorporates everything — essentially showing everyone how French antiques can work in any space."
After being told that his dream of creating a multi-purpose space was unrealistic given the size of the room he had to work with, Tony ensured that the pieces of furniture in the room were adaptable enough to transform it while still maintaining its period charm.
"I have purchased many of the pieces in this room at private auctions in France and The U.K and bought them back to Australia. During and after the French Revolution, many of these pieces were removed from various private collections in France and have been lost for many years. I wanted to bring all of the pieces back together and create a magical space that takes anyone back to France in the 18th century."
Tony has gone for heritage colours, using traditional techniques and mixing traditional pigments. These include ochres, umbers, limed waxes, pale greys and greens, as well as various natural organic wax timber stains such as Terre de Cassel so that the space appears light yet traditional.
Many elements of the showroom have also been recycled from old salvage yards around the world and Australia. This includes Baltic pine floorboards in majority of the apartment and Redwood sleepers in the kitchen. The crème de la crème however, are the chandeliers and doors from a French chateau that burnt down many years ago – with these being some of the only items that were salvageable.
Tony also notes that several of the pieces, including tapestries, wall-hangings and mirrors, were lost for several years in the Second World war. Some of these items were stored in the Orangerie of Chateau Cheverny alongside the Mona Lisa and several hundred other items that had been stored there for safe keeping.
"I was after the wow factor with this space", Tony said. "I want people to forget where they are. The apartment décor makes you feel like you are in Paris – and then the tram noise in the background reminds you that you are in Melbourne, and brings you back to reality."
For more information
Anton Venoir Interiors 26/321 Chapel St, Prahan, VIC
Email info@antonvenoirinteriors.com
Website antonvenoirinteriors.com
Photography by Grzan Squared
Words by Nicola Hower