An inner Melbourne garden with an urban feel, a funky personality and a sense of place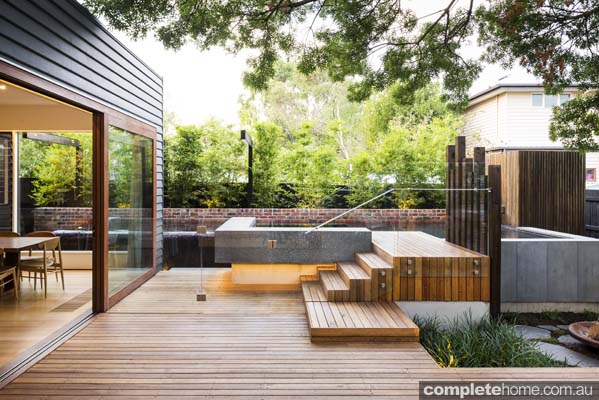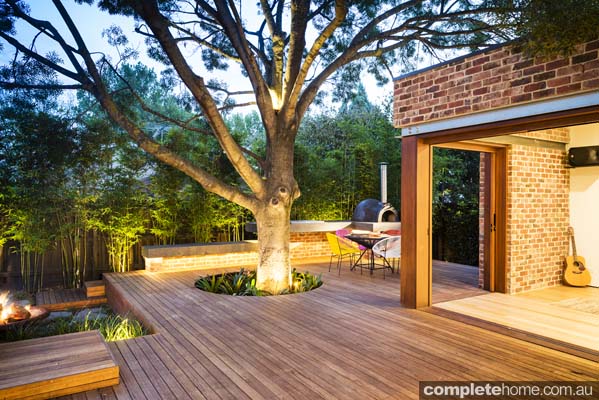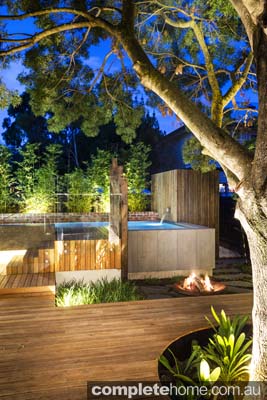 Designed to meet the needs of a family of five, this urban backyard not only looks amazing, it is incredibly practical. Every square centimetre of space has been put to good use, making it possible for the family to have a swimming pool and plenty of room to relax or entertain.
As a pool was a must-have, landscape designer Steve Taylor of COS Design, came up with a way to include it in the design without having it dominate the backyard. The pool, which extends along one side of the garden and part way down the side of the house, is 9m long and incorporates both a 1.8m lap lane and a 2m² spa.
"We designed the pool to run from front to rear and placed it in the deepest part of the yard well away from tree roots. By keeping the pool to one side we have allowed maximum space for the deck and entertaining," explains Steve. The spa, which is clad in glass mosaic tiles to match the wet edge of the poo, nestles into a chunky polished concrete plinth which doubles as a bar for guests outside the spa and a seat for those in the spa.
"Straight off the pool is a sunken fire pit area that sits at natural ground level," continues Steve. "This area is 1.2m lower than the pool, eliminating the need for a pool fence here. And as the new deck sits 450mm above natural ground, it is the perfect place to sit and enjoy the warmth from the fire bowl."
The large timber deck that sits at house level is used for entertaining, dining and outdoor relaxation. A barbecue and pizza oven are located in a rear corner of the deck, leaving the remainder of the deck free. This ensures that the brick-built studio at the back of the home, which is used for yoga lessons and music practice, has a peaceful, open outlook.
The liberal use of timber throughout the garden gives it a wonderfully warm ambience without compromising the contemporary design and urban feel. For the decking, Steve chose yellow stringy bark timber. The arbours alongside the pool were built using recycled hardwood stained in Cutek Black Ash and the rear water feature screen, which also hides all of the pool equipment, is of rough-sawn silver top ash, also stained in Black Ash.
For privacy, Steve decided upon a perimeter planting of graceful slender weaver bamboo with under-plantings of clivias, New Zealand rock lilies, creeping thyme and prostrate rosemary around the fire pit area. Beside the pizza oven, espaliered lemons and limes enhance the food preparation space. As a focal point and to provide shade, Steve retained a mature ash tree, building the new deck around its massive trunk and adding up lighting.
Steve is known for his sharp, almost clinical designs so this project proved something of a departure for him. "The brief was for a warm, funky, inner-city café-style garden with a sharp edge; it was also important that the space didn't feel cluttered. I feel we have done this and, in the process, created a garden with soul."
Written by Karen Booth
Photography by Tim Turner
Originally from Backyard & Garden Design Ideas Volume 12 Issue 4