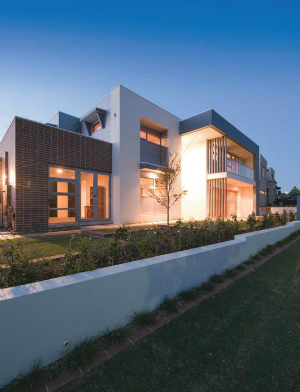 With interest rates at near-record lows, the availability of tradesmen better than ever, and building materials becoming more aff ordable, more and more homeowners are boosting the value of their homes while improving their lifestyle through renovating. Based on building research by advisory service Archicentre, the number of home renovations was up 40 percent in the past year alone. And with the price of materials expected to drop as China's demand for steel slows, Archicentre's managing director, Robert Caulfi eld, is predicting an overall drop in renovation prices of between fi ve to 15 percent within six months. Aff ordability aside, Kelly Savvides, administration manager with boutique Melbourne home builder 4Walls, says the renovation market — now estimated at around $20 billion annually — has received an added kicker courtesy of global warming. She says major movement within clay soils in recent years has taken its toll, especially in droughtstricken parts of Victoria, NSW and elsewhere. This is another reason why she expects to see a lot more use of lightweight materials within new and renovated homes.
Trading places
Also driving the renovation market, says Savvides, are both baby-boomers (and empty-nesters) and dual-income-no-kids couples (DINKs) who are moving into parenthood. Particularly noticeable, adds Savvides, is the migration of baby-boomers away from suburban blocks back into the innercity Melbourne suburbs such as South Melbourne, Carlton and Kew, where single-fronted terrace houses are being given a complete renovation. Interestingly, it's the DINKs, adds Savvides, who are buying these older suburban blocks (often within coveted school zones) with a view to either pulling them down or doing extensive renovation work. "But for baby-boomers, renovation is less about extra space and more a question of reconfi guring open spaces for a lifestyle that no longer revolves around their kids," she says.
Smart alternatives
The two prongs to the renovation market have traditionally been remedial work and additions. And by defi nition, renovation work is typically synonymous with structural changes — not just redecorating. But, says James Cooper, director of Sydney-based Sanctum Design, due to the economic slowdown, major restoration work is now seen as a possible alternative to (what would have otherwise been) a total knock-down and rebuild of more recently builthomes. "Clients now see a signifi cant upgrade as an option to knock-down and rebuild, while reducing the risk of over-capitalising," says Cooper. Having been through the (often repeated) modifi cation of brick (and weatherboard) bungalows built between the 1930s and 1980s, he says we've now entered the era of the major modernisation of project homes built in the 1990s. Unsurprisingly, he says new bathrooms and opening up living areas, plus outdoor living, are three perennial renovation priorities. Based on Cooper's estimates, a typical major renovation, including fi rst-fl oor bedrooms, additional living room plus outdoor area, could add around 200sqm to the size of a standard home.
The premium end
Meanwhile, at the premium end of the property market, much of the renovation work is divided between modernising tired and outdated topend homes or (costly) and major restoration of period homes. While renovation work has recently grown to 75 per cent (25 per cent new-starts) of the fi rm's work, most of Melbourne-based Buro Architecture's work is restoring Federation or Victorian buildings to their former glory. But whether it's a heritage-listed property or not, Buro director Stephen Javens says the client's renovation brief typically centres around creating and enlarging fresh, open spaces with views to terrace or gardens. It might be a sad refl ection on past designers, but according to Javens, the realisation that many (especially older-style) top-end houses now need major renovation only confi rms that attempts to create "timeless" architecture are often fl awed. But in fairness, he says that's especially true for some of the 1990s-style McMansions, where obsession with "space and view" put strains on basic energy effi ciency. "While the principles of good design don't change, people's idea of space and dimension are a constantly moving beast — which is where architectural input is critical," says Javens.
The big ideas
By getting them to masterplan the "big idea", Craig Yelland, director of Plus Architecture, says clients can ensure their chosen architect shares their same aesthetic aspirations. This, he says, is where computer-aided design (CAD) now off ers the fl exibility to explore the pros and cons of diff erent design options a lot quicker. And as it's unlikely to remain a client's home forever, he says any renovations should always consider resale factor. By master-planning a renovation, Yelland says clients can renovate in stages that allow them focus on those things that truly add value. "Kitchens and bathrooms add value, pools don't, so do not over-capitalise," says Yelland, who recently added a full fl oor to his own Victorian terrace house in Melbourne. "Old established homes built 100 years ago will always have a superior feel. They were the best homes of their era, built on the best sites of their time," says Yelland. "By comparison, faux federation or mock colonial reeks of a toupee." With labour accounting for the bulk of the costs associated with renovating, Javens encourages clients to avoid (where possible) living in their home while the job is being done. He says by limiting any tradesman's access to a property, people are unintentionally adding quantums to their overall costs. "Due to the associated costs, good renovation is invariably a compromise between what people want and what they can aff ord," advises Javens. "That's why it's important to fi nd an architect who's happy to work with you on a renovation that could easily take one to two years to complete."
Kew with a view
He cites the recent $3 million upgrade of a signifi cant Victorian home in Melbourne's inner-city Kew as a prime example. Much of the original brief, advises Javens, was about delicately contrasting the more intricate Victorian façade at the front of the property with an unashamedly contemporary feel to the rear. And as this rambling Victorian structure was a collection of small, disjointed spaces, Buro's challenge was to improve interconnectivity between rooms, provide better internal access/ views to the property's substantial gardens, while increasing the number of bedrooms and bathrooms. "This house had great bones, some strong thermal qualities and beautiful views, smaller rooms needed to be opened up to create more light and fl owing spaces," explains Javens. "Unfortunate 1980s extensions also had to be demolished to make way for a new, modern structure at the rear of this Victorian home." While additional windows enhanced magnifi cent views of the city, they over-exposedthe property to Melbourne's harsh western sun. That's why Javens says timber screens, together with double glazing, internal curtains and blinds were combined for added solar protection.
Kitchens
According to Archicentre research, it is kitchen drawers that are decidedly popular within kitchens, while hard-to-access cupboard space is increasingly unpopular. But what's driving the rebirth of the kitchen as the home's centrepiece, says Robert Caulfi eld, is strong demand for a large island bench as a social hub where people can congregate. One of the most surprising trends, adds Caulfi eld, is the need for data points in the kitchen, with 25 percent of renovators using a computer in the kitchen. What's also being incorporated within renovated kitchens, observes Cooper, is greater provision for dedicated functionality, with builtin areas for appliances from coff ee machines through to suffi cient space for increasingly popular double-door fridges. "We're also seeing greater interest in a kitchen behind a kitchen (through butler's pantries or similar) where the bulk of the mess can remain hidden from view," says Cooper.
Open-plan living
While plasma screens remain a hot item, Archicentre's research suggests people are increasingly opting for home theatre facilities within more fl exible living spaces rather than within dedicated home theatres. Interestingly, Cooper says it's the ever-increasing size of the plasma screen that's forcing living spaces to be bigger as people need to be a certain distance away (indicatively fi ve metres) for optimal viewing. He encourages clients to build a little smaller and be more fl exible with a TV room that can double as an evening entertainer. And more often than not, he says a client's renovation brief revolves around incorporating outdoor living within an overall open-plan entertaining/living area. "Walled on one to three sides, these outdoor areas often include second kitchens with outdoor ovens, barbecues, woks and refrigeration."
Master bedrooms
According to Cooper, when it comes to high-end homes, big bedrooms typically make for better bedrooms. And if Archicentre data is any guide, Caulfi eld says bedroom renovation invariably means increasing the size to allow for additional furniture, ensuites, plus walk-in robes that often double as dressing rooms. "Today's walk-in robe must be purpose-built with natural light, with his and hers space and a full-length mirror," says Caulfi eld.
Bathrooms
While double showers and double basins are also in high demand, Archicentre data suggests frameless glass shower and freestanding periodstyle baths are also in vogue. Curiously, toilets are slowly disappearing, with more than one out of three Archicentre clients requesting a concealed cistern, while one out of three wants heated fl oors. "Many clients request ensuites with glass walls overlooking lush, secret gardens, while a sunkenfl oor open shower is one example of a masterful, low-maintenance innovation," says Caulfi eld.
Renovating with green-smarts
While it may not be the highest priority for many, major renovation work presents unique opportunities to improve the energy effi ciency of any home. That's one reason why Stephen Javens warns against buying a property and immediately jumping into renovation. He says if people only took the time to live in the house fi rst, they'd avoid spending money on upgrades that do little to reduce their eco footprint. It's only by living in a house, adds Javens, that people learn how a house actually works. That means knowing how it responds to diff erent seasons, where the nice views, hot winds and light come from, its thermal qualities, privacy considerations — and how it performs acoustically. "The biggest danger with renovating is trying to fi t in too much detail, unsuccessfully catering for the western sun, or making poor choices with materials and construction," he says. Unbeknown to many, the inclusion of extensions and refurbishments within the Building Code of Australia (BCA) from May 2008 heralded signifi cant implications that many home renovators remain unaware of. If the proposed alteration, together with any other alterations carried out or permitted in the past three years, represents more than 50 per cent of the volume of the original building, then the entire building needs to conform with fi ve-star energy provisions relating to external glazing, building sealing, air movement and services. There are also enhanced requirements regarding the insulation of walls, ceilings and fl oors.
Energy-efficient principles
But the golden (and most cost-eff ective) rule to energy-effi cient renovation, says energy consultant Jane Toner, is adopting correct passive solar design, optimal orientation by maximising thermal mass and cross ventilation, and byselecting the best building fabric. She says it's much better to adapt a house to its climate and location than to rely on bolt-on appliances — such as blasting it with airconditioning — to achieve the best energy-effi cient outcome. "Thermal mass should be located where it is able to absorb latent heat, either in areas that receive direct sunlight when heating is required or where they will absorb heat from a heating system," says Toner, senior associate with design fi rm Sustainable Built Environments (SBE). But regardless of budget size, Yelland says there are a number of ecologically sustainable development (ESD) principles that all renovators should try to achieve while avoiding short-term fashion statements. These ideally include long, thin house designs, with the long edge facing north to maximise energy effi ciency. The trouble, he says, is these principles are often compromised when orientation is dictated by a beautiful waterfront view. "Energy-effi cient design also means trees to the west that are deciduous, glass to the north, solid mass to the south, and solid mass fl oors that absorb the winter sun's heat — plus an insulated roof," says Yelland.
Basic insulation
One of the most cost-eff ective ways to maximise energy effi ciency, advises Toner, is to include R4 (or higher-rated) insulation batts into ceilings (if the roof space will allow for it) and between walls. But when renovations result in a fl at roof, she says it's important to ensure there's suffi cient thickness to cater for standard-sized insulation batts. And when it comes to externals walls, she says it's possible to get up to an R3.5 insulation rating by using certain types of Polystyrene pre-fi nished wall cladding, such as Masterwall. "Insulation only became a requirement for residences in 1991, so any houses before then are unlikely to have it, with the exception of architecturally designed homes," she says. Insulation aside, the next step, advises Toner, is to consider changing single-glazed windows to double-glazing, especially within big, openplanned living areas. "The next step is minimising exposure to the western sun through curtains, shading, louvres, covered verandahs and horizontal overhangs such as eaves or shade battens on pergolas," she says. Contrary to conventional wisdom, Toner reminds renovators that external shading devices provide much better protection from heat gain than internal window coverings. Other cost-eff ective initiatives Toner recommends to maximise energy effi ciency include: • Floor tiles to add thermal mass and temper heat loss or gain if placed appropriately. • While windows are responsible for up to 40 per cent of heat loss and up to 50 per cent of undesirable heat in a standard home, aff ordable alternatives to double-glazing, such as magnetic window systems (notably Magnetite) canincrease heating and cooling performance by 37 per cent and 26 perc ent respectively. "Another aff ordable solution is to provide calculated shading that will eff ectively prevent direct solar gains to the glass over the summer period," advises Toner. • Air leakage through gaps and cracks is responsible for between 15-25 per cent of heat loss in winter and permits the infi ltration of hot air in summer. • Eff ective roof and ceiling insulation can save up to 45 per cent of heating and cooling energy, while eff ective wall insulation can save up to a further 20 per cent. • Eff ective fl oor insulation can save up to fi ve per cent on winter energy costs. • Glazing at ceiling level loses 30 per cent more heat than glazing at eye level.