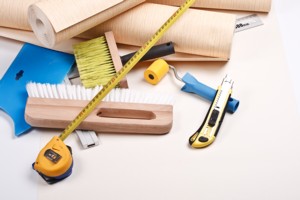 More than half of Australians renovate at some point in their lives. Find out the latest trends and where you stand with Archicentre's Renovation Poll.
Archicentre polled its membership of over 800 architects on what steps their clients are taking to improve their homes. Here are the results:
Kitchen Trends 
A few elegant factors define today's kitchen. Open-plan layouts, clean featureless appearances, concealed appliances — what one architect refers to as "hidden architecture". Statistics from the 2008 architect's poll illustrate these points. 'Hello drawers, goodbye cupboards' seems to be the dominant catchcry (82%) for architectural kitchen joinery in 2008. Second behind drawers was the request for a large island bench (77%), a testament to the kitchen's rebirth as the home's mouthpiece.
• Drawers not cupboards 81.7%
• Large island benches 77.2%
• Walk-in pantries 58%
• Concealed appliances 50.2%
• Colourful splashbacks 35.6%
• Computer data points 22.8%
• Concealed food preparation area 20.5%
Activity Centre Trends 
Commonly, additions and alterations comprise two living spaces, one for the family and another used as an informal retreat or activity centre.
• Rumpus Room 54.3%
• Parents' retreat 50.7%
• None of the above 21%
• Gym 17.4%
Master Bedroom Trends
Ensuites and walk-in robes are practically a given in Australian master bedroom refurbishments (93% and 85% respectively). 
• En suite 93.2%
• Walk-in robe 85.4%
• Deck or balcony 57.5%
• Study 28.8%
• Freestanding furniture (sofas) 17.8%
• Bidet 7.3%


Bathroom Trends
Today's toiletry trends come in twos. Around the country, the aesthetic trend of the kitchen has carried over to the bath, where stonework or large tiles with even larger shower tiles flourish around neutral and soft colour themes. Toilets are slowly disappearing. More than one out of three Archicentre clients request a concealed cistern. Meanwhile, one out of three want heated floors. 
• Frameless showers 80.8%
• Double basins 54.8%
• Separate powder rooms 50.2%
• Baths 48.4%
• Double showers 37.9%
• Concealed cisterns 37%
• Heated floor 37%
• Free-standing baths 30.1%
• Views of internal courtyard 28.8%
• Spa baths 13.7%
• None of the above 1.8%
Ensuite Trends
• Parent's ensuite 93.2%
• Children's ensuite 12.8%
Children's Bedroom Trends
• Computer data point 65.8%
• Study 46.1%
• Ensuite 12.8%
Home Office/study Trends
Niche, nooks, alcoves, a dedicated corner, a stool at the island bench in the kitchen. Needs have radically changed when it comes to home offices. Wireless technology means the laptop can go anywhere, even the toilet, if necessary.
Technology Trends
New technology has eliminated the need for upfront planning. When demanded, architects place dedicated studies in the front of the house with a window to the entryway.
• Security systems 56.6%
• Wireless 46.6%
• Not wireless 22.8%
• Smart wiring 39.3%
Home Theatre Trends
Plasma screens are hot, mini-cinemas are not. Over a third of architects polled rated home theatres as just a fad. In some instances, TVs have left the lounge room and are now only found in home entertainment areas, rumpus rooms or even stranger places. 
• Plasma TV 61.2%
• Just a fad 36.5%
• Ceiling-mounted projectors 15.5%
• Mini-cinemas 10.5%
• Data projectors 8.2%

Storage Trends
• Garage storage 78.1%
• Storeroom 72.6%
• Wine cellar 47.5%
About Archicentre
Over 30,000 Australians start their renovation projects with Archicentre architects, making Archicentre, the building advisory service of the Australian Institute of Architects (AIA), one of the largest renovators in the country.
Visit www.archicentre.com.au for more information.