Professional renovator Cherie Barber shares the five key things you must master in order to successfully renovate for profit.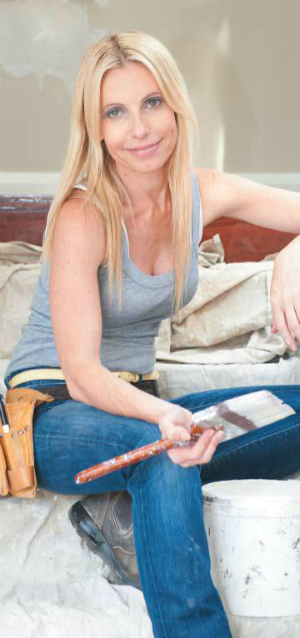 There's no doubt about it, Australians have a love affair with renovating. The plethora of renovation TV shows proves that. Many everyday Aussies embark on the process only to discover that reality is wildly different to what's on our TV screens. To successfully renovate for profit and make a lump-sum cash profit at the end of every renovation you'll need to arm yourself with an understanding of five core factors.
1. Become a suburb and pricing expert: Firstly, target no more than one to three suburbs in which to become a property expert. Specialising in a small cluster of suburbs, located geographically close together, will ensure you focus your time and efforts to intimately know the local demographics, the style of housing and expectations of buyers in your area. When you focus on one thing, you're likely to be more successful. When you play the role of jack of all trades, you'll do nothing well. Know what buyers want in your local suburb and create a property product to meet the needs of those buyers. It's business basics 101.
2. Know how to add value: There are 150-plus ways you can add value to a property. Some of these are painting, cement rendering, ripping up old carpet and polishing floorboards, changing light fittings and installing new doors in a property. These are low-cost, high-impact changes you make to a property that add real perceived value. Ensure enough work can be done to your property (called the scope of works) to cover all the costs associated with a renovation project (stamp duty, finance costs, renovation and resale costs). This means you'll need to clearly identify which parts of the property, internally and externally, offer you the potential to change. If the only thing you can do to improve a property is paint, you'll struggle to cover your costs and make a profit.
3. Add wow features: Professional renovators target owner/occupiers not investors. When dealing with investor buyers, it's all about the numbers and return on investment. Owner-occupiers are different though. Their property purchase is an emotional decision, therefore when renovating, install items or features in your property that make people say "wow" at various locations throughout your property. These features get buyers emotionally attached to your property. They love it and want it. And once they feel this way, the sky's the limit in terms of what sales price you achieve, if you have two or more buyers feeling the same way about your property.
4. Project manage not D.I.Y: People think they'll save money by being the DIYer, the person who does all the work themself. Let me tell you, if you want to go over budget, over time, over bad quality and over it just in general, then be the DIYer. It's the biggest misconception in renovating and unfortunately the TV shows rely on this element. Smart renovators treat their property projects like a business. They work on their business, not in it and that means always stepping back and project managing a team of experts to come in and do the work for you. When you do this, your project will be completed faster, to time, cost and quality standards and you won't be an exhausted blithering mess at the end of it all.
5. Aggressive marketing: There are good times of the year to sell a property and there are bad times. There are good real estate agents and there are bad agents. There are good marketing campaigns and there are bad ones. Professional renovators go the extra mile to help their real estate agent sell their property. Look for creative ways to show buyers how good your property is. I have a building and pest inspection report already done on a property so buyers can make a quick decision. I have a features card printed and stuck under the light switch in every room to tell buyers what inclusions are in every room of the property. It's these extra things that can mean the difference between selling your property or not. One thing is for sure, renovating for profit is not hard; you just need to be aware of the important factors in the step-by-step process. An intimate understanding of the above will certainly put you in the right direction to climb the path to renovation riches!