If a trip to the tropics is not possible, then a tropical-inspired home is the next best thing.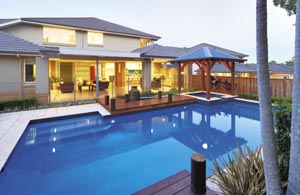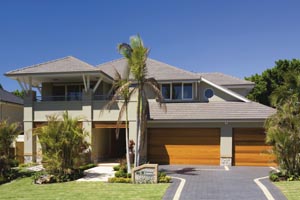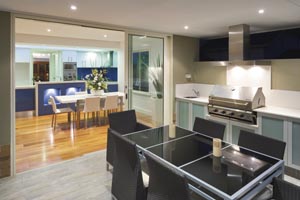 The architecture crafts a stylish and enticing design, from the Vergola roofing to the Balinese-style pool area. There is nothing ordinary about this home, with each section filled with bright, colourful décor that conjures an aura of joy and relaxation.
As if escaping to a secluded villa, residents can hide away from life's stresses and the heat in a large master bedroom with reverse-cycle airconditioning, and once winter comes around, the fireplace keeps the home toasty warm all the way through on those chilly mornings.
And that's not all this luxury bedroom offers; residents can take pleasure in the convenience of a walk-in wardrobe and ensuite bathroom, where a long soak in the sizeable bathtub is quite often needed.
Don't think the master bedroom has all the fun; the other four bedrooms also include their own walk-in or built-in wardrobes and three of the bedrooms have an ensuite, with two sharing a two-way bathroom.
Privacy is an important element in all homes; these are our sanctuaries where one is able to unwind, knowing they where socialising can occur combined with the enjoyment of cooking, while a home theatre room is an ingenious entertainment space for the whole family.
Relaxed indoor and outdoor settings become one in this comfortable home. The Vergola-covered terrace gives shelter from the harsh sun, while still allowing an abundance of radiant light, and an alfresco dining area with built-in barbecue and large pool and spa makes this the perfect space for outdoor barbecues.
Surrounded by landscaped garden areas with an automatic watering system, this home is an oasis waiting to be enjoyed.  This is why Binet Homes has included an upstairs sitting area, perfect for teenagers wanting their own space or quiet seclusion for a good read. The uses are endless and the room undisturbed, tucked away upstairs.
A formal sitting area can change the overall mood of a home and adds sophistication that could be lost in such a relaxed living environment. Featuring a large fireplace and bright décor, the stylish setting is ideal for family and friends to share each other's company.
For a home that is family-oriented, a functional polyurethane kitchen overlooks the meals, family and outdoor living areas,