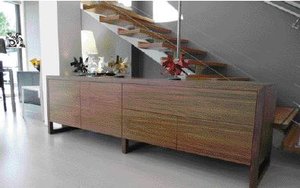 Having always had an interest in furniture, Anthony Hurd spent four years building and restoring industrial-style antique furniture in his early 20s and it was only after this experience that he realised his passion lay with the "cleaner" side of the business.
Now after 12 years designing, Anthony has extensive retail experience designing for Fanuli Furniture and is entirely self-taught. "I have always found it pleasurable to imagine different furniture in different spaces and I wanted to try out some of my own designs," he says. "Building furniture was an invaluable step in my career. It taught me the practical side of design and how to relate to the manufacturing trades." At the beginning of his design career, Anthony enhanced his skills by teaching himself CAD and 3D modelling computer techniques. This allowed him to express his ideas with realistic images without the costs associated with prototyping and building the pieces. Inspired by architecture and both manmade and natural shapes, Anthony says that realworld needs are always at the front of his mind. "Quality furniture is a long-term tenant in many people's lives and must be able to sit in many spaces and span time well," explains Anthony.
Although he enjoys "of the moment" design, he believes it is hard for many people to commit decent sums of money to it. With this in mind his style has taken a contemporary approach, with the hint of class that enables furniture to have that simple timeless quality. When it comes to starting a new design, Anthony believes everything you experience becomes an inspiration, especially when you are being creative on an everyday level. This ideal is reflected in his designs, in particular his latest design, the Aurora sideboard. "I was staring out at the ocean one morning watching the sunrise over the horizon and noticed a subtle elliptical shape created by the sun hitting the horizon," explains Anthony. "I never really thought about it again until one day when I was looking at one of my sideboards in the showroom. My mind blended the horizon experience with the existing piece of furniture in front of me and the next thing you know I am busy sketching." Because Anthony believes that a lot of design is about what surrounds us, he has no true favourite colours, textures or furniture preferences when designing. "They can all be a favourite depending on the need and application," he says, claiming his taste as a designer can often change as much as his clients. Within all his creative processes, however, Anthony still manages to keep environmental concerns at the forefront. "I continually question my suppliers when new materials are to be used to understand their environmental impact. It's simple really — if there is a more environmentally friendly product we can use on any level, we use it.
These days it's easier and costs less to look after the planet." Regarding future trends, Anthony suggests the new direction for design may just be unidirectional due to the saturation of styles that have been made available in recent years. "We have had so many looks thrust upon us in recent times that a lot of design has lost its purpose," he says before predicting the future key trend in his field of joinery. "I feel a blending of 1910s pragmatics and 1930s beautification may just prevail as a significant trend." 
For more information on Anthony's furniture designs, contact Fanuli Furniture on 02 9908 2660 or visit www.fanuli.com.au