TV chef and food writer, Janelle Bloom introduces us to her new book and her passion for fresh, seasonal produce.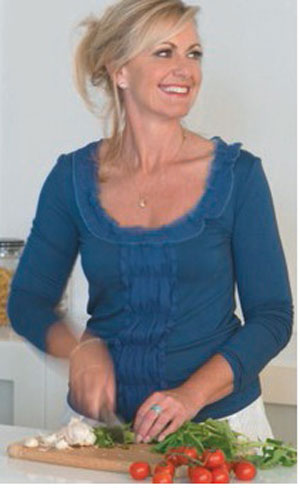 Words by Melanie Gardener
Janelle Bloom is well-known to watchers of Network 10/Southern Star production Ready, Steady, Cook as well as to the thousands of readers of her best-selling cookbooks. With a background as a food editor, writer and stylist, Janelle has had plenty of experience concocting and testing recipes and her new book is a natural extension of the passion she has for fresh food and produce. "Sharing my food, recipes and tips has always been my number-one passion, yet having this opportunity to also impart my knowledge and love of fresh, seasonal produce is very gratifying," Janelle explains.
One of the driving forces behind the new book is the change Janelle has noticed in the power of supermarkets to influence the way Australians shop and eat. "I believe our knowledge of what is in season has been lost," she says. "In years past, my Nan and Mum shopped at our local greengrocer, butcher and famers' markets for all their food. It's where they learnt about the best buys of the day and they only ever bought what was in season locally. "The supermarket or corner store was only for groceries and dairy," she adds. "My Favourite Food for All Seasons reflects my focus on feeding the ones you love delicious home-cooked food with recipes that are easy to follow and re-create with minimal fuss and minimal preservatives."
Janelle grew up in a family surrounded by love and plenty of great food, and she credits her grandmother, mother and aunt for her interest in cooking. She says that every gathering and every family event always revolved around food with her two sisters and herself were encouraged to help out in the kitchen. "Mum never worried about us slowing her down or the mess we created," Janelle remembers fondly. Today, part of Janelle's role is to roadtest both products and recipes, so her kitchen is a very busy place which can, at times, become very messy as Janelle multi-tasks.
So, although she has quite a few essential items in her kitchen, she does credit her new dishwasher as indispensible. "It's eco-friendly and quiet, and no matter how dirty the dishes are that go in, they come out perfectly clean," she enthuses. It's always difficult for foodies to choose a favourite meal or dish, so I love asking them to try, as the answer can be very interesting and revealing.
Janelle is a thoughtful planner, so when she cooks she considers the weather, what's in season and how much time she has. The menu is built around this information. "Today, I have a slow-cooked chilli beef simmering away," she confides. "Half will go in the freezer for a meal next week and the other half will go towards a cheat's lasagna with the remainder piled into tortillas or tacos tomorrow night." I've always imagined that the whirlwind of chaos on Ready, Steady, Cook would be an incredible adrenaline rush, so I ask Janelle if her memory ever fails her on set. "One of the things that really drives the other chefs mad is my memory recall for all things baking," she chuckles. "I don't know how or why I can remember these things.
Top of the list is homemade lemonade scones because they are quick, easy, delicious and I make them a lot!" Having navigated a career in food and writing, Janelle is well placed to offer advice to others who may wish to tread the same path. "Don't rely on one source for knowledge — especially when it comes to the internet," she advises. "Cooking and creating is a confidencebased task in my opinion.
If you cook something new and it works out with not too much effort to shop, prepare and clean up, then confidence is gained". Janelle is aware that a loss of confidence can lead to disappointment and cooking can become a chore, so she counsels against giving up after only one try — practice and knowledge will bring the confidence back. In November 2008, Random House Australia published Janelle's cookbook Fast, Fresh & Fabulous, which was her first book in 10 years.
The book was an immediate best-seller and, since then, she has added Fab Food for Family & Friends and Family Food & Weekend Feasts to her repertoire. This latest edition to the family is another feather in Janelle's cap, promoting the same attitude towards producing fabulous meals with fresh produce to satisfy the hungry stomachs of family and friends. Janelle has loved the balance of work, family and leisure that came with her schedule in 2011 and has high hopes for her plans in 2012. "I wish I knew what was next," she sighs, but with a smile. "I know how lucky I am to jump out of bed eager to go to work each and every day, so I am hoping for more of the same."
DETAILS
Website: www.janellebloom.com.au