When the owners of this delightful home first bought their slice of land, they were faced with one rather large problem — there was already an old weatherboard cottage standing on the corner block.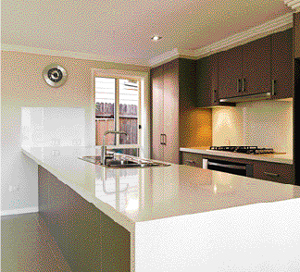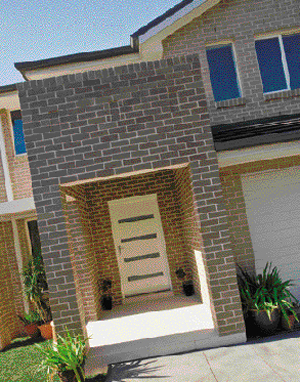 But knock-down, rebuild projects aren't uncommon in the building industry and it wasn't long before the team at Urbanstyle Homes was getting started on the new two-storey, 32-square HIA GreenSmart home.
Having selected a project home the owners were determined to make the necessary changes to the usual model in order to make their own more environmentally friendly. The place was designed to suit the lot with great consideration to the climate, surroundings and orientation. As a result, it achieves a five-star energy rating and exceeds the minimum BASIX targets. "It really is a standard project home with a few added features making it GreenSmart," says Brad from Urbanstyle. "It shows people it's not hard or expensive to help make a difference in our fight against climate change."
Wanting to avoid the 'McMansion' tag, the owners were careful to choose something large enough for their growing family but not too big that it looked unbecoming. The Tribeca was a perfect choice, with four bedrooms, a bathroom and an ensuite and large walk-in robe off the master bedroom. To reduce its environmental footprint the home includes an underground water tank to ensure its water efficiency and is positioned on the block for optimum solar access, improving its energy efficiency. "Urbanstyle Homes' standard Tribeca home design is big enough to suit families but small enough to be energy efficient," explains Brad. "The idea behind it was to make it liveable and useable, to reduce its carbon usage and to meet a reasonable construction budget."
Located on a corner lot, the orientation of the home was a key factor in determining its design and construction for aesthetic purposes and to ensure it would perform well thermally, to allow reliance on natural heating and cooling as a primary climate control source rather than air-conditioning.
"The original design didn't suit their block as a standard home so we looked at options to tailor it, which resulted in changing the front façade to address the corner. We also moved the rooms around at the back to maximise solar access," says Brad. "It was important that the family have an open yet private area outside where they could play and entertain."
A combination of Boral bricks and roof tiles was used on the exterior to provide a façade that's modern and fitting for the area, plus it's sure to last for years to come due to the low-maintenance materials. A solar pergola was added to the front of the home to boost its appearance as well as provide necessary winter solar access, and it blocks the interior from the summer sun's glare from the west. In fact, the majority of glass used for the home's windows and doors is Pilkington Laminated or Comfort Plus glass to reduce heat from the strong afternoon sun, as well as shielding the bedrooms from unwanted noise.
Another essential alteration was requested by the owners, a family of animal lovers: it was necessary that the materials used throughout the home be resilient, especially the flooring, which would have to withstand the daily grind of dog claws. A mixture of Godfrey Hirst carpet and tiles from DiLorenzo was laid; not only are they hard wearing and durable, but as an added bonus the large expanse of tiles looks fantastic and helps with the natural heating and cooling of the home. And when the sun sets, there are fluoro downlights which save the owners on their electrical bill as well as cutting their greenhouse gas emissions by over 2000kg per year.
After making sure there would be no unwanted overshadowing or overlooking from the new home that would evoke bad responses from the neighbours, and waiting six months for council approval, the crew at Urbanstyle Homes was able to get started on creating the not-so-typical abode. "This home really proves that a GreenSmart home saves owners on running costs and the planet by reducing emissions at a start-up cost that's not much more than a usual project home," comments Brad. "And in this case it was great that this was what the customer wanted and it suits how they like to live".