By Tessa Hoult 

Niecon's new project is set to transform the Gold Coast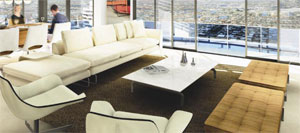 The Gold Coast is undergoing a revolution. Since Jim Cavill built the Surfers Paradise Hotel in 1925, visitors have been flocking to the area famous for its long beaches, lush surrounding rainforests and easygoing lifestyle. Now the Gold Coast is becoming home for a fresh generation of luxury apartment owners. With its new $850 million Broadbeach project, The Oracle, now under construction, Niecon Developments hopes to bring a new kind of luxury to the area.
Described as "a defining project" by Niecon CEO Constantine Nikiforides, The Oracle development is planned for completion by 2010. The inspired 40- and 50-level twin towers, spread over a city block landsite, were designed to reflect their beachside surroundings. The tower formations depict the fluid and lively relationship between tide lines and water-sculptured pebbles. Two-thirds of the 505 one-, two- and three-bedroom apartments have already been sold at an average of $1.5 million. "We aim to give our buyers not just superb homes but superb environments that add new dimensions to their lifestyles," says Nikiforides.
2008 saw the 30th anniversary for Niecon, which was founded by Nikiforides' father, Bill. After relocating to southeast Queensland in 1978, Bill went on to build some of the city's most influential buildings, including Broadbeach's Niecon Tower and Plaza, which played a role in the creation of the Broadbeach Mall. "Dad regarded Broadbeach as the true heart of the Gold Coast and retained an unbending faith in the area," reflects Nikiforides. "The Oasis and Niecon Plaza kicked off Broadbeach on its way to maturity." Today, Niecon has won multiple industry awards for design, engineering and construction and has built more than 18 commercial and residential structures. Priding itself on providing unique lifespaces that symbolise beauty, balance and harmony, Niecon has always tried to create a product with beautiful simplicity. "At Niecon, we create 'lifespaces' of elegance, grace and refinement where daily life is transformed into the fine art of living," says Nikiforides.
This philosophy is evident when looking at The Oracle development. Home owners will be able to make full use of the complex's many extravagant features, which include a Zen garden and a residents-only executive lounge. Described as "a balanced combination of water, nature and stone to create the ultimate haven for the wellbeing of our residents", the Yin and Yang-inspired Zen Garden has individual Tai Chi lawns for relaxation. The executive lounge has become somewhat of a Niecon development feature. Residents can socialise with their neighbours in the private bar (complete with personalised wine lockers), watch a movie in the theatrette or work out in one of the four swimming pools or state-of-the-art gymnasium.
 The east and west towers will be separated by, a boulevard lined with boutique shops and cafes. The ambassador for Niecon, best-selling author and media celebrity Tara Moss, said she is excited to experience what The Oracle will bring to Broadbeach. "It really is emerging as a distinctive place not just to visit, but to live as well, so with the pending launch of The Oracle, it is going to rival the world's best locations and I am proud to be a small part of that," says Moss. Broadbeach is now one of the top 10 income-earning postcodes in Australia.
The architects for the 12000m² site, Raith Anderson and Barry Lee from DBI, described the project as a "dream opportunity" and it was "like being given a blank canvas. The Oracle will cater for all and welcome all," says Anderson. The two DBI design executives are unwavering that their hard work will guarantee the twintower project becomes a Gold Coast landmark. "It makes the job immensely satisfying when the client, in this case Niecon, is adamantly determined to create a world-class project that is of the highest international standard in every way possible," says Lee.
Surrounded by the cosmopolitan Broadbeach scene, The Oracle is in a prime residential position. A short walk west will bring you to Conrad Jupiter's Casino, Pacific Fair Shopping Centre and the Gold Coast Convention and Exhibition Centre. To the north is the nightlife of Surfers Paradise and the culturally thriving Queensland capital, Brisbane. If you feel like a day trip, Byron Bay is only an hour's drive south and nearby Coolangatta Airport provides flights to all major cities around Australia. The Gold Coast currently has a population of 420,000 that is expected to rise to 700,000 by 2021. The annual median unit prices have achieved an average of 12.7 per cent growth per annum since January 2003, making southeast Queensland the fastestgrowing area in Australia, with more than 1500 people moving to the Gold Coast each week. Nikiforides thinks investors have taken notice of this trend. "The Oracle buyers are astute people who recognise that the location is blue-chip and acknowledge that Niecon is a proven performer when it comes to delivering apartments that offer exceptional quality in premier locations."
Previous developments, such as the Reflection by the Sea towers at Coolangatta and the forthcoming Nirvana by the Sea Tower at Kirra, continue the Niecon philosophy of luxurious living. Penthouses in the Reflection Tower, each with its own rooftop area, pool and teppanyaki grill, have sold from $4 million to $4.5 million. The Nirvana Tower apartments sold so fast (by summer 2007 only two out of the 52 apartments were left) that Niecon added an additional three levels to the 12-level complex. "We were always convinced that the appeal and allure of the Kirra foreshore would be irresistible to buyers if the right product was offered," says Nikiforides. The Oracle is experiencing the same fastselling trend. Seventy-three per cent of the 241 apartments in the western 40-level tower ranging in size from 84 to 342m² have already sold, with only a handful of Ocean Skyhomes still available in the eastern 50-level tower. Prices for the remaining apartments vary from $720,000 for a one-bedroom plus study apartment and study to $5.8 million for a penthouse in Tower Two. Each apartment will have panoramic views, be it of the sea or hinterland, through floor-to-ceiling glass windows and large balconies. The kitchens have been fitted out with premier European appliances and an imported and natural stone have been used on the benchtops. The bathrooms are spacious, with imported marble finishings.
Niecon contracted Grocon, the construction division of a 59-year-old company, to build The Oracle. "To have engaged Grocon, also a family company imbued with pride and strong commercial ethics, is indeed a pleasure for us," stated Nikiforides. Grocon moved onto the site in October 2007 and has promised to be on time and, more importantly, on budget. Having built some of Australia's tallest buildings, including Sydney's World Tower and Melbourne's Eureka Tower, Grocon plans to bring its innovative construction methods to Broadbeach. The Lubeca jumpform system, which allows two towers to be built at the one time, has been used in Dubai on the Rose Tower and Al Mas projects.
The Oracle looks set to raise the bar of luxurious Gold Coast living. With its extensive range of features and harmonious lifespaces, The Oracle is already being hailed a success. Architect Barry Lee believes it will live up to its name. "We all intend that The Oracle, true to its name, will be a prophecy that comes true."
The Oracle
Tel: 1300 768 208 or 07 5592 0081
Fax: 07 5592 0091
Website: www.theoraclebroadbeach.com.au, www.niecon.com
Sales Suite: Ground floor, Wave Building 89 Surf Parade, Broadbeach, Gold Coast Qld 4217 PO Box 1201, Surfers Paradise Qld 4217