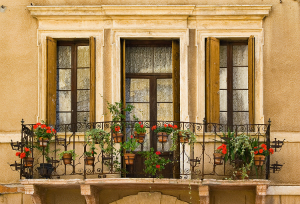 Turning a balcony into an appealing outdoor living or garden space is easier than you think
Story: Matthew Cantwell, MAILDM
It is no surprise that Australians love the outdoors and that no opportunity is wasted to enjoy our beautiful climate, particularly at home. 
Real estate has been one of the hottest topics of recent years as we all try to take a slice of the property pie in an ever increasing market. This national obsession has led to a boom in home renovations with proud owners setting out to show off their 'castles' — and, of course, their gardens.
But for some people, their 'castle' is an apartment. In fact, growing numbers of people are buying into what seems to be a never-ending stream of new unit developments. For some, it is their only option financially; others simply want to be close to the CBD. Yet others, including empty nesters used to having a large garden, are seeking a low-maintenance lifestyle.
While many designers of new apartment buildings are now incorporating better oriented balconies, the 'garden' areas of most units tends to be modest, yet having an inviting outdoor area is a key requirement to maintaining sanity in the midst of busy city life.
When designing a balcony garden there are a number of approaches that can be taken depending on who is performing the work (that is, whether you're going the DIY route or calling in a professional team), and, of course, your budget. Before planning your work you need to check any restraints that you may have if you are part of a body corporate or similar. Typically, they are concerned with any structural elements that are permanent and that would not be consistent with the external appearance of the building, such as light fittings, wall treatments and, in some cases, floor surfaces. 
Some of the key considerations are:
SEATING: How do you plan to use this space? Is it for entertaining or is it to be a more personal space for two — or one? If it is for entertaining, you may want to consider a built-in element to your seating. This can be a real space saver and you can also incorporate some storage.

OUTLOOK: Make sure that you understand key outlooks and be sure that seating placements take advantage of these. Framing an appealing view will help to draw visitors out to the balcony. 

COOKING: Is there room for outdoor cooking? Most people get tempted by myriad options available and buy a barbecue that far exceeds their requirements. Most households could survive with a three or four burner and it is worthwhile checking out some of the wall-mounted options like the ones sold to mount on boats. If natural gas supply is an option, sort it out and make your life easier.

LIGHTING: As with a conventional garden or outdoor entertaining area, lighting is an important design tool that helps set the mood and allows you to enjoy the area when viewed from inside the apartment.
FLOORS: Changing the floor surface may not be an option due to building restrictions, but there are many non-permanent options that are easy to install, such as timber decking, pavers or even sheets of pebbles.  
SOUND DISTRACTION: If you are in a busy area then the sound of water is an excellent way to diffuse the surrounding noise. Alternatively, you may extend your interior stereo system by installing outdoor speakers.
SHADE: Many balcony gardens are exposed to westerly sun. Folding arm awnings and drop blinds can extend your use of the outdoor space and help cool down the interior spaces as well. Just keep in mind the wind factor when choosing a shade solution.
PLANTS: No garden space is complete without plants. Constructing planters on balconies can be problematic, in terms of waterproofing, and expensive. There are many great pot options but to avoid clutter invest in pots of a good size — less is more when it comes to balconies and pots. Once you have the right pots, choose plants suited to the aspect and to the maintenance you are prepared to give them. Drought-tolerant plants will reduce the issue of dirty water draining out of pots.
SAFETY: Be sure to consider who will be using the balcony and ensure that clearance from balustrading is maintained, not just to protect young ones but also reckless teenagers.
WATERPROOFING AND WEIGHT LOADING: Depending on your plans, you may need to have an engineer review the design to ensure that weight loading, waterproofing and drainage have been considered and dealt with accordingly. If you have someone living below you, you don't want to cause them problems.
With some careful planning, a balcony garden can have most of the features of a much larger garden, even if at a different and more intimate scale. And the principles of good balcony garden design can equally be applied to balconies on multiple-storey houses. Be sure not to overlook your balcony areas, even if you are lucky to have a large garden, too, as neglected balconies on houses always let the garden journey down. Every area comes in to its own at some point throughout the year and balconies were designed for a reason; you simply need to complete the design intent.
About the author: Matthew Cantwell is an award-winning landscape designer and Managing Director of Secret Gardens of Sydney.