Spotlight on Exclusive Pools, who, with a commitment to designing and building no more than 30 swimming pools a year,  ensure each pool is afforded exceptional attention to detail.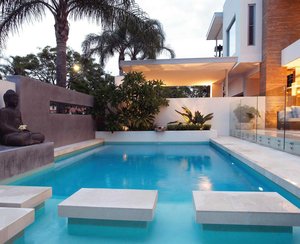 Exclusive Pools offers a diverse range of high-end, low maintenance pools designed to complement any architectural style. This project, undertaken in Applecross, WA, is an example of the company's ability to address the client's lifestyle while providing a design to complement a contemporary house. The inviting pool, which sits in the front yard of the property, was designed by Taylor Landscaping in conjunction with Shayne Le Roy Designs, and built by Exclusive Pools. Frameless glass fencing ensures the exotic pool and entertaining area can be enjoyed without interruption, while a Balinese statue overlooks the entire space and evokes a sense of calm.
Beautiful blue Bisazza mosaic tiles climb to the waterline and cover the wading area. A mottled-stone water feature cuts through the white screen wall to feed the pool and a pond on the other side. The pool walls are exposed on the street side and act as the footings for the boundary screen walls. An in-floor cleaner was installed in place of an automatic pool cleaner for aesthetic appeal and ease. Exclusive Pools aspires to build pools to a very high standard and works closely with architects, builders and landscapers. The company uses only the best equipment and its high level of workmanship ensures a great-looking pool that is also easy to maintain for many years to come.