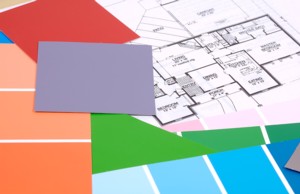 Olympian and Australian Athlete of the Year turns her hand to renovating this beautiful apartment
Since retiring from athletics in 1996, former Australian Athlete of the Year Jane Fleming and her partner Ian Purchas have recently renovated their Elizabeth Bay apartment. Like many people, Jane was unhappy with the layout and fixtures of her two-bedroom apartment and endeavoured to renovate after moving in — a tall order, as she soon fell pregnant. As Fleming stated, "We needed to renovate the entire property. There was only one bathroom in the original property and it was well and truly in need of a renovation.
"The apartment has a fabulous history. It was the first in Sydney to be called a penthouse and also had General McArthur living here during the 1940s. Whilst it is in a built-up area, it has a great feeling of space both within and out."
Fleming admits the renovation process was a full-time job and stressful at times, but has been well worth the effort. Renovations are often a dreaded experience for a lot of people but Fleming insists she got an enormous amount of satisfaction. "I loved being so heavily involved in all the aspects of the project and could see myself going through it again! We have completed an extensive renovation in around 20 weeks, and the finished product far surpasses our expectations. It is now by far the best place I've ever lived in.
"The body of work completed included having most of the walls removed. The entire apartment was also reconfigured, including plumbing and electrics," Fleming explains.
Some of the special design considerations included storage, maintaining the views, the company rules and regulations and the resale value. Access was also a problem, as the apartment is five stories up with very narrow stairways and a tiny lift. The company would not allow use of a hoist either.
"The original bathroom was a dark-green marble with older fittings — definitely not our taste. The fittings also used a lot of water, which did not sit well with our environmental concerns," says Fleming. She was drawn to Caroma Dorf products because of their wide selection of stylish water-saving features, drawing together greatly improved aesthetics of her bathrooms, but improving the overall asset value of the property.
Fleming admits a lot of time was spent planning and researching before the renovations began. She did not want to be short on uniqueness and style when it came to her bathrooms. "I like simple, clean lines when it comes to both household furnishings and fashion. Ian and I put an enormous amount of thought into the entire project, but particularly the bathrooms, as they are often the showpiece of a house and need to be functional."
Project Particulars
The project was designed by:
COMPANY NAME: ZSA Architects
PHONE: 0410 662 887
EMAIL: mel@zsaarchitects.com.au
The project was built by:
COMPANY NAME: Spyker/Nigel Howard
PHONE: 0402 020 709
LICENCE NUMBER: 91624c
Interior Designer: Jane Flemming/owner
FLOORING: Wide northern beech stained chocolate brown
WALLS: Plaster
KITCHEN:
Benchtop: Stone
Cabinetry: United Kitchens
Rangehood: Smeg
Cooktop: Gaggenau
SANITARY FIXTURES + BATHROOM FITTINGS: Caroma.